In this update the first steps are taken to improving progression as a school. Pit Arena, Trial battles and Bronze league competition has been added. We also put in the foundation for RPG elements that we will add in future content with unique dialogue before and after important fights in the arena.

Here are the patch notes for v0.66:
Trial battles and Bronze League competition added!
8 NPC factions(sponsors/owners) and 30 gladiators added in Bronze League.
Arena certificates, tickets and trophy unlocks added for progression.
Reputation has been changed to Fame/Popularity
World map has been replaced with a new progression system
School overview has been added
Scouting system has been removed
Pit arena has been added
Two hit combo attack with high stamina cost added for all gladiator enemys
Both enemys and your gladiators now has a chance to cheat death in the arena
Gladiators that survive based on luck get injured for 10 days
Your gladiators accumulated wealth will now be inherited by you upon death
Peptalk and tactics has been balanced
Night time duration has been reduced
Waiting time for coin reward after arena has been removed
Experience gain after arena has been removed
Workbench wood stacks has been reduced to 10
26 new backstorys added
Improved UI
New soundeffects and music has been added.
Numerous combat improvements
Numerous minor bug/grammar/graphics fixes
Savefiles from previous version are compatible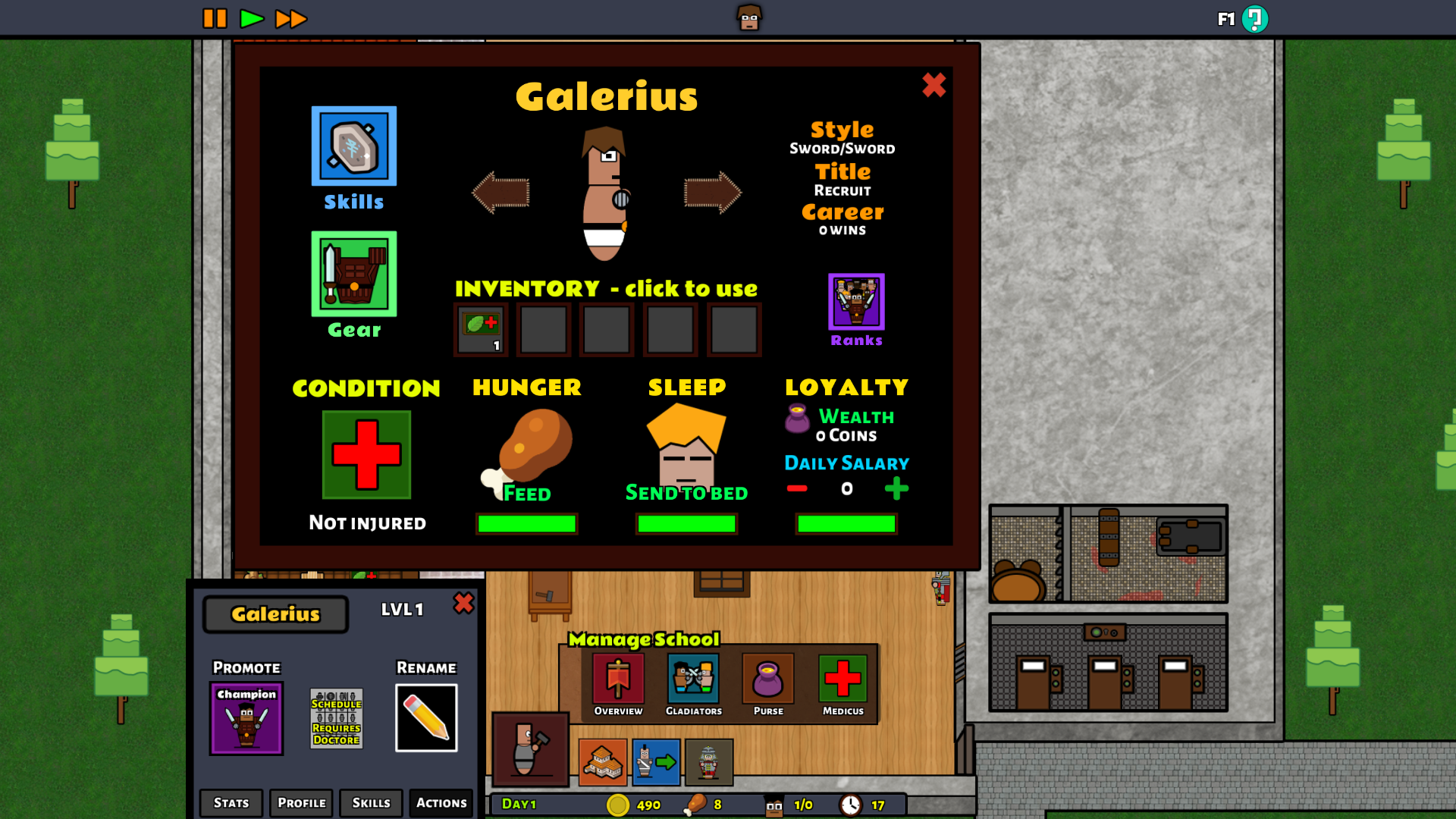 New user interface for managing Gladiators needs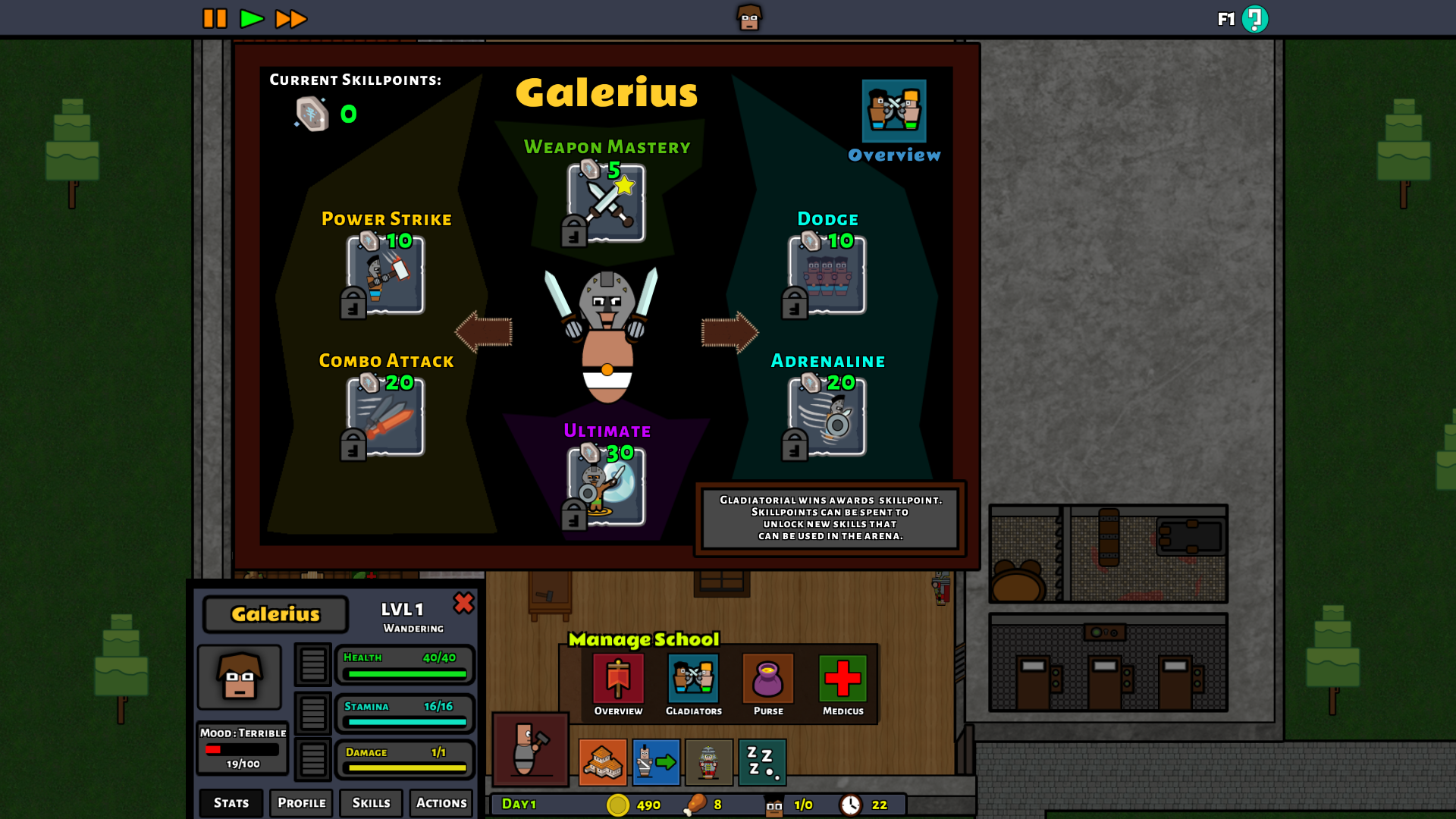 Spend skillpoints for your gladiators fighting style in this new UI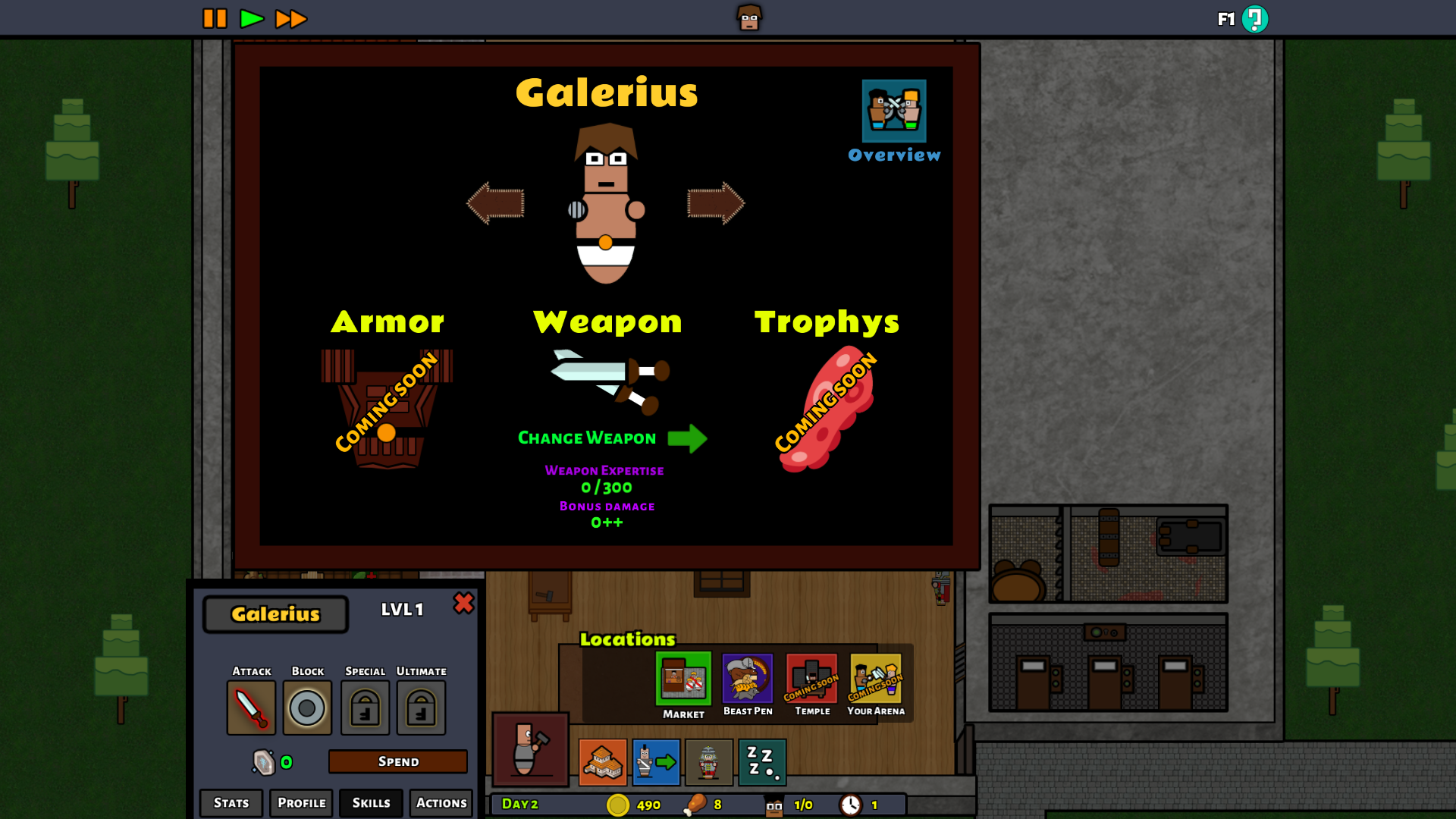 Change weapon and fighting style in the "Armor" section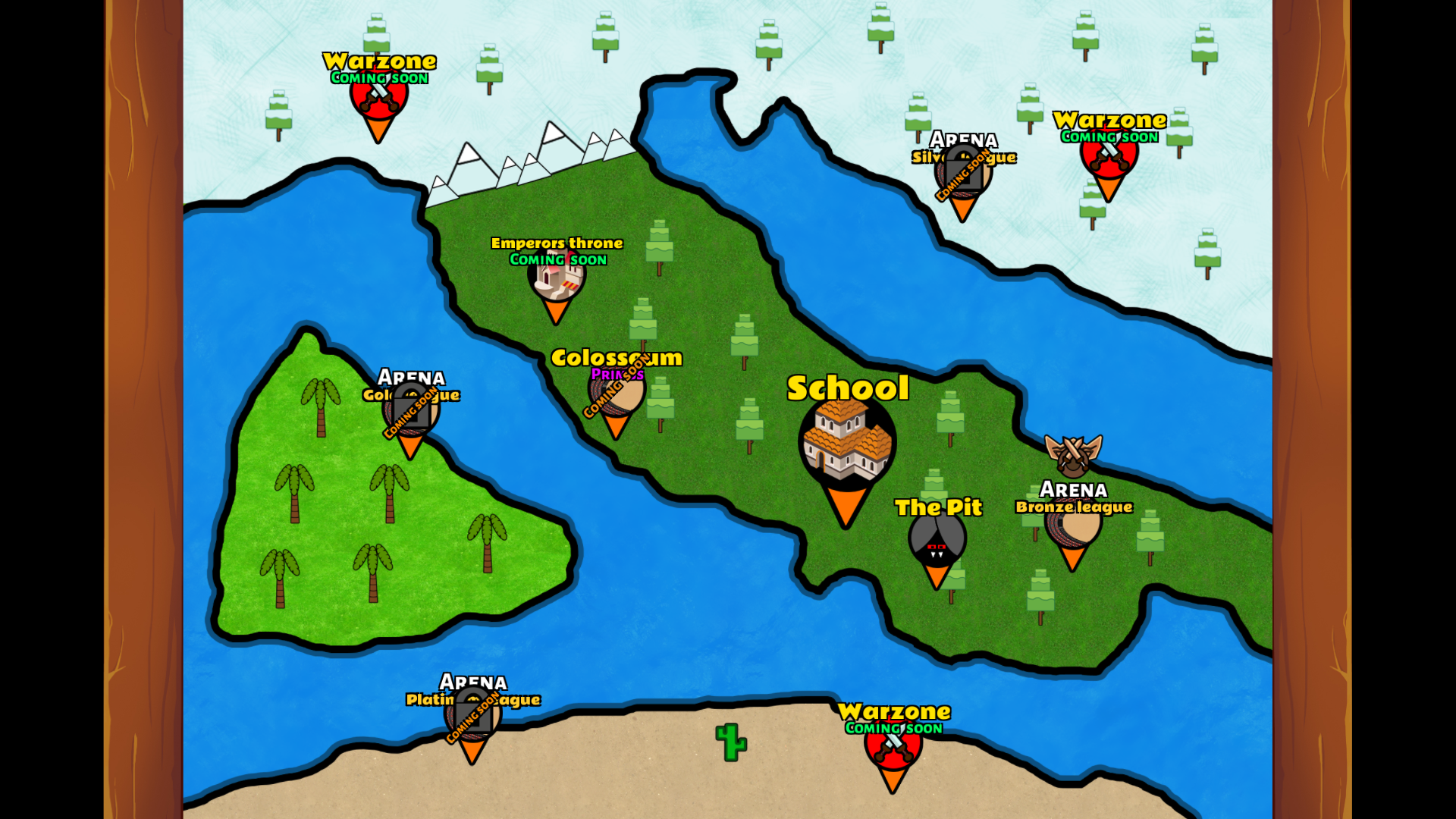 New progression system in the world map with The pit, Bronze league and Trial battles. The old scouting system has been removed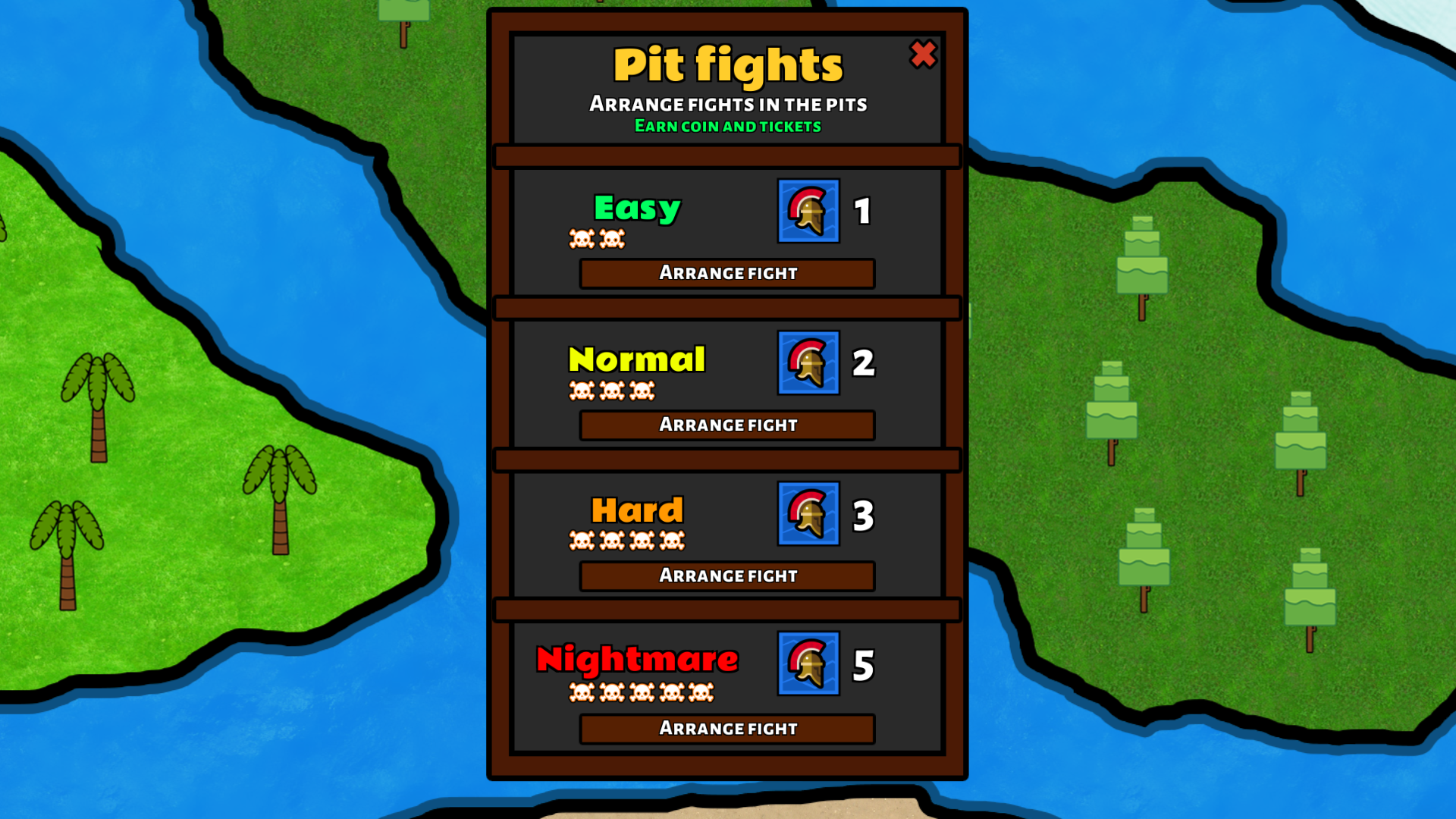 Choose difficulty when you "grind" arena tickets and coins in pit fights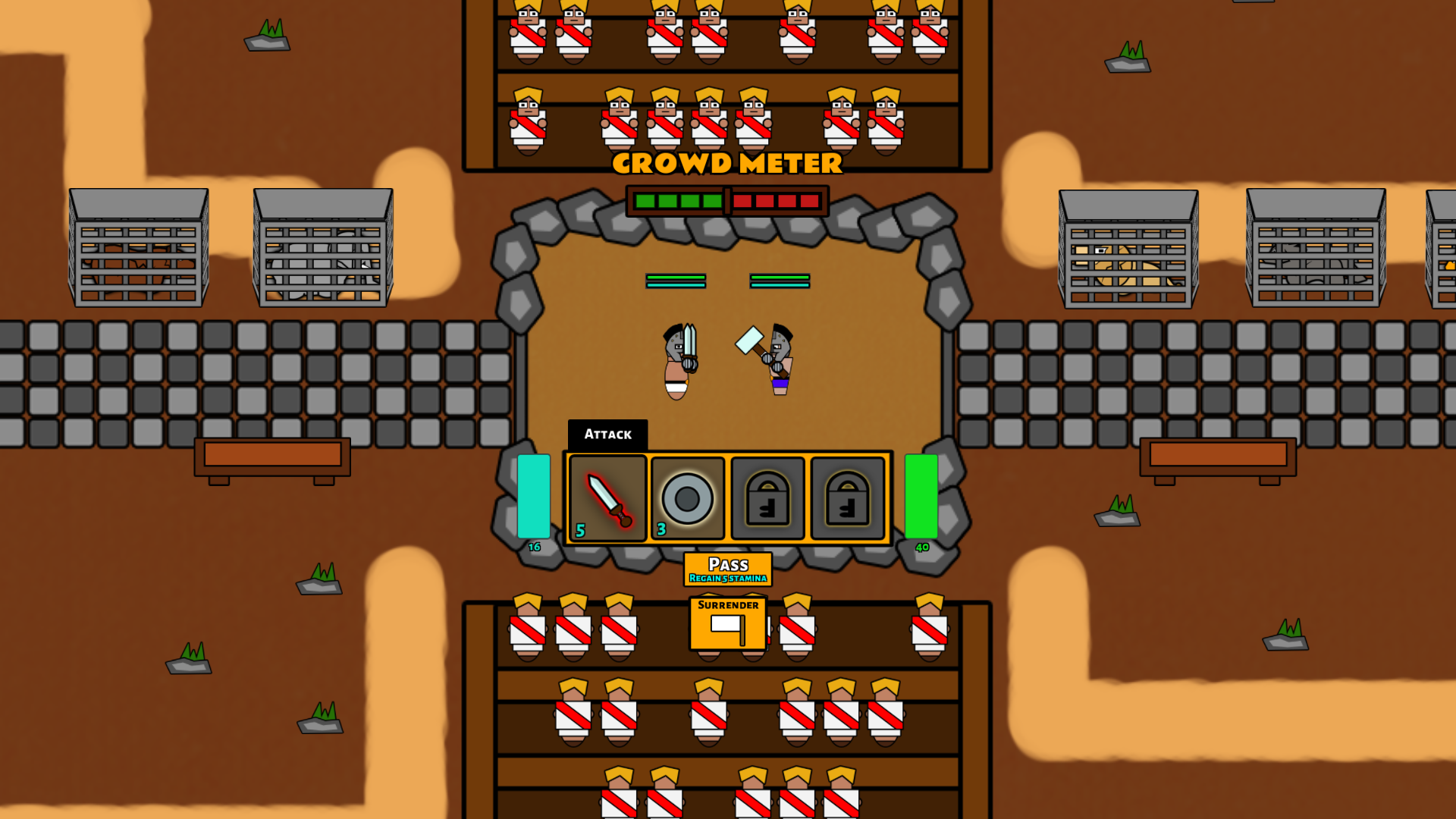 New arena has been added called "The pit"
New features added to the roadmap:
Chariot racing arena(Compete in races with your own upgradable four-horse war chariot)
Train slaves to become charioteers with strength, skill, and courage as attributes
Practice plans/drills(Command your gladiators to perform special drills in group)
Recieve offers to sell a gladiator to rival faction after a promotion
Gladiators can buy their own freedom with their accumulated wealth as price
RPG elements, interact with the opponents and other factions from Bronze League