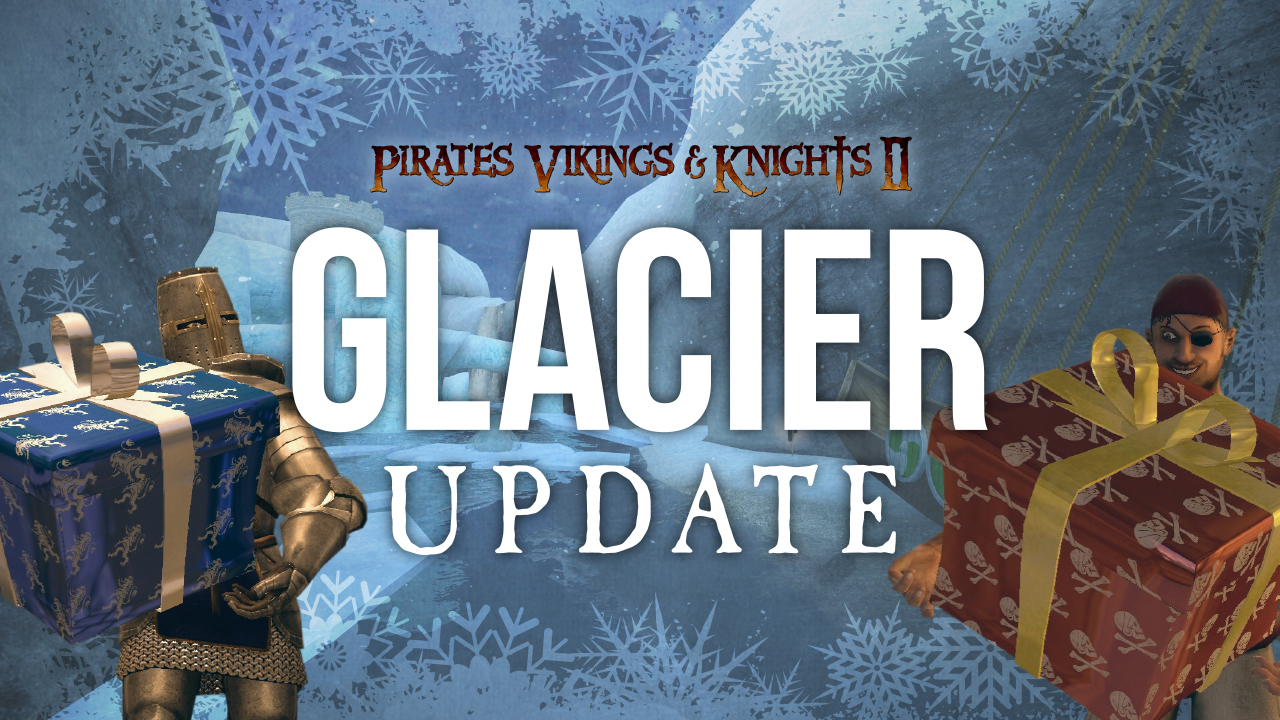 Happy Holidays everyone!
Shiver me timbers! The Glacier Update is here! Server owners please update your servers!

To talk about the Glacier map we have to take a walk down memory lane. Sit back by the fire, i'll light my pipe, and let the old man tell you a story.
In early 2007, the PVKII Layout Competition was announced shortly after the first beta release of the game. This was the game's very first community-driven contest where users from the official forums could submit map layouts to be judged by the PVKII team. The winner having their layout turned into a real map by the team! The winner of the competition was a fellow named "Parrot of War" and his layout was for a map called "Glacier".
The layout saw many different developers and creators take a stab at it, including the original mapper MrAgent. Some made more progress than others and map development was progressing like glacial motion until Hurtcules came along a few years ago. In deciding what he should do as his applicant's challenge, Hurtcules and the team agreed the game was lacking Viking/ snow themed maps, so Glacier was the perfect fit.
However, the initial draft based on the layout was simply too large and too ambitious. In order to make it more optimized for Source, look good, and of course be fun, many changes were required. The result was a more symmetrical and easier to learn layout, and a map that fit in perfectly among other official maps. But what would Glacier be without more artists joining in on the fun? PVKII Authorized Creator Roald, lead mapper for the tw_desertruin overhaul, added his own personality and detail pass to the map, helping to make it look like it does today.
Making maps is a huge undertaking, with the best ones taking years to put together. And even the best mappers know that the work isn't done on release. Expect to see more updates on Glacier in the future. We look forward to your feedback!
We want to thank everyone who has ever been involved in the Glacier project, especially Hurtcules, for sticking to it and seeing it through to release.
Highlights:
New Map! Bt_glacier
Official PVKII Player Guide - Melee Combat Chapter
GrogBot Bug Fixes & Updates
Balance Changes
New Voice Lines
Code Fixes
Automated Holiday System - Treasure Chests are now Presents for a limited time!
Screenshots
View more screenshots here!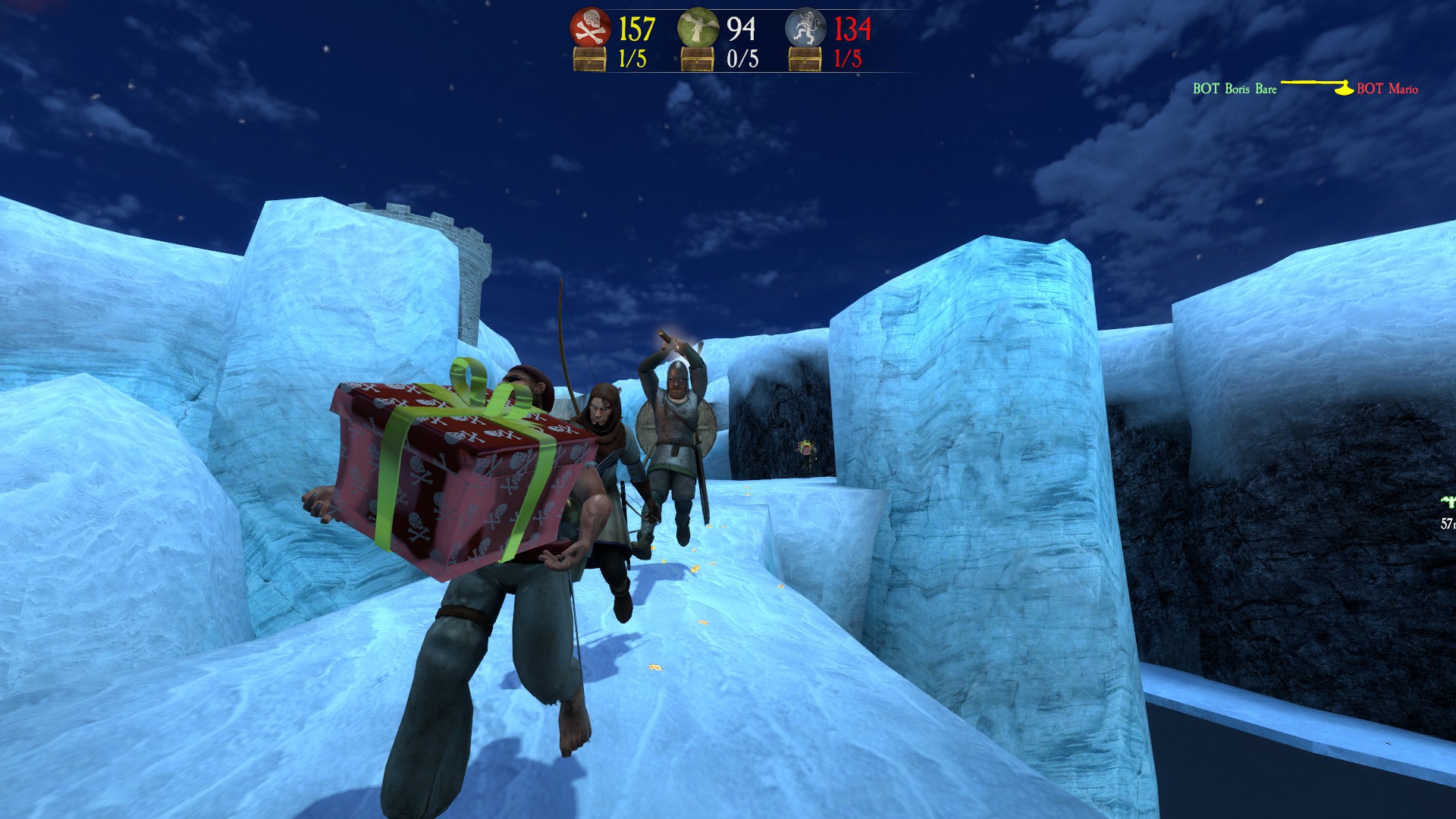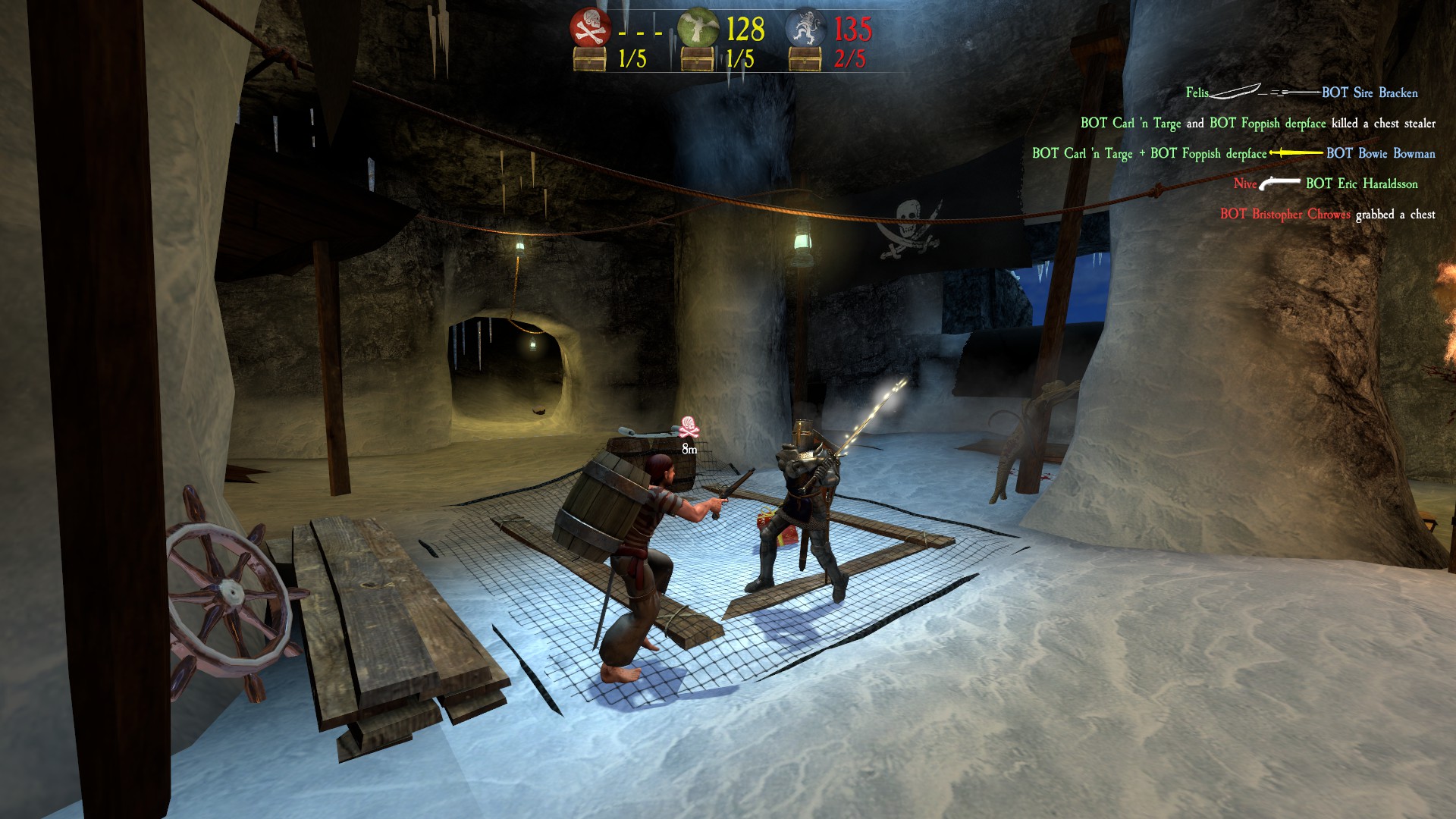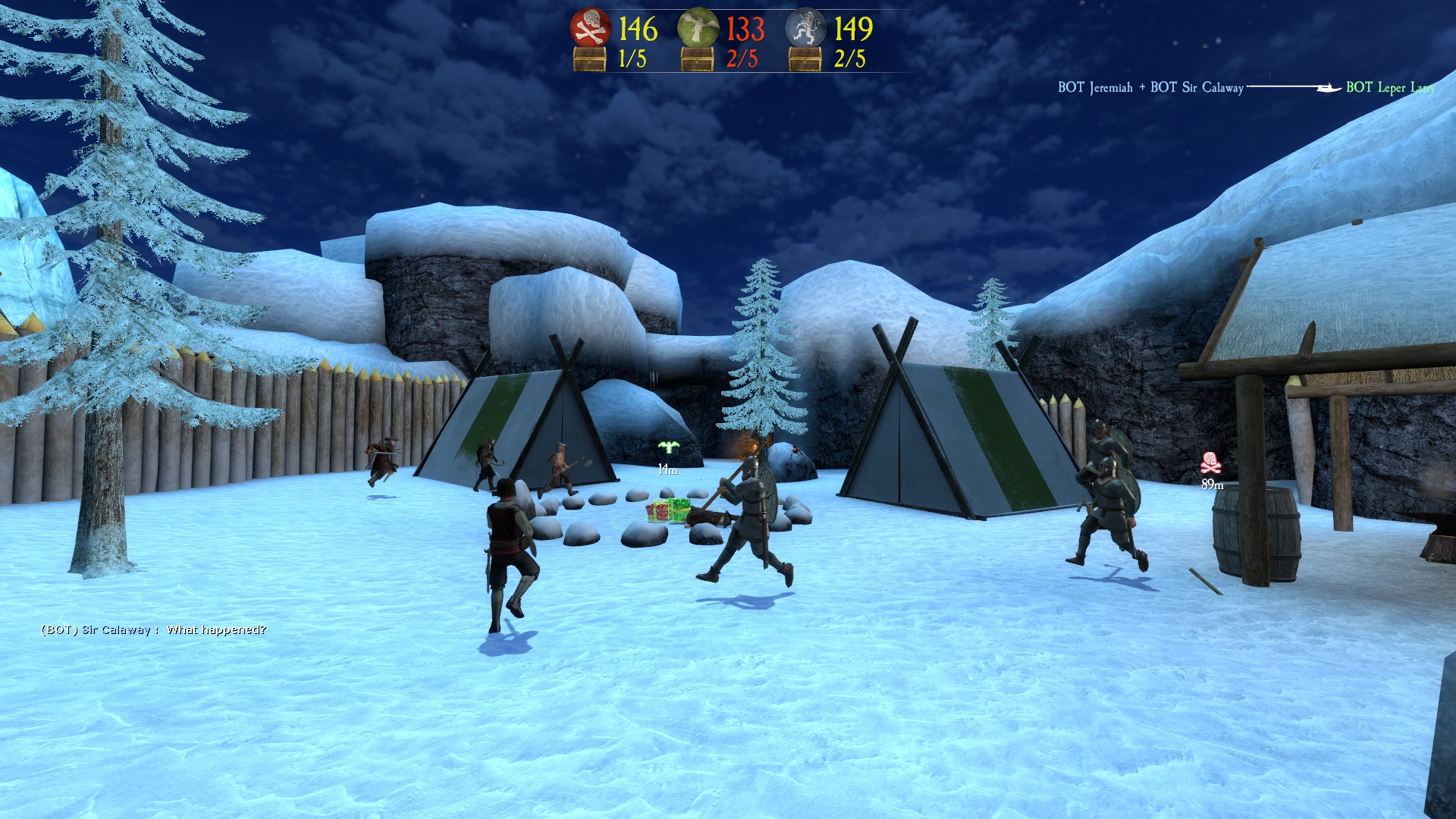 Changelog

bt_glacier
Stranded in a glacier in the North, the three teams struggle to fight for some hard-earned booty. Break open the ice to find the treasure. Take the high road or the low road. There are many ways to get to your objective. Watch out for the ice cold water, you'll freeze to death!
Read more about Glacier's history here.

Official PVKII Player Guide - Melee Combat Chapter
We'll be updating, improving, and adding new chapters to this player guide over time, each focusing on different aspects, from basic gameplay info to class-specific advanced tips and tactics. The Player Guide is accessible through the main menu and available online here.

GrogBot Bug Fixes & Updates
GrogBot has been optimized to be more slick and performant in offline games, should be noticeably better with 24 max player limit, anything over that is unsupported
Added logic for chasing players, bots will now give up and reschedule if target is "unreachable" after a set amount of time
Fixed issues with skirm bots doing inhumane movements with cutlass special, and huscarls / gestirs dashing around in circles with their specials
Improved voice command sensing, added bot responses
Added automatic nav mesh generation, server will generate a nav mesh on bot creation if none exist, can be controlled with cvar "bot_auto_nav_generate"
GrogBot chatter tweaks
Fixed bots ignoring movement speed changes
Fixed bots not reacting to intruders
Map Changes
bt_island, tw_temple, and tw_frostbite nav mesh fixes

Balance Changes
Man-At-Arms
Halberd:
Sides:
Multiplier: 1.08 -> 1.03
Minor nerf to bring the power of the side attacks down somewhat so they no longer overshadow the forward or back attacks. Relying on them exclusively is no longer the most optimal strategy.

Heavy Knight
General:
HP: 125 -> 130
Due to the way that HP and Armor play off of each other, the max damage HK could actually sustain was 312, a measly 12 points more than Huscarl. So despite all the other ways in which Huscarl was already better than him, HK was barely any tankier. This small change bumps that difference up to 25. In practice, this allows the HK to sustain one more ranged attack from Bondi or Sharpshooter, as well as allow him to survive attacks he otherwise wouldn't have with a little HP to spare.

New Voice Lines
Added "taunt Bondi" lines to Captain, Man-at-Arms, Sharpshooter, and Skirmisher
Added "killed Bondi" lines to Captain, Sharpshooter, and Skirmisher
Added "see teammate die" lines to Man-at-Arms

Code Updates & Fixes
Fixed bot achievement progress not being stored in Steam
FMOD sound system has changes in precaching and loading samples
Automated holiday system similar to TF2 includes timed Christmas Present Chest models instead of treasure chests from Dec 17 to 31! Models by Links121995
Fixed invalid sample rate on player cut sounds
"Coin surface" prop + sounds, updated carpet sounds
Fixed Atlatl crosshair
Kill Feed redesign
Man-at-Arms drops his hat on death again
Alternative color scheme for HUD elements, helpful if you have anomalous vision (you can enable this in advanced options)
Added vertical scrollbars to scoreboard, when over 24 players
Added ruleset selection to bot game dialog
Fixed bot game dialog not listing downloaded maps
Misc. in-game font tweaks
Glacier Special Thanks
Parrot of War, Skjalg, Smilie, MrAgent, Banjo Boy, Colonel, Roald, and Hurtcules!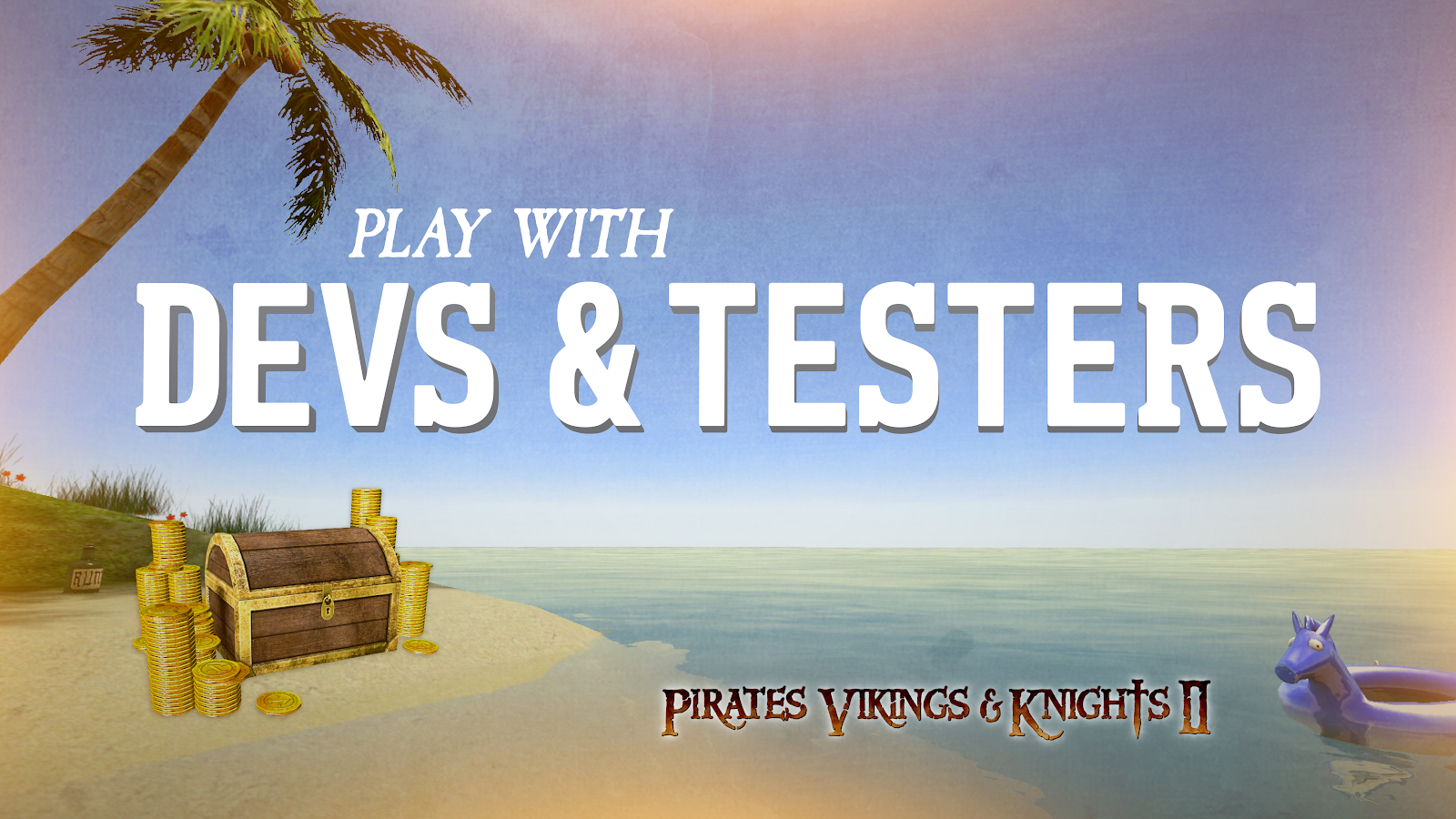 PVKII Glacier Update is here! Keep the bloody good times going by celebrating with us and helping squash some bugs! Come out and play with us this TONIGHT & Sunday DEC 29 at 1:30 EST / GMT-5. Refer to the Steam Community Hub Event for most accurate time for your area.

We'll be playing on these servers:
MrAgent's 0.4.2.1 Official Server
Spamgrounds US Island
Spamgrounds US Official Maps
Spamgrounds EU
*Server listings are subject to change.

We'd ask that you please adhere to all server rules for the game and on discord, and follow any rules enforced by server admins, developers, or testers throughout the event. Sounds easy, and we'll have fun!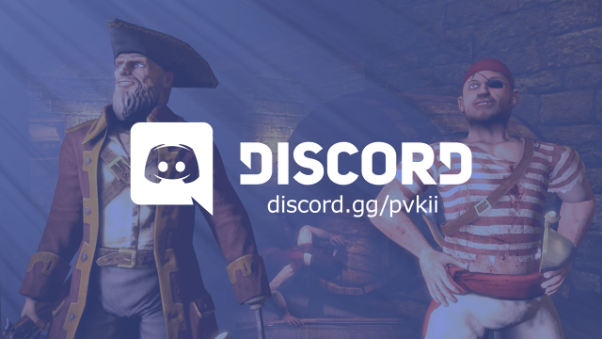 Join the conversation on the official PVKII Discord! Interact with devs, testers, creators, and community!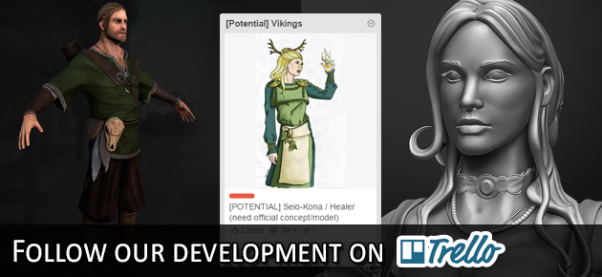 Follow us on Trello for the latest development buzz, and as always, follow us on Facebook and Twitter for more updates.

Enjoy the update!
PVKII Team
Octoshark Studios