Sakda "MyWorld" kunkasdare
Ghulgekik chekogata gaikduja kidetare dutak kojeda, Gratok tokik chekogata dejatrukun kogu dekaodu ghikgrare kunkasdare gata sakda Ghul-grarekun.
Kogu chekogata sakdata sakda kodejeda MyWorld dajareulkunulkuntru kodedatok kungratare chekaogratare gratok chesakdata sakda- Oh, this is silly. Let me start again... What I said, was;
"We have been taken over by Ghuls, Where they have forced me to read this news in the Ghul Language.
I have expanded the current MyWorld world map and made it-."
---
Anyway. MyWorld news for today, is that I've made two advances. One, I have expanded the World Map to suit the game better, as well as completed the basics of two languages... As you may have noticed.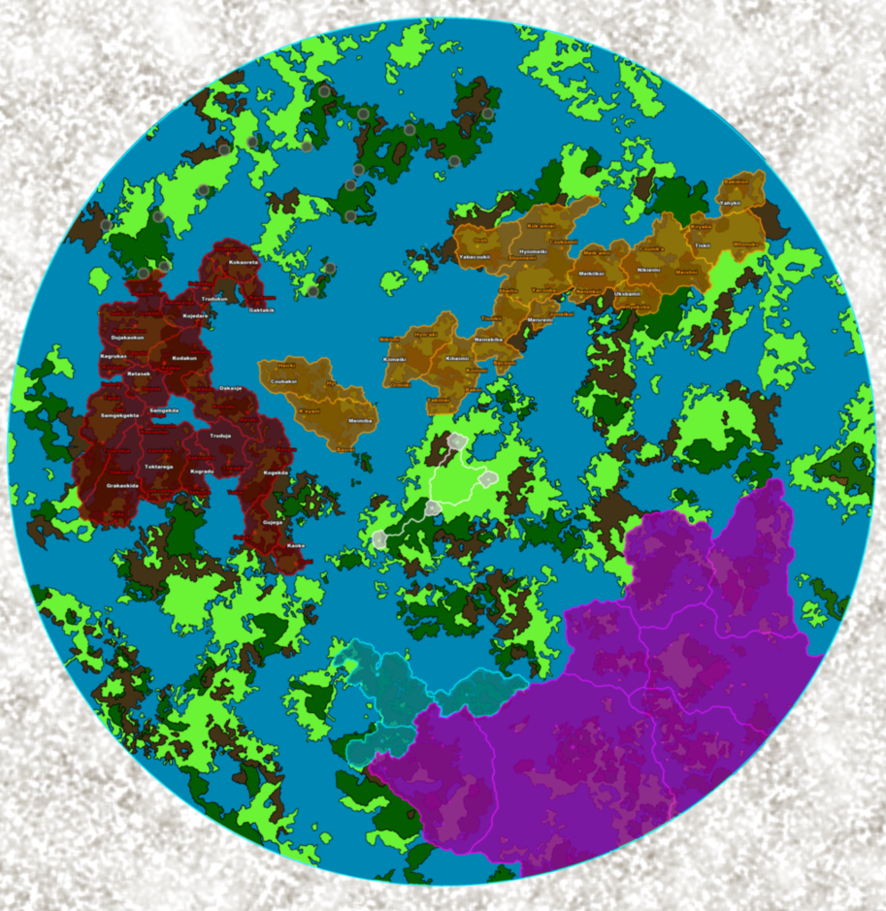 Tadaa! And now to explain the design... which isn't quite finished yet.
Nethertheless, in the center of the map is a giant volcano, thing.
So-so many centuries ago, magicians gathered and created a generator that feeds on the magical output from the magma, to create a shield that would save a portion of their failing planet - outside of the shield is now endless ice and blizzard.
Now, this is just the base idea, but I'm suspecting some sort of magical experiment gone wrong would of caused this freeze-over.
As for the big question: Why? Well, why else would players not be able to go beyond the boundaries? mountain, forest and sea that aren't passable? That's not going to work - players can fly, for one thing - and I definetly don't want to be walking along and bump into air and have it say "You can't go this way."
---
As for the languages, if you check the To Do List, you'll see that the Ghul and Neonni have been finished. Here are a few sentences spoken in both languages and a rough translation:
English: "And on the seventh day, the thousand warriors will go quietly to the night."
Ghul: "Gratok dutak gakre jakunko, Sakda gagatre kasrekogra grukogata dekaodu sakda jakunke."
Neonni: "Ei for ormii oiyy whkii, ormii likoimitis k'arei si'srorkii uks k'asrei tiseiki ormii fkii."
English: "Hello everyone! This is me speaking Neonni/Ghul, isn't it great? "
Ghul: "Koreje kokaograde kundaigul-ga gekik! Kojeda kogata kogu grarekun Ghul, kogata sakda sek kodareta?"
Neonni: "Koiei heimeiki bashk'am'h! K'aya srorkii m'hkii k'afki neonni, srorkii ormii meish Feiki k'aeish."
English: "There are 25 people."
Ghul: "Kosekre kogata gukunig-gagu gekik."
Neonni: "Ti'heir'a m'h srorkii."
English: "My Love"
Ghul: "Kogugaik sakdatakoda."
Neonni: "M'hkiihei"
English: "What is the time?"
Ghul: "Kigra kogata sakda jakun?"
Neonni: "Hyki srorkii ormii kymiir k'aeish."
English: "I will kill you!"
Ghul: "Kogu grukogata dasek jagru!"
Neonni: "M'hkii si'srorkii Koiin m'hei!"
To say the least, I think Ghul is the easiest of the two to speak. Whilst the Ghulish language relies heavily on blunt letter-sounds like "k", "g" and "r". A ghulish word often uses one, maybe two, tongue actions at once.
The Neonni language is very smooth and tongue-slippery, relying more on complex tongue-movements such as pauses, clicks and letters and slip between each others, like "s" to "r". A Neonni word often uses more than one tongue action at once.
---
CerriaWiki Page of the Day!