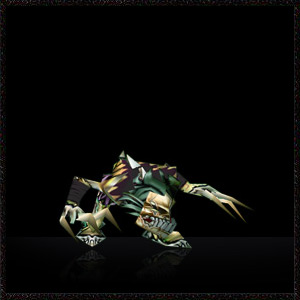 Story
Renowned for his unmatched valor and prowess, Edmund Shieldbearer --brother to Edgar Shieldbearer, a Paladin of the Twin Suns Church--, was a general of the Regnum respected by his allies and feared by his enemies. During the war against the Empire, he regrettably fell in battle at the tip of a dozen spears. The proper ceremonies were made, but soon after, the body disappeared.
The cruel strings of fate designated that his body become the ingredient for the Wizard's daring experiment to create an undead abomination. Unholy magic from ancient eldritch grimoire ended up creating a frightening monstrosity. This being no longer feels fear, remorse or self-preservation. Charging into the battlefield with zero hesitation and maximum ferocity, 'the Ghoul' claws its way through the corpses of its former brethren in a never-ending fervor, as they stand frozen in awe, witnesses to the cruel fate of their hero, and ideal role model.
Statistics
Name: Ghoul – Edmund Shieldbearer
Primary Attribute: Agility
Affilation: Forsaken
Gender: Male
Race: Undead
Role: Hunter
Damage: 56 - 66
Armor: 6
Movementspeed: 360
Health-Regeneration: 0.25
Mana-Regeneration: 0.01
Weapon Type: Normal
Cooldown: 1.65
Range: Melee
Start Health Points: 450
Start Mana Points: 150
Abilities

Claws Attack:
The former Paladin flings his claws around aimlessly dealing bonus physical damage to heroes, but hurting himself in the process.

Cannibalize:
Edmund kneels down and consumes the raw flesh form a near corpse for up to 5 seconds to regenerate some hitpoints.

Flesh Wound:
Every second hit weakens the enemy's armor by 2 points for 3 seconds. The effect can stack several times.

Rage:
The Ghoul charges forward carelessly, thrusting and slashing with tremendous strenght and speed, but leaving himself open to attacks.
All Details:
Forsaken-bastions-fall.com