So, our next project in development is a magic school dating sim inspired by all the ludicrous excesses of fanfiction.net. 'You' are a teenager just coming to grips with your new magical powers (and your hormones) and you get packed off to boarding school, where you'll learn to cast spells and have overly dramatic adolescent romances.
This is an anime-style game with a customisable main character. Hair style and color, eye shape and color, skin color, etc - just like a dollmaker. And just like a dollmaker, fantasy accessories will be available - but not at character creation. You'll have to save up in-game if you want to buy wings.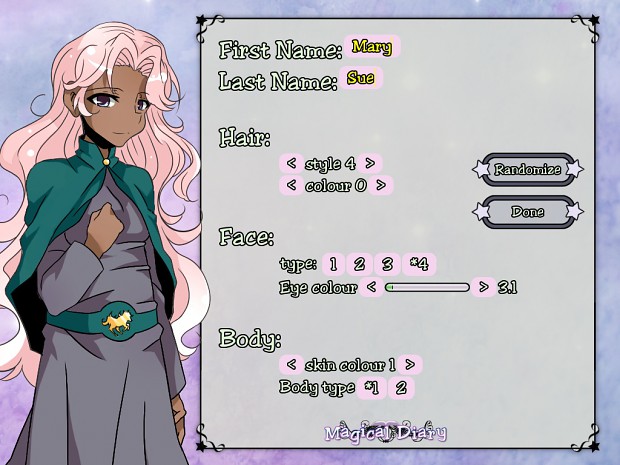 Features we'd like to have eventually include character import/export (which will, of course, allow you to cheat massively by hacking your character design) and user-imported resources so that you can put your own graphics into the setup because you really wanted your character to have a ludicrous mustache. Working out how to do that will be slightly tricky, because there are different body types as well as different face types, so new graphics tend to need multiple positions and/or multiple versions. But it's on the list of things that would be fun.
As for the romance plots - pick a fanfic cliche and we're probably going to TRY to get that in somewhere. Hopefully in a funny way. :) In the first game, you'll be playing a girl but you will be able to date both boys and girls. If this spins out into a complete series, you'll be able to play either gender and date either gender. And possibly even some characters who don't fall into neat gender categories. CargoShip CrackFic anyone? We do not guarantee that you will be able to have a deep and loving relationship with your left shoe, but we do not guarantee that you won't either.
There are intended to be RPG elements tied into schooling, but it won't be the major part of the game. More information on that in the future!