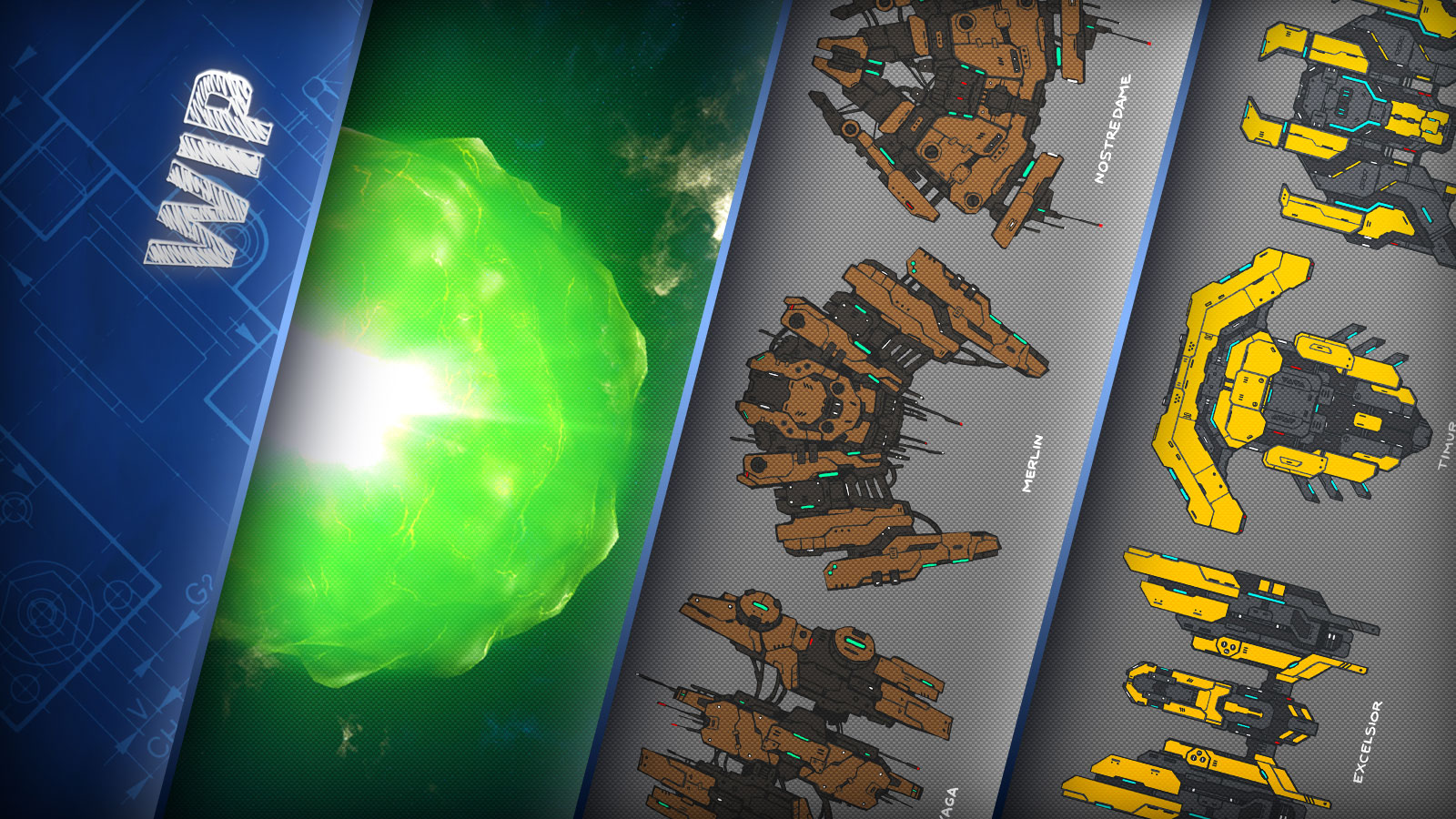 The winter is here and there isn't much time left until the holidays start - so, good news are that we are having another pre-Alpha Faction Wars test soon.
We fixed a bunch of bugs, improved several features and are ready to meet you in Starfall Tactics pre-Alpha test starting 17:00 CET 15th December to 23:59 CET 18th December!
Hurry up and send an application for the alpha test! If you already played Starfall Tactics during previous events - simply update the game a few hours before the test. And don't forget to join other testers at our Forum and on Discord channel.
Read more information about upcoming test and new features next week!
And today we are also telling you some details about changes in Plasma Web mechanic, showing its new visual effect and introduce new dreadnought sketches for Eclipse and Deprived factions:
Plasma Web rework
---
If you ever played PvE Survival, you definitely saw this Plasma AOE module in action, destroying some of your heavy and slow ships which didn't get out of it in time. This module did a really great job in dealing massive damage, but one of the biggest problems was the fact that you could launch 1-5 Plasma Webs into one place, leaving no chance to survive.
So, that was obvious and we decided to change it somehow, and here is the list of said changes:
Damage from several Plasma Webs won't stack.
Basic effect radius was reduced.
Now, if you launch two of them and one will be crossing a border of another, they will merge into one, bigger plasma web.
Damage of this effect won't increase and will stay as for normal single Plasma Web.
Each Plasma Web effect will keep it's separate duration - so, if you merged two of them, and one is over, Plasma Web will return to a smaller normal radius of one effect.
Note that effect radius, cooldown time and dps is still a question to discuss.
We also fully changed the whole effect - now it definitely looks more interesting ;) Be sure to try it during the next test!
New ships - creating Eclipse and Deprived Dreadnoughts
---
At the moment each faction in Starfall Tactics has 2 dreadnoughts, with 4 modifications each. But there is no way we could miss an opportunity to design another couple of great brutal ships! So, here are some sketches from our 2D artist:
Those are three Deprived ships - the one in the middle, Merlin, will soon take its' place in the game as a dreadnought. We really wanted to make Yaga the first one, but eventually decided that some design aspects of this ship require proper animation which can take too much time at the moment. However, Yaga definitely can become an epic ship a little bit later!
Eclipse are getting a ramming dreadnought - Timur. Just look at these forms - it is a giant hammer which wants to break enemy ships into pieces! Other two vessels will also get into Starfall Tactics, but as ships of other classes.
Of course, Vanguard faction will also receive new dreadnought - but let us keep it a little secret for a while, to make a good surprise before the upcoming test ;)