We've had a spectacular year, our best since 2006, with several successful releases of our mod totalling over 40,000 unique downloads spread across our site mirrors and moddb.com. We ask that you help give us the best chance we can to once again win a MOTY award!


This time around we will be in the "released" category. Our previous awards were top 5 placings for an editors choice for "best unreleased" in 2005, and players choice 3rd placing 2006 released.
Since then we've had a restart by going to Orangebox engine, and now find ourselves eligable for the "released" category. This has been one of our side goals for this year, and extra incentive for working hard to find fixes and a patch to the valve issues that plagued mod servers during february. Following the patch we have seen the game played successfully through several of the best community driven servers, utilizing stat services to give our players an even greater experience time and time again.
We thank them, and you the fans, for giving us the opportunity to see the mod enjoyed and the feedback receieved. To jump in game even 7 months after a release to find fans eager to hop in for a goldeneye romp, is surely gratifying.
And we say that knowing what is to come on your GE:S horizon is even grander than what you have now!


2010 will see the finalization of GE:S Multiplayer, starting off with this huge and anticipated content release coming very soon. After that a planned commitment to release often as we bring in the last of the standard Mi6 and Janus characters as well as the remaining maps. To help for this next year of releases we are going to use the emerging platform, DESURA! This is one reason we are not rushing a premature beta 4 before the end of the year.
We will investigate our options and in the meantime we can test and polish the many dozens of features and additions shown and listed in our previous october report!

Last report we promised to show more guns, more screens of maps, more rolling explosions and one of the newest characters to the Mi6 team. Here is the kind of delivery pizza hut could never touch!
Moonraker Laser [click image for large size!]
Rocket Launcher [click image for large size!]
Explosive Action! [click image for large size!]
006 Posing Teaser [click image for large size!]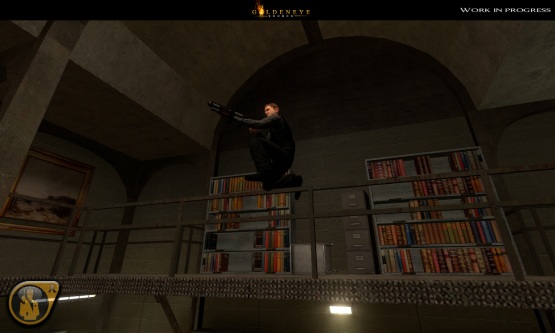 ---
Next update will be cranking out some more 006 screens and info [whoamg? I know right!], more characters on the way in-game, and hopefully just into the new year we can roll out a trailer to showcase some of the things in moving splender that you have seen us pimp over the last 2 months!
Happy holidays, merry christmas and/or any holiday you observe, may it be a joyous and relaxing time for you from all of us at the team. Next update will be January 1st of the new decade! See you then and remember to vote us into top 100, and then again at any time you can. Do us proud by visiting our profile daily and dont forget to tell your slack friends to vote for us as well!
Remember, our forums and website are always welcome places to hang out, support us and find more!
Goldeneyesource.net
Sincerely,
Team GoldenEye: Source