So you look at GOF and ask yourself, why should I download GOF 1.1? Well lets give you some reasons of what make GOF 1.1 a great mod and well worth the time to download.
We will start with new features.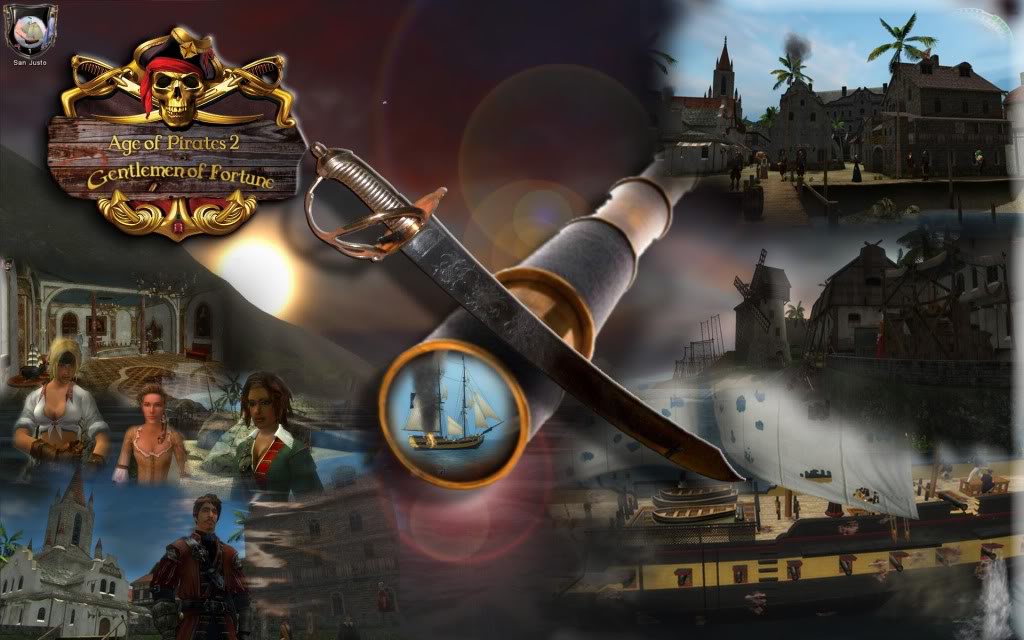 Mod options
So in CMV3.2 we had introduced switches which you could turn on and off in _mods_on_off. This mens going into the game directory and looking for that file everytime you wanted to change one of the switches. Now you can go into options menu, and in the bottom right their is a button for the mod options, which can be changed between realistic and vanilla settings.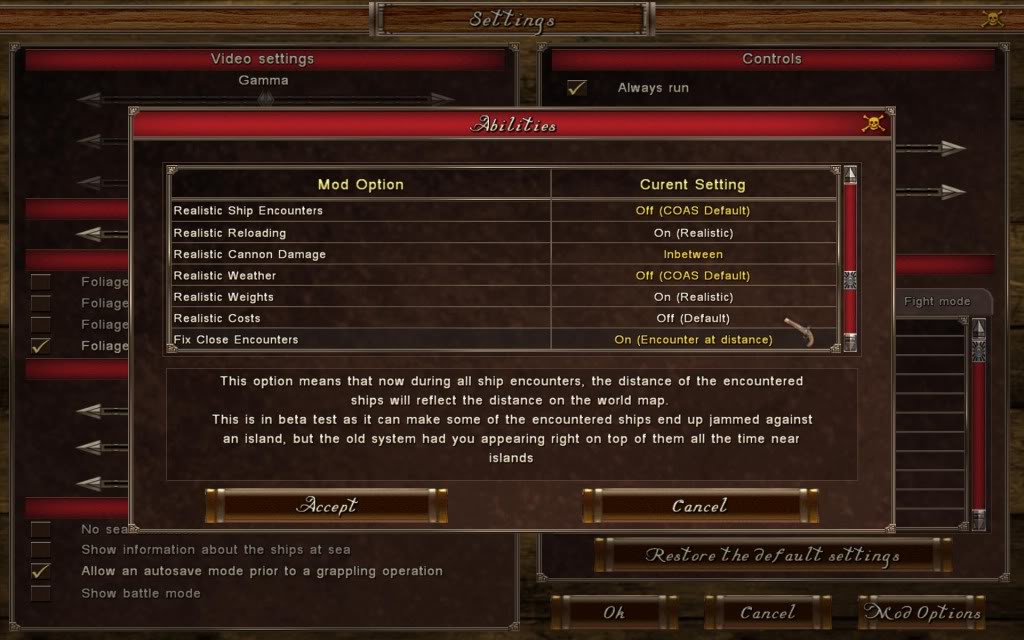 This makes it much easier for everyone to try out the different settings in order to find what they like and dislike. The new mods button also see's new switches added, so now you can choose between the vanilla wind speed or the realistic wind speed. This was a big problem in CMV3.2 because you only had one option and that was the realistic wind speed. Now its up to you which setting you want.
Weights for goods is another addition. Now you can choose which weights you want. Vanilla or realistic. Realistic will increase the weights of goods which means you can't carry as much as you can if playing with this setting on vanilla. The price of Goods is yet another switch, play with vanilla prices or realistic, which reduces the costs but also reduces how much profit you make from selling those goods. This, with realistic weights turned on, will leave you making less money so the game becomes more fun or harder, depends on how you look at it.
Another is cannon reload times. This was more of a fix than anything but now you can choose either vanilla loading times or realistic.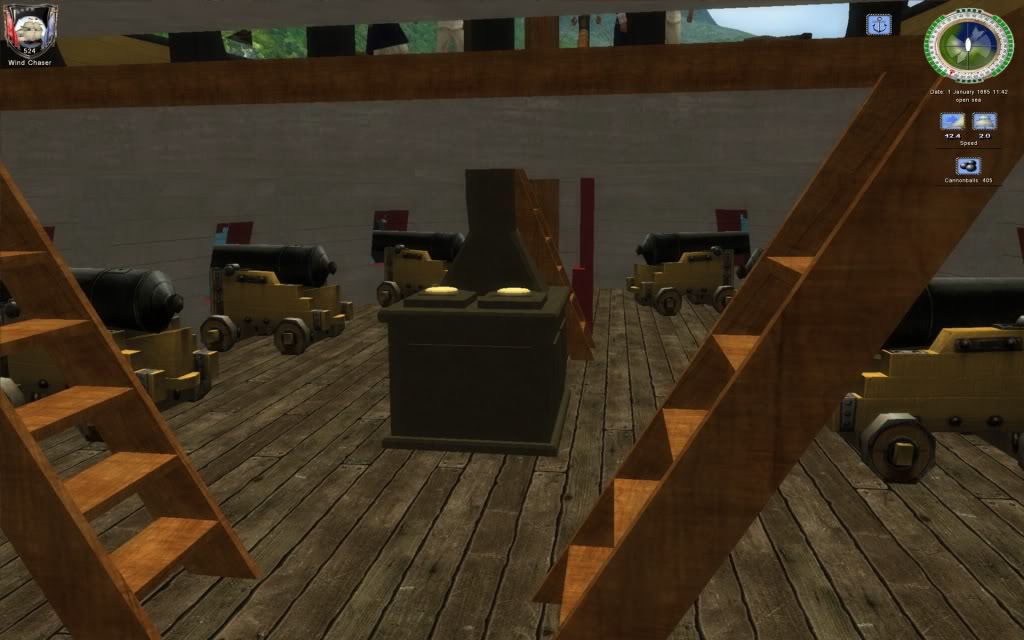 The differences is, vanilla loading times will take longer and this means longer naval battles. Turning realistic on though will mean the larger calibures will be more deadly as they reload much quicker than if this was set to vanilla.
Textures
Well we tend to say new ships and/or characters have been added. And although some new ships have been added, its the textures that will stand out the most.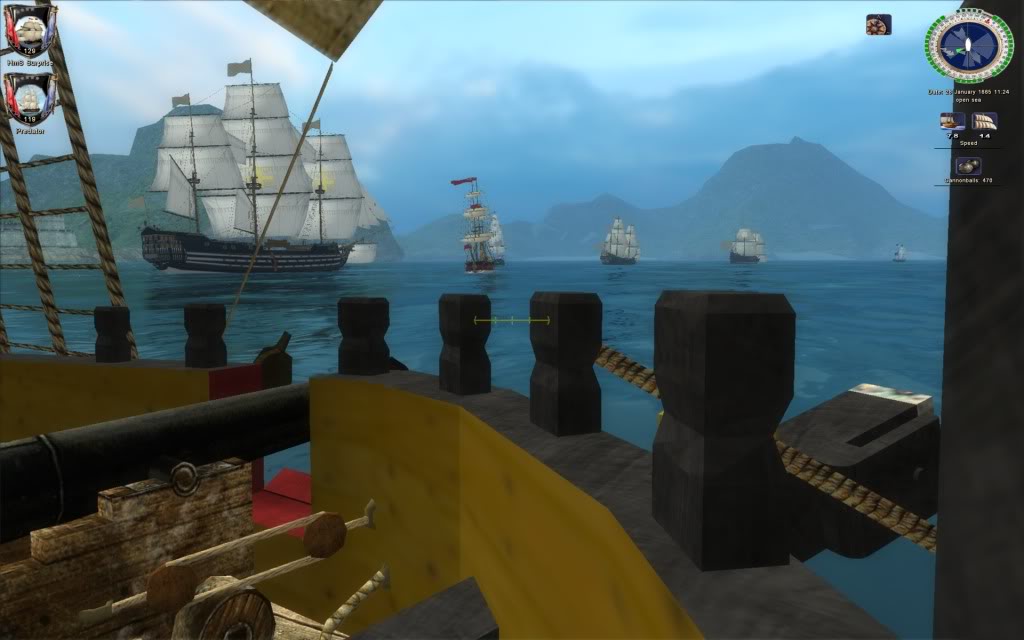 With almost every ship retextured now, you will be seeing ships that you once thought were ugly as pleasantly surprising now. The textures have improved their image a lot.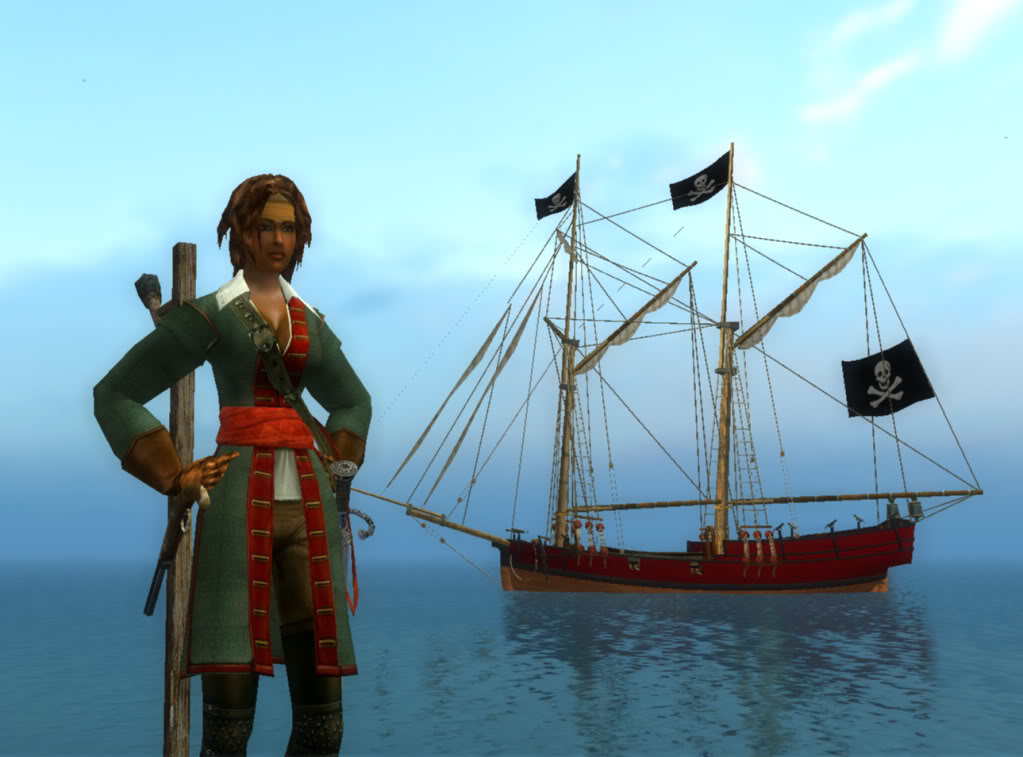 But better textures continue into the menus, characters and places in GoF. Now all menu's look much different, even when you start the game you will be presented with a new start menu which gives the game a much more appealing look and feel. Regarding buildings, you will find some looking exactly the same, and then some will be quit a bit different. This gives the feel of a different building rather than every building looking the same all the time.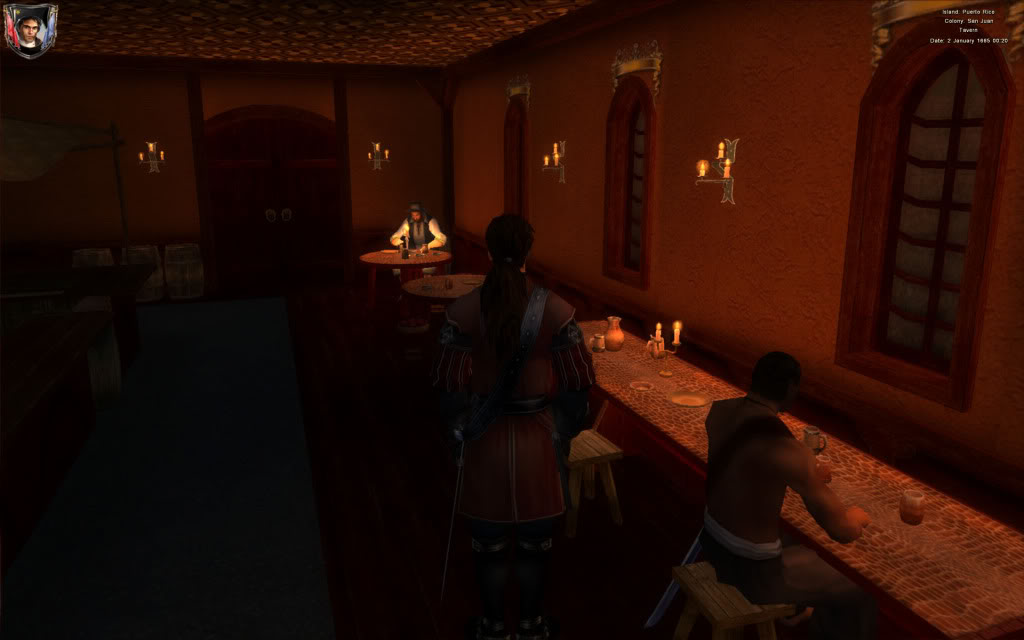 Fixes
Fixes are just as important if not more important than adding more content. No one likes a buggy game and COAS in its vanilla form was very buggy. It was unstable, which left you saving almost every few minutes just in case the game crashed. Now the game is much more stable with some people reporting playing continually for over 8 hours and still not experiencing a single crash. This is a big thing because we alway's wanted CoAS to be much more stable. Another big fix was the all to obvious ships small thumbnails in CMV3.2. Some ships had them but most did not. Now every ships thumbnail works. This fix had eluded us for a long time but no more. Item's wher another problem in CMV3.2. You would see iteam's with the wrong thumbnail image which was annoying, now all iteam's have the correct image and work fine.
I could go on for ever because so much has changed but I won't because it will just get boring for you to read. So I will leave you with this final thourght, if you had to pick between CoAS vanilla and GOF 1.1 which would you pick? Why don't you see for yourself.
NEW FEATURES:
This mod includes, but is not limited to, the following:
Dozens of new improved textures for building interiors and character models by Officerpuppy Many new ship models by Pgargon and imported from POTBS as well as dozens of new extremely detailed, historically reworked ship skins by Craiggo New Graphical User Interface (GUI) with new look and additional control options by Craiggo, Pieter Boelen and Jonathan Aldridge New breath-taking weather and Sky/horizon effects by Luke159 and Craiggo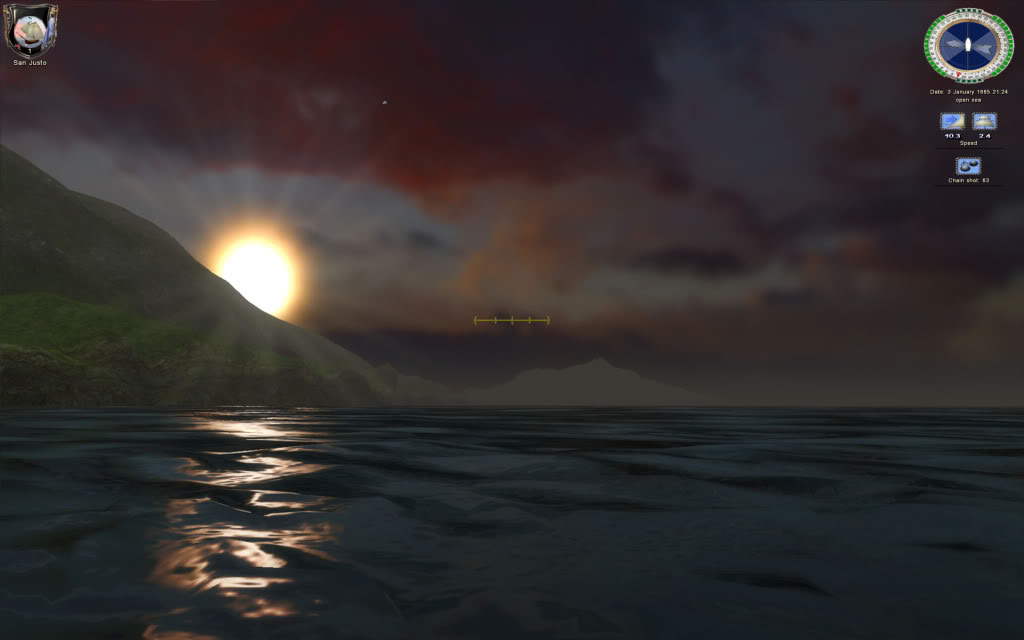 Added Powder remaining to the battle interface.
Modified the wind speed calculations, so now when using realistic weather, you still get the occasional complete calm, but it is much more likely to give you a decent wind.
Added an option to reduce how much bonuses you get from the rare skill books. (I thought having them stack up to 60% was too much)
You can get different colored sails for your ships from the pirate shipyard now (currently only black red and blue, but that can be changed easily)
Added option to allow the Tree of Life and Dynamo perk to add their bonuses retroactively. (toggle-able).
Added character names to the character images on the items trade interface.
Redid the officer resurrection for the Jade Skull so it brings the officer back right to where you are with all the stuff that was on the body (with a bang!) Still only once per day though.
Added a toggle option so fencing with one weapon type, also gives you 1/3 of that experience in the other fencing types, representing general fighting knowledge.
Added an option, so that encountering ships near islands from the world map, you are no longer put right next to them, but rather at a distance proportional to that on the world map. Needs testing as it can make the other ships appear right up against the shore.
Added a middle level of Cannon damage, between COAS default and the RTBL setting. I found that using the full RTBL setting, I was seeing that a number of ships would run out of balls/powder before actually sinking anything, and then just sit there sailing in circles.
Created a new interface panel off the main options screen to control all the mod options that used to be in _mod_on_off.h, so they can be changed during play if desired.
New main menu code.
Added: Option to make sure encountered ships are not so far away that you can drop back to the world map again.
Added missing map to my Map interface.
Moved the "ship class text" on the "scroll" down slightly on ship interface, so it looks better.
Enjoy the Mod Gentlemen! And Keep a weather eye!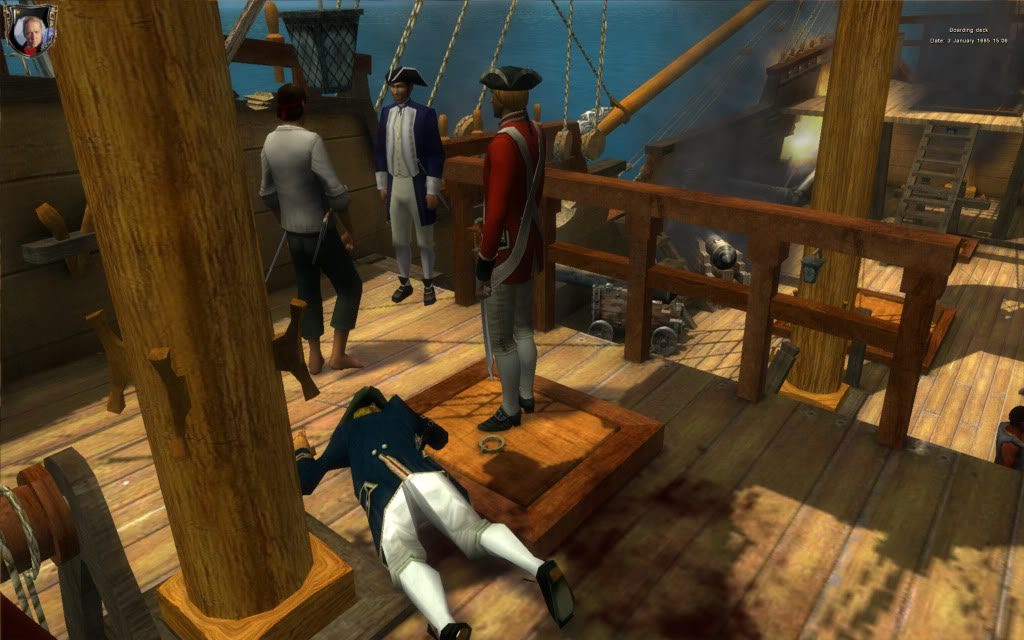 By Luke159, Modern Knight, and Craiggo