Update? again? NO FUKKIN WAY!!
Well now that it's summer (well where I am anyway...) I have more time to work on the mod. So I'm giving you another small GenX update for this month.
So without further ado, I present to you the Phalanx Tank Destroyer for USAX Gen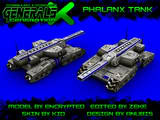 The Phalanx Tank is a joint project between ZTech Industries and the KTI Corporation.
While the majority of the vehicle is made by KTI, ZTech was responsible for the massive railgun mounted on it.
The Phalanx's tank railgun technologies developed by ZTech & the vehicles technical aspects undertaken by KTI remained a Secret to the outside world. Secrecy during the development and production was required as the railgun possessed unprecedented destructive potential rarely seen in other land based weaponry system.
Originally developed with the intention of being mounted on the deck of a battleship, the turret therefore was not designed with the knowledge that the system would one day be adapted for use on a significantly smaller scale. A special chassis had to be developed in order for the weapon to be used in high risk combat situations. KTI was more than willing to undertake the contract of developing a new chassis design where more conventional, Tried and tested designs had failed under the stresses of the recoil generated.
KTI combated the problematic recoil that had plagued many previous chassis designs with the use of a new sophisticated energy dispersion system known as the "Land Anchor System" or LAS that essentially "anchors" the vehicle to the ground by channeling the recoil energy through the vehicle and into the surrounding terrain.
Lore by Encrypted
And as a bonus we've included a video showcasing the Phalanx ingame
That's all for now cya in the next update