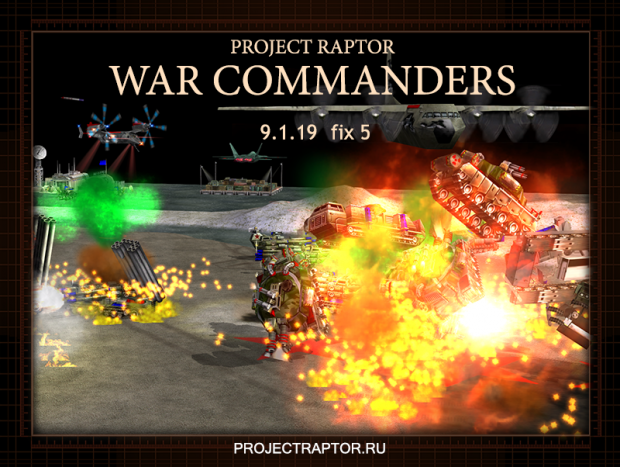 Generals Project Raptor War Commanders 9.1.19 fix 5
Project Raptor War Commanders 9.1.19 fix5 [part 1]

Project Raptor War Commanders 9.1.19 fix5 [part 2]

You can update the client by running a self-extracting archive from the Generals ZeroHour folder or open it using an archiver.
The file that is responsible for the English translation is called. generals.csf
it is on the Generals ZeroHour \ Data \ English path
If you save this file in advance from version 9.1.19 fix 5, you can manually add the English translation to the new version 9.1.20 by replacing this file
English translation temporarily use from 19 fix 5,
we are working on updating the translation for 9.1.20 into English.
---
Fixed all missions for China, USA, GLA.To fix crashes,
you need to download and unzip the contents along the way and replace the files.

To fix crashes, you need to download and unzip the contents along the way and replace the files.
C:\Program Files (x86)\Project Raptor

Corrections as of June 5, 2021
---
Installation instructions
Radmin VPN network:
Network ID: WarCommanders
Password: 123456
Download the program Radmin VPN
---
Important information and contact details:
Discord: Discord.gg
Website: projectraptor.ru
YouTube www.youtube.com/c/ProjectRaptor
VK: vk.com/generalsprojectraptor


Communication with players and developers:
Accepting applications for problems in missions
Discussions and suggestions for new versions
The mod used models, textures and voiceovers from other mods. Many thanks to the authors of these mods for the content provided:

1) Vanguard, mod Project Raptor 4.0 and 7.0.
2) TipoIvan, DetroyT, Project Raptor 8.0 and 9.0 mod.
3) TipoIvan, mod "Revolution" - a model of an airfield for 6 aircraft and 5 more excellent aircraft models, voice acting and icons. And also three models from the Reborn 5.05 Resurrection mod.
4) Andrey Skanarri, "SymBioz Mod" mod - an excellent futuristic model of the "Murena" plane, great voice acting and icons.
5) SWR Productions, "ShockWave" mod - a model of a construction helicopter and an airplane.
6) And to all other authors whose content is, in one way or another, involved in the War Commanders mod.
---
If you like Project Raptor War Commanders mod, you can help us financially:
We have 3 directions:
1. Mod development
www.donationalerts.com/r/modogendonat
Recipient: MODoGEN
2. Donations to support and maintain our site projectraptor.ru
www.donationalerts.com/r/projectraptor
Recipient: Formular
3. PR, advertising, information support, photos, videos, streams, creation bots, etc.
www.donationalerts.com/r/project_raptor
Recipient: 927AVIApolk