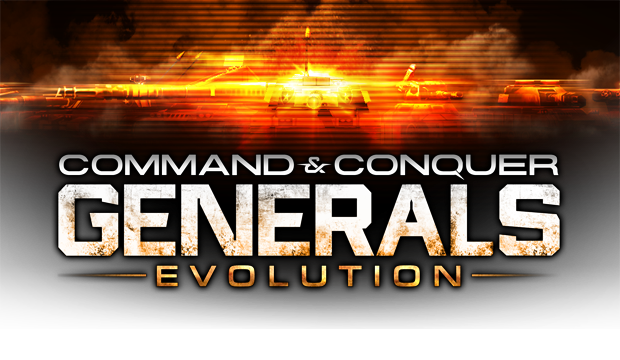 C&C Generals Evolution, Change of Plans & Complications ( C&C )



Hey guys, it's me again, yet again.
What's going on?
Let's get straight to the point, GenEvo is far from being finished and I've decided to take another approach to it. Believe it or not, but GenEvo is a serious project to me and I take everything about it very close to heart.

Let me elaborate.
Since October 2017 I finally sorted my life out and finally had some free time to work on GenEvo again, I had a hard long look at the situation with GenEvo from the inside and estimated release date for it, which initially was December 31st 2017, I've spent at least 8 hours a day, every day, working on GenEvo, cleaning up code, working on structures and new features, but sadly there was no chance we could release something big this early. It was devastating for me, I REALLY wanted you to enjoy this thing, for which I spent YEARS of my life. So me and sgor00 decided to change plans and release at least something for the new year and we did, I also thought that I could manage full release if I will take just another month by spending ALL my free time on GenEvo, and I did. I really really did.

Sadly, spending nearly 100 hours a week is not enough for project of this magnitude to finally finish it up, I've been fighting through a lot and managed to fix a TON of stuff, enhance already existing and learn new things which will help me in the future of this project. Working on Red Alert 3 engine is a test of patience, since it was strictly designed for Red Alert 3 itself, a lot of stuff has been cut or simply non-functional anymore, you can't just copy and paste features from C&C Generals and expect them to work, you basically have to re-do everything from scratch using "clutches" and hacks, and that's what I've been doing for past 4 months non stop.
Where is this going?
All I want to tell you that there won't not be any kind of release at February 1st, I've decided to take undefined amount of time to TRULY finish what I've started. Remember when I said that you should lower you expectations? In truth it was real painful to say that, because what was initially planned to release wasn't my vision of GenEvo RC2. The one thing I can assure you is that GenEvo will be released somewhere in 2018, that's all I can finally promise you for now.

What's exactly left to make it to the RC2 Release?

To fully realize my vision for RC2 I've created a roadmap of what's need to be done for full release, you can take a loot at it here :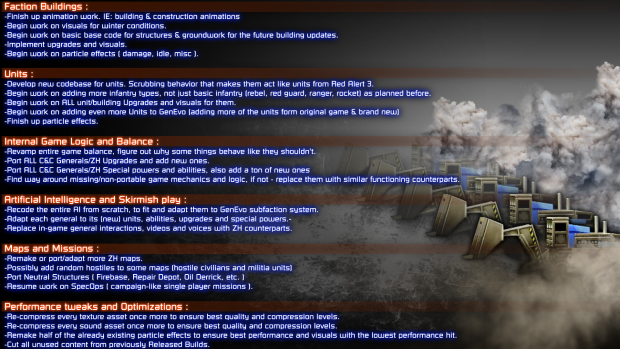 Yes, this is how much features are still missing from GenEvo, do you really want a release with those features absent from the game? Thats exactly my entire point, I don't want to waste your time with unfinished project full of bugs and disappointments, I want you to enjoy your time playing it, simple as that. I hope you understand that..

So what can you expect?
You can expect frequent random media updates and I'll be always here to answer your questions.

How can you help?

We're always looking for model contributions from fellow C&C Generals mod makers, we especially need replacement for Quad Cannon, we're also in the need of random models, which will be new units for GenEvo, hit me up if you want to share something with us.
In Conclusion
I'm both sad and happy as I'm writing this. Sad because I wasn't able to keep my promise to you all and I wasn't able to let you enjoy GenEvo. But I'm happy because I have much more time to finally integrate my vision into RC2, to see it how it's mean to be.I also can now concentrate on my real life, I was ignoring everything for past 4 months and it isn't great, again I'm in the need to sustaining myself. I think I'll take a month off just to sort my things out. Stay tuned for future updates and take care.