General Progress
As a whole, the team has been planning and meeting the goals for our ongoing sprints, with Chris charting the course and keeping everyone regulated and on track.
At this point in time, Jarrett is focused on creating a large amount of concept art so that Patricio can then model new assets. Patricio is focused on polishing the already existing assets to make them a bit more appropriate for what our vision of quality is for the game.
Chris has been tinkering with the code for the sailing mechanics and the fish-fighting gameplay when a fish is on the line. Additionally, the team has been building a particular biome to begin implementing the fish interaction mechanics, playing with different ways the fish interact with one another. We'll share what biome that is at a later time.
2EdgyFishMe: SwordFish Concept Art

Have at you! This week Jarrett brings us the SwordFish. This master of the blade cuts through the water, as well as most things in its path. Players would be wise not to let it get to close to anything that might be damaged by its sharp edge. What do you think of it? Be sure to let us know.
Taking a Dive
We also have some outfits for Cat to share in this update.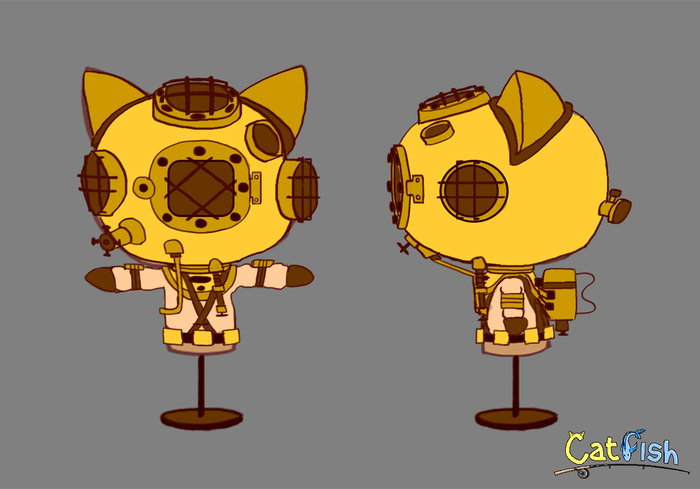 This first outfit is a classic diver's suit. No sea-faring adventure would be complete without it. It doesn't actually give the player ability to dive underwater though, as it lacks a lower half to keep the suit from flooding.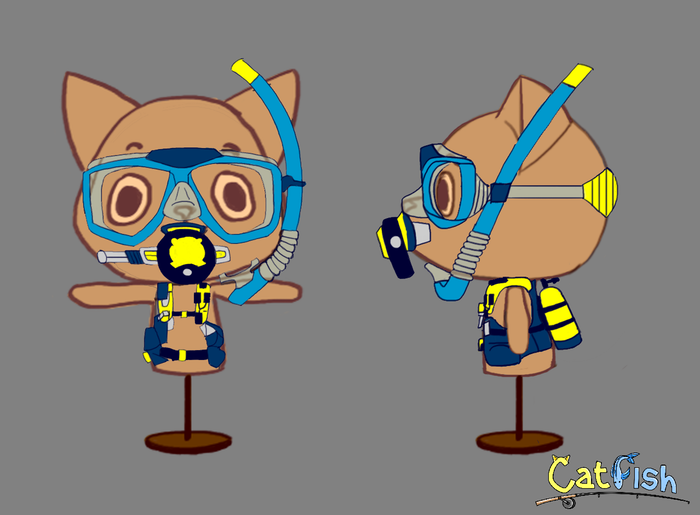 The next outfit is a Snorkel set! This new-wave underwater breathing technology still fails to stop water from getting into the mask thanks to all of the cat's fur.
Keep in mind that all costumes are purely aesthetic and do not impart any new in-game capabilities for the cat. Being without pants provides a great degree of freedom, but this freedom comes at a price of costume functionality.
Development Screenshot
We also have a screen from behind the scenes this week.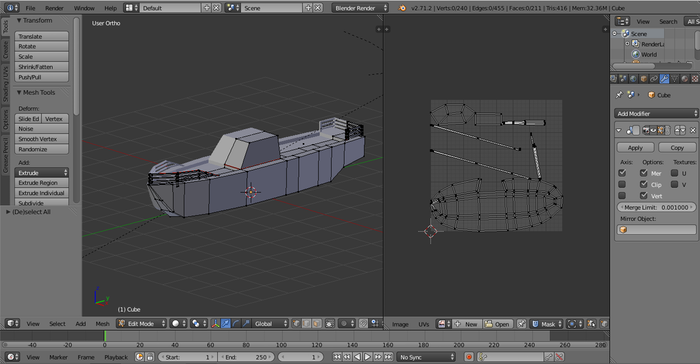 This image features the Unity work space as Patricio created the boats that are docked in the Harbor. Players who have seen our Kickstarter trailer or played the game in person have had a chance to see them in action already.
Meet the Team: Jarrett's Favorite Games
Given the amount of impact each member of the team has on the game's development, we thought it might be a cool idea for us to share with you all a bit about ourselves. This week, Jarrett is sharing with us his top five favorite games. They are:
5. Faster than Light
4. Conker: Live and Reloaded
3. Steel Battalion
2. Borderlands
1. Mass Effect
As the concept artist and as a person contributing many ideas to the game, it's interesting to see how his favorite titles may influence his notion of what makes for a great game. What do you think of his choices? Do you agree with them? Do you hate them? Let us know in the comments section!
That's all for now, CatFish fans! We'll be back soon with another update and even more info about the game, the team, and where the wind is taking us. We'll be implementing some new changes on the Hamhock Games website in the coming days, so keep an eye open for new features and functionality. Until next time, this is Community Manager Stan Kuschick and the rest of the CatFish Dev Team signing off!
~Meow