Finally, the waiting time is OVER! Gaze At Maze FULL VERSION game has been released today! Some characters and features have been added. Many existing features have been improved and almost all bugs have been fixed!
FEATURES OF GAZE AT MAZE FULL VERSION GAME:
>Many formidable enemies.
>Unknown traps and commanded robots(Demons).
>Collect Dragon Balls(Energy Balls).
>54 Levels to play.
>5 Special Levels to play with Spider Bots.
>Collect Diamonds.
>8 Lives to play with.>Challenging gameplay!
>Gain Lives from magical life portal.
>Game Manual for guiding the player.
Game Story:
This is the weird maze world with some robots and creatures having magical powers. A boy named Yogger entered into the maze world where these creatures live and faced big and terrible spider bots, dragons having magical powers with them. He starts collecting jewels and dragon balls for unlocking doors, and switching off the security system. Some people were captured and they had been imprisoned there. In order to rescue them, the boy initiated his journey towards the enemy territory with the sole intention of destroying the enemies and rescuing the people at any cost. However, the mastermind behind all these misdeeds is still unknown.
Game Trailer:
Some images which have been added which gives you an idea of what the game is all about.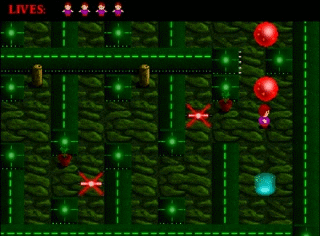 Collecting lives are easier than before. You just have to take lives by touching the bluish light emitting from the ground. Taking lives is necessary in case the player is in danger.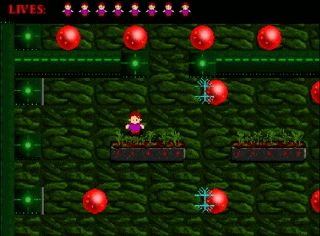 At the time of collecting dragon balls, you must be aware of enemy movements. Some of the levels are hard. Try to survive as long as possible. Then, there is more chance of winning the game. This is the funniest level you have ever played. Play with the spherical rocks and try to divert those rocks towards the enemy. In this way, you can make your way to the next level. There are certain levels where you can find bonus points. However, the points are not shown during gameplay. When you lose all your lives or at the end of the game, the score board will be shown and there you can view your points. So, don't worry about the points, just play on your own way. You can collect the bonus idols which are available on some levels for increasing your score.
The above image shows the final level of the game where the BOSS is. The boss can throw four missiles at once. Try to move away off the road and always be on the side of the walls to avoid sudden attacks.
NOTE: Gaze At Maze full version game has been released! Some updates might be available in future. Almost all bugs have been fixed!
Thank you.