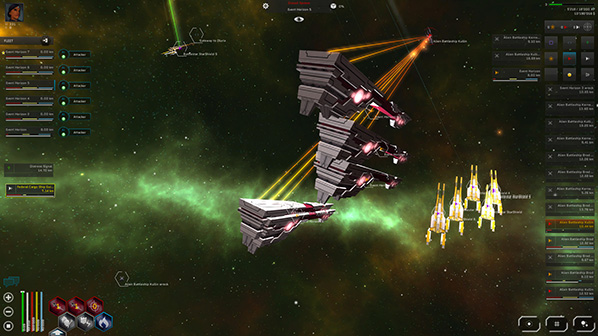 Players asked. We listened.
During the last months many updates changed the world of Gates of Horizon for the better. Since our last update on IndieDB we added Events, Automining, A.I. Management and more. Our goal was to add richness of details to the existing universe, listening to the amazing feedbacks received.
Take a look at what's new:
Scripted Events
We always wanted to make the universe more interactive: new events can now happen every moment, every day, depending on players' actions. This will help us to develop a really dynamic universe, where almost anything can change.
Automatic Mining
It's now possible to assign an Harvest order to a ship: it will travel through asteroids waypoints, mining automatically every asteroid in sight.
Ship A.I.
Players' fleet and ships are finally capable to follow given orders, even when they are not directly controlled. We added the possibility to assign specific behaviors and automatic reactions for when you are not connected. Please refer to the official Wiki for more details: Wiki.gatesofhorizon.com
But wait, there's more!
Android Version: now available on Google Play for every player already owning a game account. Download it here: Play.google.com
iOS version is almost ready for public testing.
New Systems: we've added new systems through interactive quests. There are new areas available, with more rare ores and deadly enemies.
Mail Notifications: automatic notifications are now sent for important events happening to players' corporations, even when offline.
New Sound Effects: we listened to a very popular request, releasing a better set of SFX. Turn up the volume and give them a try.
Mining Scanner: a new active component. Using agents' Mining skill players will be able to scan nearby asteroids and planets for rare ores.
If you want to know every detail or discover past updates, head over to the development blog.
Epic fight: they made it!
The Waistelands is the biggest in-game holding, and its players managed first to destroy a HUGE alien vessel: the Dagon. Watch and listen their live recording and see how they managed to destroy the enemy, fighting all together:
Steam Cards
There's no need to say more: we have also prepared a set of Steam Cards! You will get your cards playing the game on Steam.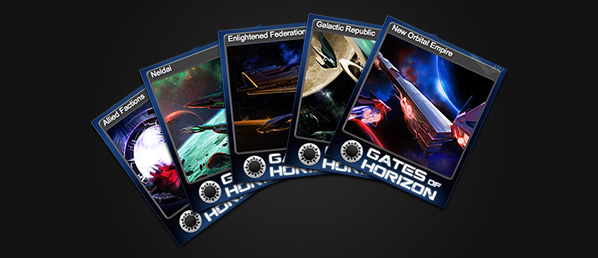 We have also prepared a set of wallpapers from the Steam Cards: you can download your wallpaper on the official website.
New game trailer
Gates of Horizon is now better than ever, and we've done our best to reach this goal.
We seized the opportunity, and we have created a new cinematic trailer.
Help us spreading the news, share this video with the world:
The universe of Gates of Horizon is waiting for you. Prepare your fleet and jump in.