Preparing for Greenlight - with a new gameplay trailer!
Character art
We also want to present our character artworks done by our artists.
Commander Hanks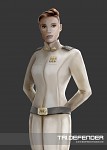 Commander Hanks rose up through the ranks after the devastating war with the Kymantica, now being the commander of the entire TRI.DEFENDER fleet. When the commanding officer of her TRI.DEFENDER died in battle, she took command and managed to retake the upper hand despite all odds. Her tactical foresight and knowledge about the defender's capabilities in combat situations quickly earned her the respect of the defender crews.
Sergeant Miller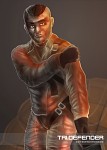 Like so many people, Sergeant Miller's family immigrated here to escape the war when he was still a child. His parents managed to send him and his two sisters to school, but he remained an outsider. He has a minor case of property damage in his juvenile records, but otherwise achieved to graduate with decent degrees. After taking a few underpaid jobs, he decided to join the military to support his family financially.
Doctor Screwy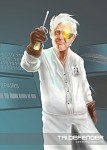 Doctor Screwy is a brilliant engineer responsible for the new defense mechanisms of the TRI.DEFENDER fleet. He was best of his class at university, though the choice of his research topics after that were quite baffling to most people, and ultimately considered a waste of money by the funding organization. During the war, he was assigned to a secret research project leading to the famous TRI.DEFENDERs. Most of the details of his work are classified, but he still likes to tell everyone how and where he got his brilliant inspirations.
X-7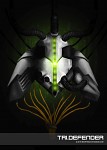 Not much is known about the entity X-7 except that is a hybrid organism. Intelligence reports indicate that it was developed by the Kymantica at the end of the war, but as an independent spy drone. It seems likely that it wasn't intended as an aggressor by the Kymantica in the first place, but somehow mutated, since his first action was the eradication of the Kymantica themselves. Afterwards, he directed his assaults against us.
Greenlight campaign incoming
We will start a greenlight campaign soon. The vision we have for the friends and online leaderboards, as well as the unique challenge levels, depends heavily on Steam, so we hope for your support once the campaign goes live.
NightBox-Studios is a two man indie studio from Germany. TRI.DEFENDER is our second game and our first commercial title. Find out more on nightbox-studios.com and on facebook.