Hey folks!
I finally made peace with my attributes! :D Some hard decisions were made, despite it might look kind of standard. Here a quick shot from the in-game menue: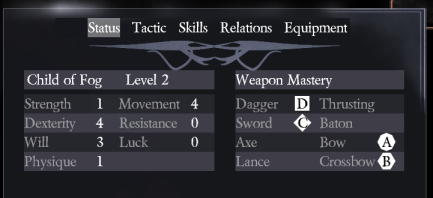 The status screen is split into character attributes on the left and weapon mastery ranks on the right ( There is a lot of space for active modifications which you can get via skills and/or items down below ).
Strength and dexterity are kind of self-explaining. They influence then damage that is dealt with weapons. Each weapon has its own base damage and might scale with strength and/or dexterity to some degree. This allows some variety in Weapons like high base damage but no scaling for general weak characters or some hard to master weapons with almost no base damage but very good scaling. My greatest influence for this system is Dark Souls.
Will affects your magic damage and resistance. Only a small number of characters can use magic, so I decided to merge damage and defense in this case.
Physique represent the characters capability of taking hits. It decreases physical damage taken. This value can also be modified with some equipment later on, but I'm not entirely sure about equipment yet.
Movement is simple: It shows how much fields a character can move in one turn.
Resistance reduces efficacy of all negative status-effects. This might vary: It can either reduce damage taken ( from poison, for example ) or reduce the time the character is affected.
Luck is really my worst enemy. I really hate luck and most of its effects, to be honest (or rather, bad luck). I skipped it in all my previous drafts, but at the end I decided to include it. Luck will mostly not influence fights, as most weapons have 100% hit chance. But it will influence positive random effects like withstanding a sudden mortal blow. By the way, enemy will not have Luck at all, so no random critical hits from foes. In my opinion, the more a game is tactical, the lesser it should deploy luck in greater extend, but not everyone might agree here.
Weapon mastery shows the characters ability to handle different kinds of weapons. These weapons can be used if it is at least D. Some types get upgrades with higher ranks. For example, daggers cam be used twice per turn if its rank is C or higher.