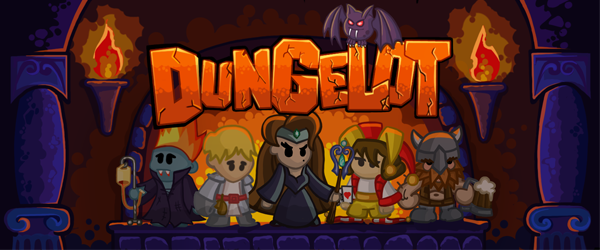 We are in one step to send game to appstore. Right now you can play in web, pc and mac versions from
game site. We have rebalanced game and fixed few bugs.
Includes:
2 heroes
About 50 dungeon levels ( well, the mechanic itself is endless, but endless game will be in full version)
12 type of monsters ( all of them have different powers and abilities)
4 types of "quests" ( kill local boss, slay monsters, save villagers, and find an object in dungeon )
2 minigames ( blacksmith and fishing )
Monster arena. Its a place where you must kill all monsters to get a chest with rewards, but you cant escape from arena If you agreed to go there.
Slot machine ( tile with constantly generated objects, you must tap fast to grab thing you want )
"Greedy door" - this is one of the last additions. The idea is that you must pay something to open the door. Not necessarily money. Sometimes it takes your hp or attack rate.
Allies: Fire mage ( will make AOE damage to monsters ), tank ( will protect you from any 3 attacks ), priest (heals) . Allies can be found in dungeon.
7 different magic scrolls ( I called them runes last time, but its kinda incorrect ).
GameCenter support
Patch Log
Version 1.1
"Speed" stat removed. Monsters always strike first. Exception: using a magic scroll "first strike".
Blue and yellow gems removed.
Balance changed. (Monsters became stronger)
Player can buy swords and hearts in game.
Attack animation speed increased.
In game weapon shop removed.
Heroes description added.
Magic scrolls can be used on enemy archers.