So like you might have heard me say, IndieGraph (the indie games blog I wrote and worked for) recently fell apart. There goes my last ties to the site. It was dying anyway, but I'm sad to see it go. I guess it was hacked.
Not long after that, my cat got shaved. Doom and gloom. Poor thing's so skinny now, but she was so knotted up, it really had to be done. Why does that matter? It doesn't really, but what happened after did.
When I got back from the vet, I went on to enjoy some League of Legends, and halfway through my computer crashed. Like, just froze up, died and restarted. When it came on, it gave a message telling me my hard drive crapped out. After some investigation, it didn't seem like a particularly easy fix, especially after seeing that none of the files on it were readable, so I ditched it and ordered a new one off of Dell Canada. NOTE: I had my game backed-up on USBs. I'm not that nooby!
The new computer was a good deal, with the price, graphics card (well, it's integrated, but it's a lot better than my old Windows 7 one!) and everything being great. Only downside was it came with Windows 8.1. Anyways, it took a couple weeks to arrive, and I then got all my old Steam stuff and whatever loaded on again. Back to game development again? Not quite!
High school was once again back in and things were super busy, and I didn't have the time to play around with my new computer much after that, and…
When I finally did get to mess around with my new computer more, I soon found out that A: my Twitter account was hacked and I had to fix that, and B: Windows 8.1 and my game I'm developing don't mix well together I guess… (compare the below screenshot to the others I have posted - this doesn't look right!):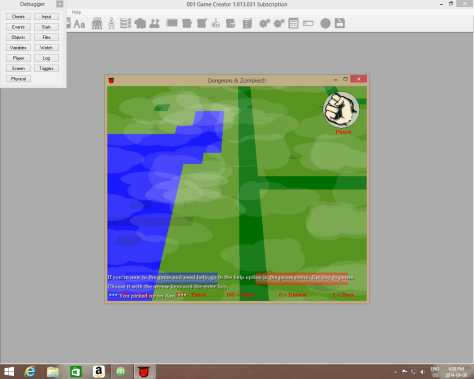 So, what does all this mean for the game? Well, I have to sort this issue out first, and then find some time to work on it. So, in other words, progress has slowed down quite a bit, and all this homework isn't help. Thanks again for your interest and support.