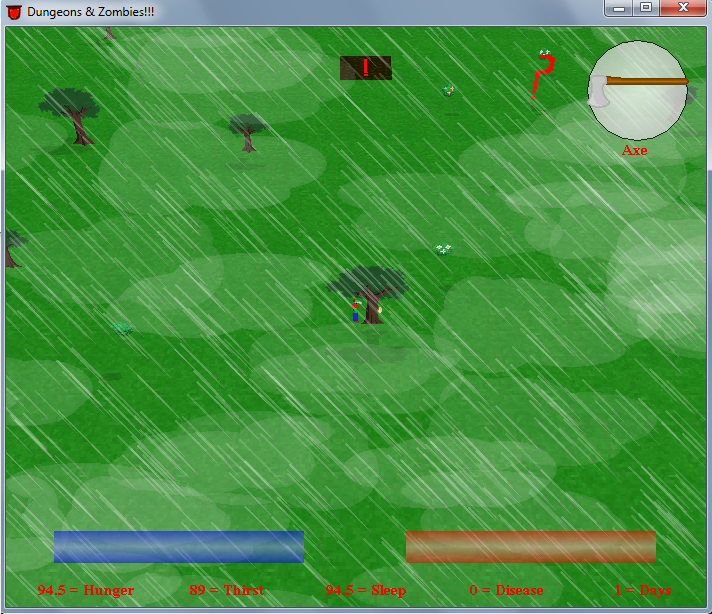 NOTE: The clothing is placeholder in these pictures.
Work on the game (the last few weeks) has been steady. I thought I'd get more free-time to get more done this summer, but I guess not. Part of this is due to the busyness of summer in general, and some of it has to do with my surgery, in which I lost a bit of time. Ah, but enough excuses you say! Tell me what's up!
Well, the HUD has changed again, probably not for the last time. You may notice a lot less clutter up top. This was actually a huge overhaul of a system, and while it will take some work, it will greatly improve the game in the end. My original idea was stupid and clumsy (and I forgot to talk about it earlier when it was in use, thank goodness). I intended you to equip things with the arrow keys in-game, thus, the clutter. This means that each equipment slot needed its own HUD section and button. Now I'm going to simply let you equip things in the menu screen as per usual. Imagine the awkwardness of hitting a key to scroll through dozens of pieces of equipment, only to accidentally go past it, etc.
Items now have weight (everything is currently one weight unit to keep it simple – that may or may not change as I haven't decided) and you can only carry so much. Along with this, items can now be dropped, but due to the items system of the engine I am using, Engine 001, items dropped in the scaled world map and the towns, dungeons, etc. have to be the same size. That may be a good thing, as an immersion hit isn't as bad as not having a clue what item is now on the ground. More items have been made as well.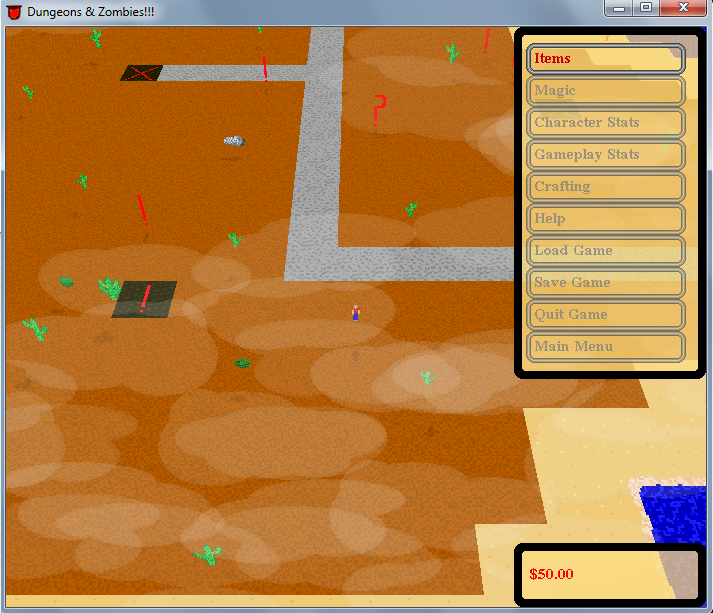 A lot of other smaller tweaks, features and systems were made or are in the process of being made. Sound is being added, both in sound effects, like a munch for when you eat, to orchestral music for exploring to. A help menu option is being worked on, where you can choose what you want to hear about. I think it's best this way, as you can use it as you need it, instead of having a tutorial shoved down your throat, or having no help at all. You can now drink out of the sea and the lakes if you're thirsty (but the seawater is salty and doesn't help you much). Your survival skills automatically allow you to tame wild animals if that stat is high enough, but animals turn hostile if you attack them. Items and armor can now break. Along with all this, you can now eat human meat from corpses (cannibalism FTW!) but you'll take a hit from your soul stat – more on that later.
That's a summary of the biggest changes I've made in the past few weeks. I thank you for your continued interest and support, and encourage you to give feedback. Thanks!