It's been a long time since we give you any kind of update about the game but fear not, we have been working hard on Empire TV and, let me tell you, it's been worth it!
There are two main news here, first, the game will launch on early access in September and, the second one, the price on release will be between 10-12€.
Why early access?
Well, the answer is simple, there have been a lot of people asking us about the game, about when will they be able to play, about when is the beta going to be? We feel the game is playable 100%, some features are about to be finished but the gameplay is almost ready 100%.
There are some things that will not see the light at launch but will come when can focus on that kind of things, for example, translations. Our intention about it is to translate the game to some languages but at early access launch it will be only english.
But as we said, don't fear about it, we want to use the early access stage as a way to get your feedback and fix/improve things, it's not an unfinished game.
Current state of the game
I will begin showing you the "new game" screen. You will be able to name your player and channel, and of course, chose which channel you will lead to the fame!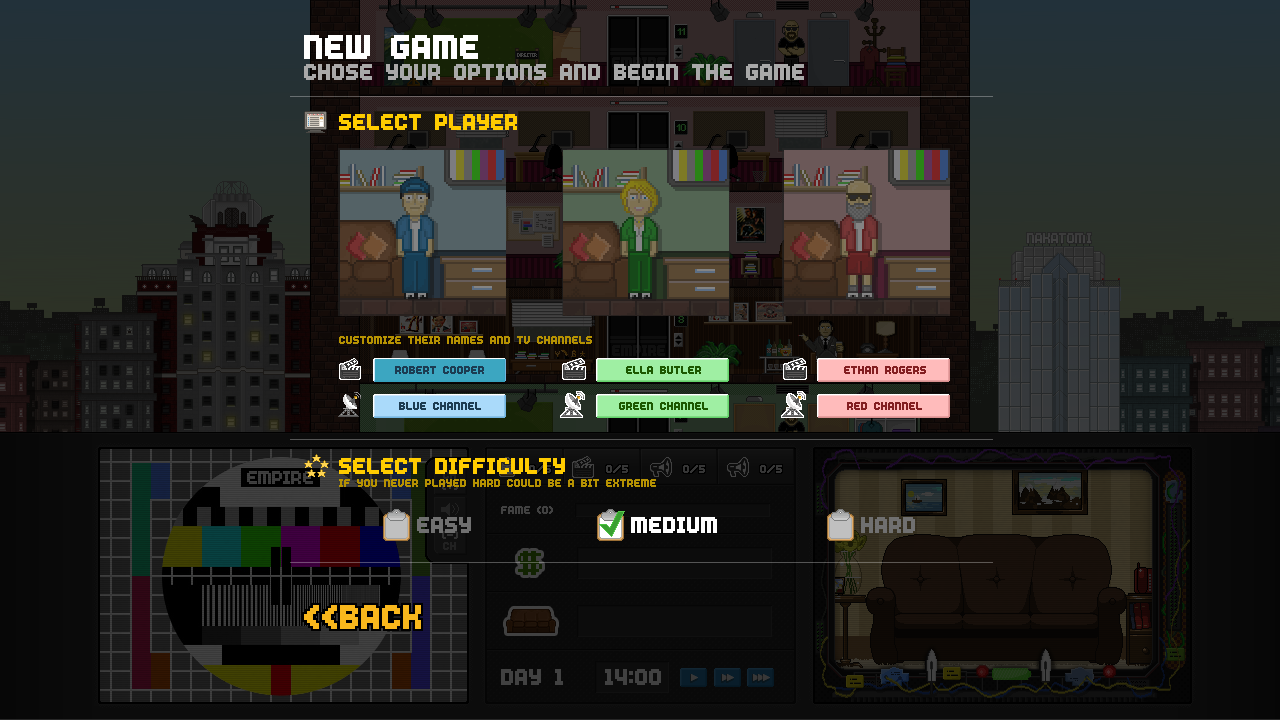 Hard difficulty, which will not be at the beginning and believe me, is really hard, will be at your disposal only when you complete the game in the medium difficulty.
We've made some layout improvements everywhere! I'm attaching some images so you can see some of the changes by yourself, for example, the main management screen have changed a lot (it keeps the main funcionality but it gives more valuable information).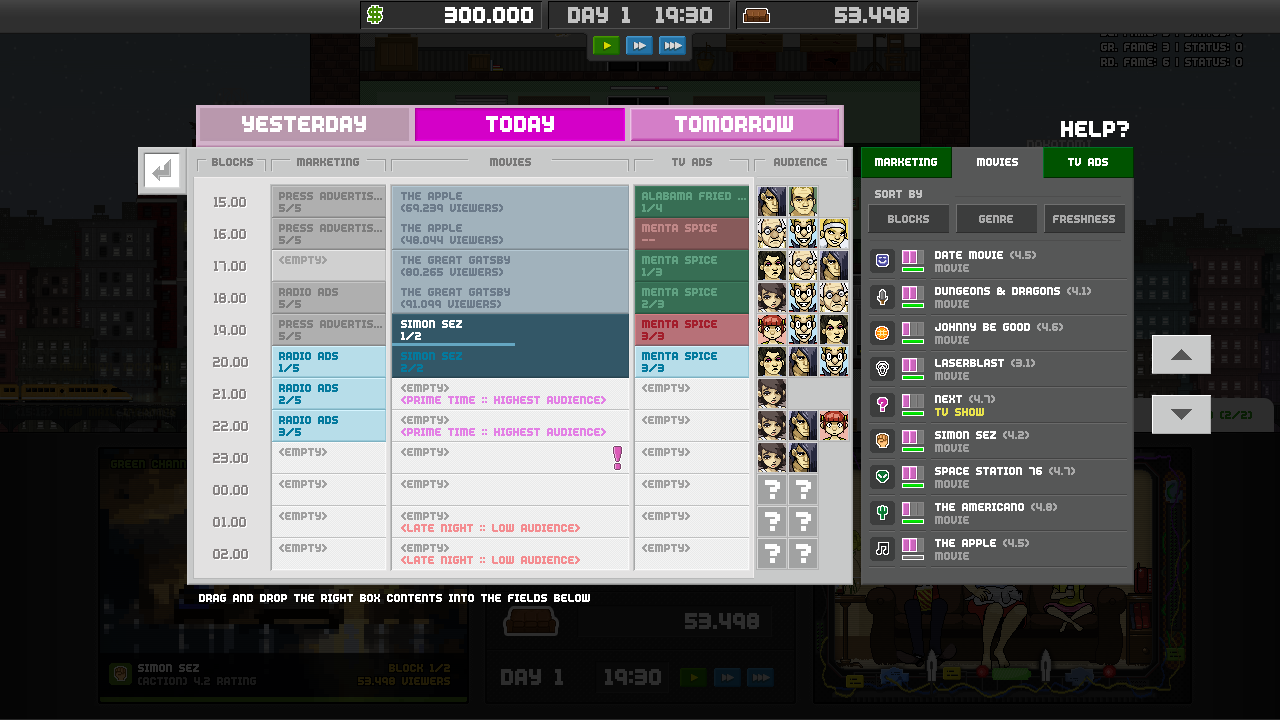 If you look at it, you can see the "PRIME TIME" and "LATE NIGHT" blocks. Those are some things that we've introduced to make the game more realistic in many ways. Prime time blocks are the blocks with the most audience, if you have a very good movie and want to fulfill some TV ADs, you better program that movie between 8 and 11 pm ;)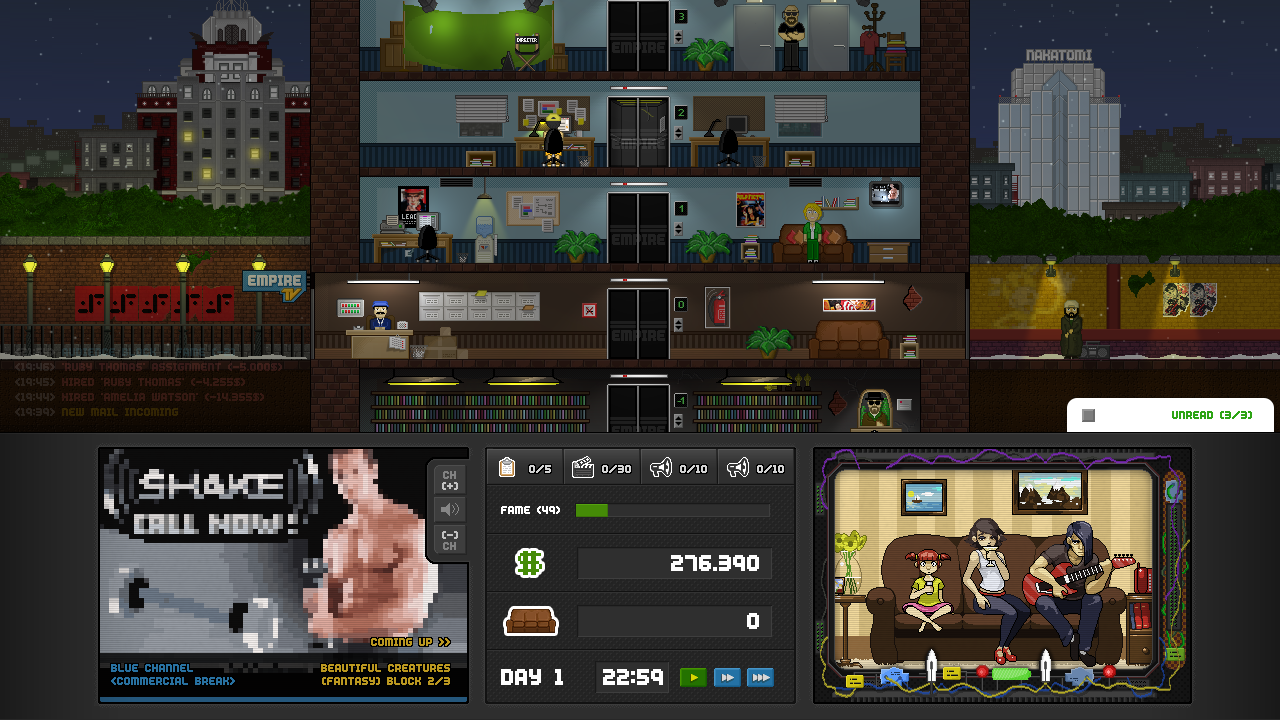 The game ui have changed a bit too. For example, the TV screen now gives you information about what content the IA is programming (COMING UP NEXT...), so you can adapt your programming decissions real time.
That screen shows the new audience sprites too, remember we were using cliparts on the trailer? well, those were placeholders, audience have been improvement, a lot!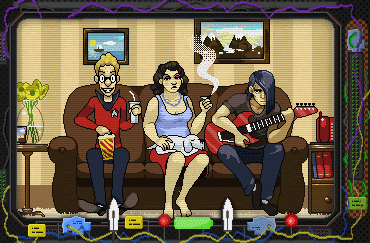 And talking about audience... we have introduced a new concept that you should always have in mind, now, every type of audience will have an opinion about your channel based on the contents that you program.
The same way I use to move between my 3 or 4 favourite tv channels when I turn my tv on, they tend to love or hate some channels, so you better keep them happy programming contents that they like, because not only they will watch your channel right now, but their love about your channel will make them more interested in the future too.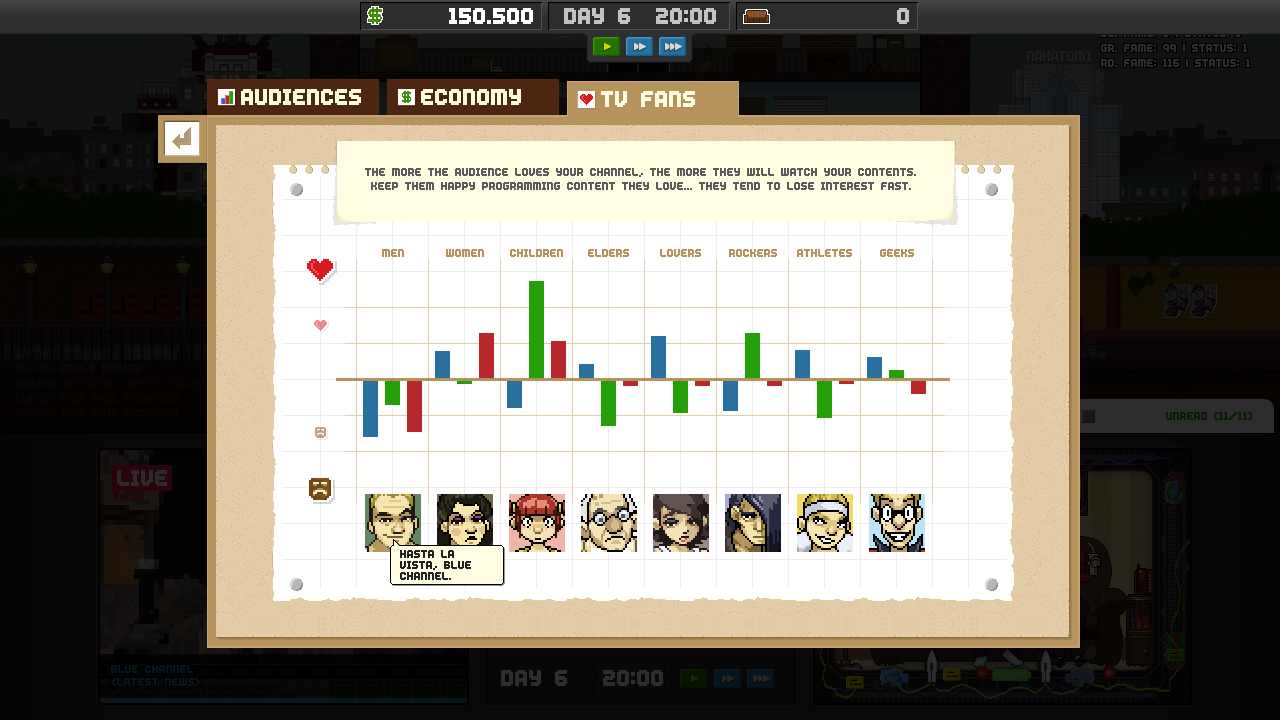 Lastly, I want to talk about a thing we haven't discussed before. Daily quests! When programming your channel you wil be free to do it the way that you want, or better said, the way that you think will give you more benefits.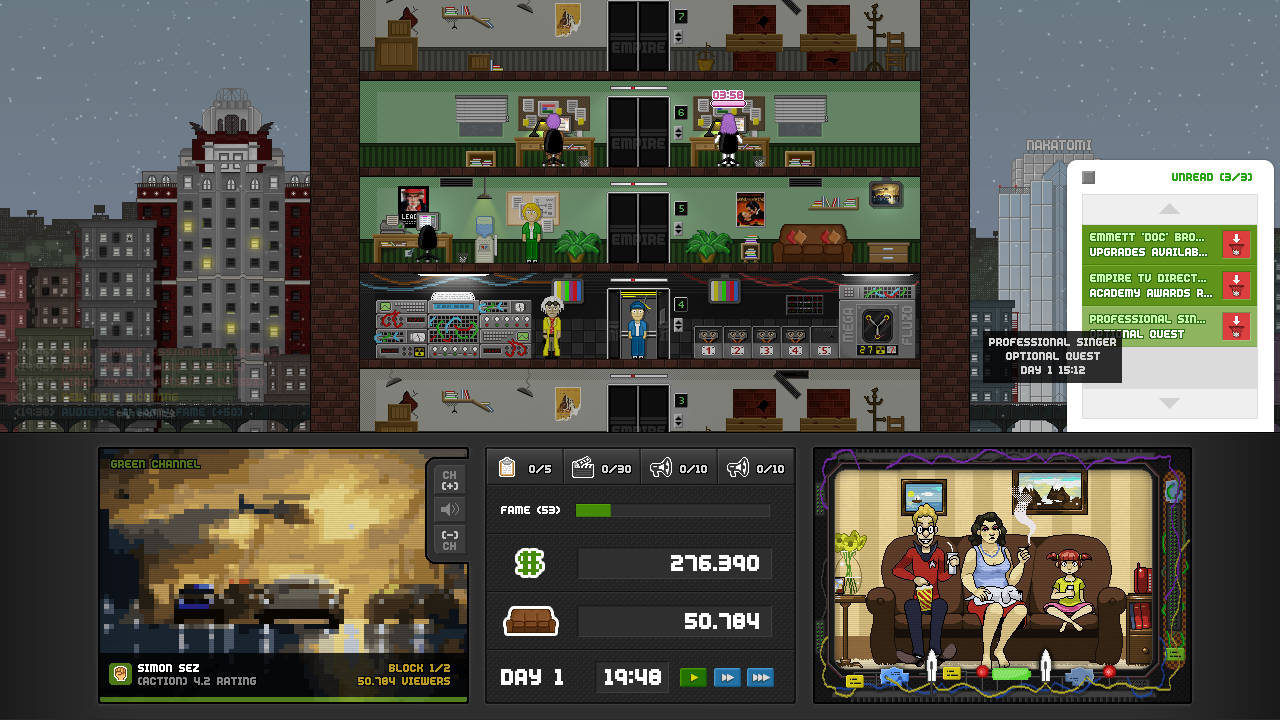 Daily quests play a big role here. Each day you will have a limited amount of time to program a movie or tv serie that some personality will ask you to do, for example, the Empire City Astronomers Club asks you to program a Sci-fi movie at 10pm, because that will fit the meteor shower that will happen at 11pm. Sometimes that kind of quests will fit the audience that is watching the TV but, sometimes, it will not. Money and fame versus the love of your audience? Decisions matter!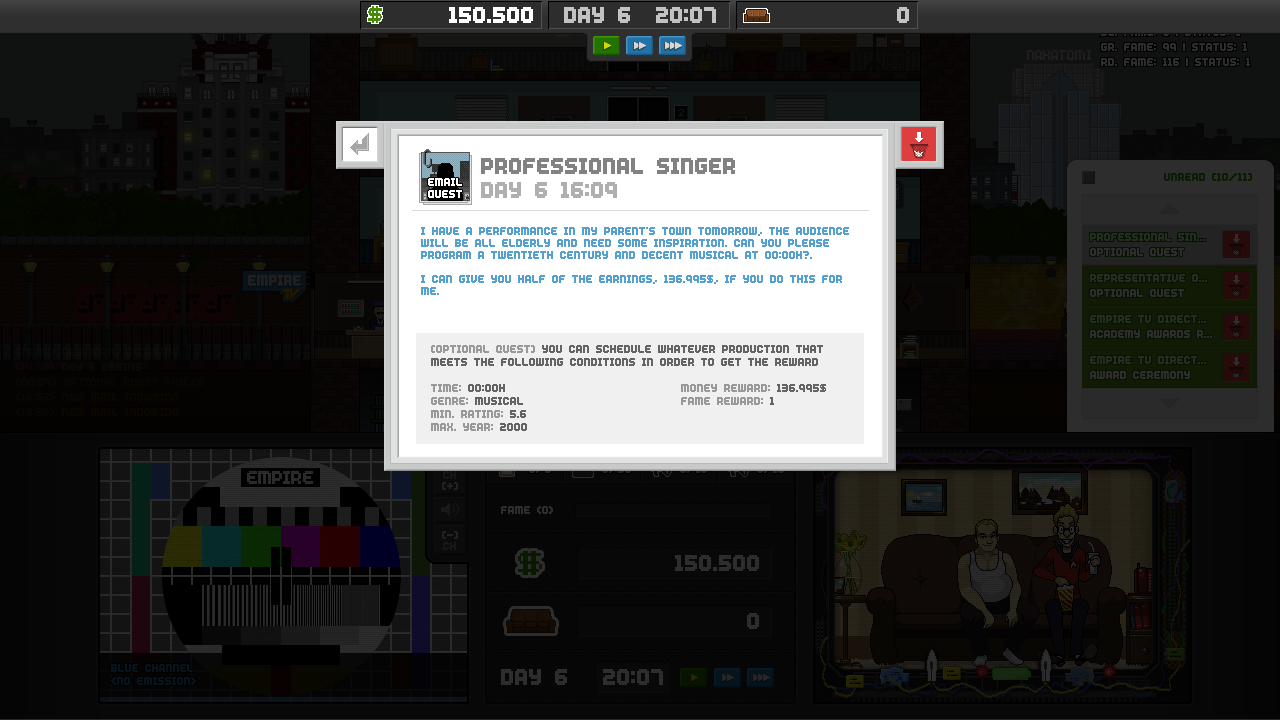 And that's all for now!! We will continue working on Empire TV Tycoon, forgive us for not having said much before but now you know, it's coming!