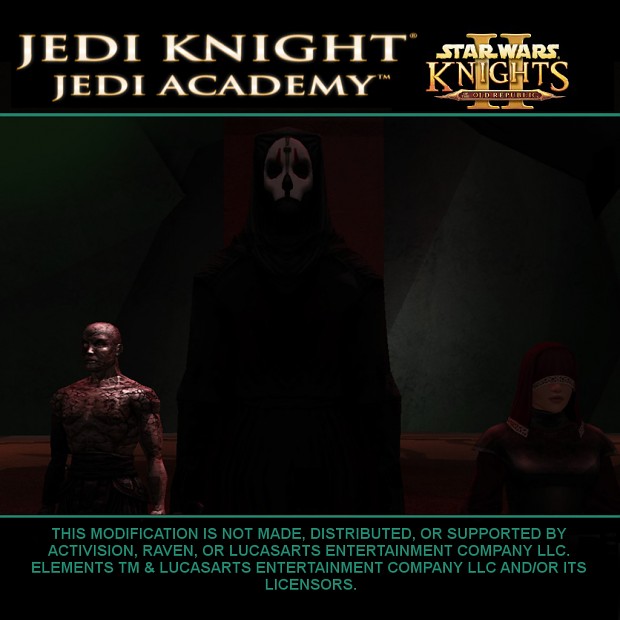 This mod is based mainly in the duels of KotOR 2. I want in this to give to the player the ability to experience every fight like play KotOR but with the combat system of Jedi Academy.
I dont mind on duplicate KotOR 2. No, thats not my idea. My idea is to give you guys a mix of the two games. The graphics of the Quake Engine and the Combat System of JKA plus the Incredible duels, places and characters of Knights of the Old Republic 2.
Right now I didn't tell a lot of people, but I already have work to show. This is not a brand new mod. I was working on this mod for a while. Probably three weeks by this point. I have some cool stuff to show you soon.
My mod plan is the following:
. Create new menus to interact with every planet.
. Try to give a really cool touch from KotOR 2 to JKA.
. Make missions for every planet which includes:
- Malachor
- Korriban
- Dxun
- Dantooine
- Nar Shaddaa
- Peragus
- Telos
- And a lot of more content which I still don't want to tell about.
If time and experience allows me to expand the mod, cool stuff will come. I have plans of remake every mission, not only duels. But I want to finish first the duels and see how it works.
For the moment I can say that, I have more than 5 missions already completed. I am working on new maps and new cinematics. You will see content soon.
NOTE: As you see, this mod is huge. Probably will take time to see new updates because of the size of every project and every planet.
Anyways. It is a pleasure and a passion to be releasing this mod. Thank you! hope you like the mod.
AND, I HERE, PROMISE TO YOU, THAT I WILL NOT LET THIS MOD DIE. I WILL FINISH THIS TO THE END. YOU HAVE MY WORD.
Best Regards!
JamyzGenius / JamyzPunchThis! / JFG.