What Is Game Of Engines?
Game of Engines is a game development toolkit that contains: a level editor, asset manager, game engine and lua script editor. It is designed for 2D games but powered by a 3D background.
What Engine Does Game Of Engines Use?
The game of engines official toolkit uses the brand new LightEngine to power it's games. LightEngine is powered entirely by OpenGL so we have reduced all of the Qt dependencies. The engine also uses lua scripting to power it's games and comes with:
Game Debugging - Real time debug output in the form of a simple .txt file.
In-Game Variable Manipulation - Change game variables from within the game, no need to keep switching between the editor and the engine.
Dropbox Online - Create a huge mmorpg JUST by using dropbox.
Speed And Power - The engine is light (light engine) and thus is has 100x more power than GameMaker and it's other rivals with twice the portability.
Cross-Platform - Take your games to Windows, Mac or Linux without changing any of your levels or your script.
What's New In 1.2?
Game Of Engines now has a fully working toolkit and game engine and we have reached a point where we are happy to say that it is fully releasable. Here are some of the awesome changes that have been made:
Asset Manager Dialogs - We have been waiting for this for a long time but we finally have file dialogs for choosing your tiles and sprites.
Mouse Tracking - We now have a mouse tracking feature so you can identify where your sprites are and manage them accordingly.
Shortcut Revamp - You can now navigate around your 2D map with great ease by simply using the Arrow Keys.
Engine Settings - Like before you can edit the engine settings but this time, you have tons more options that allow you to truly manipulate your game.
Debug Working Again - The toolkit debug panel is now, once again fully working - It will give you information about all of your goings on and tell you where you have gone wrong.
Live Help Panel - You can now find a bar at the top of your application that will tell you all about what you are currently selecting or doing.
Hierarchy - We have linked the hierarchy to the file editor so by clicking on a object name you can edit it from within the file editor as well as viewing it's position and size ect.
Much, Much More - We have loads of other awesome great features but we are trying to keep this short so we will skip the rest.
What Platforms Are Supported?
As version 1.2, you can use the toolkit on Mac, Windows or Linux and you can play your game on Windows, Mac, Linux AND for the first time - the palm.
We Don't Believe You, Can We See A Screenshot?
Why of course you can: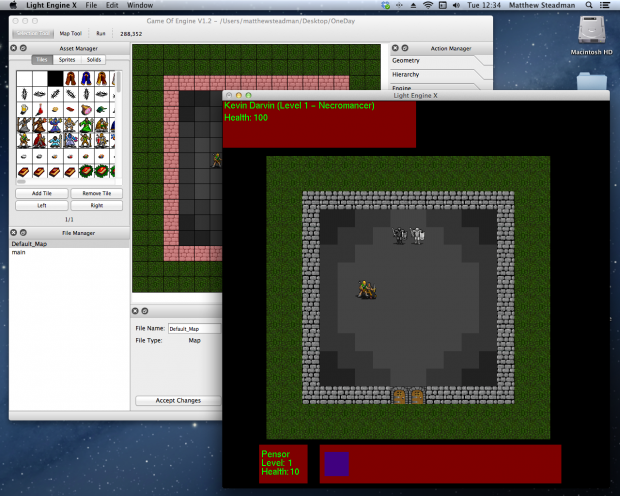 When Do You Plan To Begin Work On The Next Version?
I am taking a short break on toolkit development, I am going to create some games with it and generally chill out for a while. Have no fear, development will resume for iOS and other platforms later in the year. Thanks to all our supporters!