What is game of engines?
Game Of Engines is a game engine and a level editor combined. You can consider it more of a toolkit than it is an actual engine. It was created to create high powered indie games by giving the user some of the best technology around in order to create games.

What engine does Game Of Engines use?
As on 1.0.4R2, Game Of Engines does not have an engine yet as the main focus is to get the toolkit up and running.

What is new in 1.0.4R2?
Game Of Engines V1.0.4R2 has been very different than the usual versions. I have switched over from Visual Studio to Qt and have continued to develop the engine by using the new framework. Because of the change, not much has been implemented into this version other than a new GUI so there is not much to show.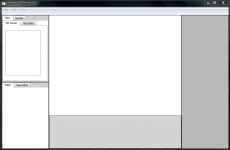 What platforms does Game Of Engines support?
Version 1.0.4 Revision 2 can be run only on Windows at the moment because of the awkward switch from Visual Studio.

Do you plan to begin work on another version of Game Of Engines?
Hell Yeah. This toolkit has been through some major changes and i am going to make sure it gets done up real nice!

When do you plan to begin work on the next version?
Soon as I finish this can of monster!