What is game of engines?
Game Of Engines is a game engine and a level editor combined. You can consider it more of a toolkit than it is an actual engine. It was created to create high powered indie games by giving the user some of the best technology around in order to create games.

What engine does Game Of Engines use?
As of Game Of Engines 1.0.4, there is no current Game Engine that is being used with it. This version was mainly aimed at getting the tile placing and other things working nicely.

What is new in 1.0.4?
Game Of Engines 1.0.4 was one of the first big breakthroughs that we have ever had with this piece of software. This version actually has a working GUI which makes the level editor look really nice and lots more professional than it previously was looking. Here is a list of features that we have included:
GUI - As mentioned, we have a brand spanking new GUI for the first time ever and it speeds up the development process by a considerable amount.
Speed Boost - Tile placing now takes up less of your time and let's you get on with what you do best.
More Stable - I use the term "stable" very loosely but yes, it will not crash as much anymore.
Debug Console - Keep a record of everything you do with the new debug console.
Tile Overlay - Yep, you can now overlay tiles to make your game twice as better as before.
New Asset Manger - Screw having to look at the database layout all day; we now have our own layout that is much more efficient and twice as fast.
Grid - No more clicking on an area and hoping you hit a tile, with the new tile grid, you can truly keep an eye on your tiles whilst improving your accuracy.
Much More - Yep, there is loads more awesome what not's added to this version of the toolkit but you will find out about em soon enough folks!
What platforms does Game Of Engines support?
At the moment, Game Of Engines can only be ran on windows computers because of our current IDE and programming language of choice: VB.Net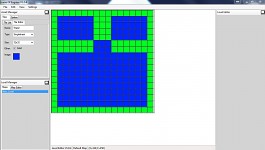 Do you plan to begin work on another version of Game Of Engines?
Hell Yeah. This toolkit does not even have an engine yet. I will keep on working till the very end!

When do you plan to begin work on the next version?
Soon as I finish this can of monster!