What is game of engines?
Game Of Engines is a game engine and a level editor combined. You can consider it more of a toolkit than it is an actual engine. It was created to create high powered indie games by giving the user some of the best technology around in order to create games.
What engine does Game Of Engines use?
Glad you asked. As of 1.0.3, game of engines does not have a engine at the moment - All that is working is the level editor that allows you to place down tiles and create maps.
What is new in 1.0.3?
Game Of Engines 1.0.3 has some pretty neat features in it, however, it is still in very early development. Here is a quick list of what we have:
Tiling System - Why hard code a map when you can simply create one at the press of a button.
Single Image Tiles - No time for spritesheets? go solo with our new tile manager.
Database powered - Screw saving a picture twice to your hard drive, save it to our database!
Multiple Maps - Yes! you can have as many maps as you like within the same project.
What platforms does Game Of Engines support?
You can use the toolkit only on windows, unfortunately, this is due to the programming language we have used to create this: VB.Net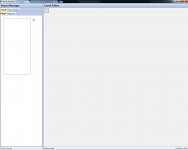 Do you plan to begin work on another version of Game Of Engines?
Hell yeah. This is barely a working piece of software yet and until it is at least slightly complete - I will continue to work on it.
When do you plan to begin work on the next version?
Soon as I finish this can of monster!