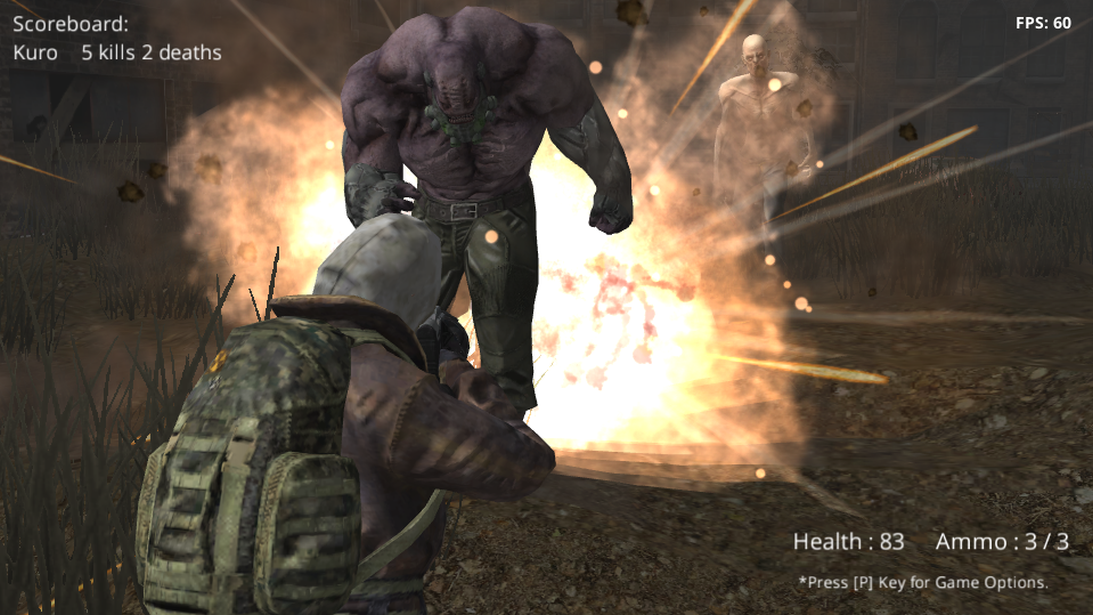 Sooo… we've been a-bit quiet on our end, but now it's time to start making some noise again! We are very excited to announce the release of Apocalypse City: Last Stand v1.3.0! This update is packed with tons of awesome new content and bug fixes.
We now have a player loot drop system! All players will begin to spawn loot drops upon death (ammo, health, or steriods). This feature alone may temp you to kill your mate for loot or be killed? Beware…
Look out for 2 new enemy types (Zombies, and Mutated Dogs) you'll have lots of fun engaging… or running from lol! We also now include 3 starting weapons: Sub-Machine Gun, Shotgun, and Grenade Launcher all with new and improved particle effects. We especially love the Grenade Launcher, but it's much slower than other weapons so make your shot count!
Beyond content updates, we also have lots of bug fixes and performance improvements. One great example is the addition of a Ping Manager, otherwise known as a Photon Networking "Master Client Switch" system. Since players are allowed to host their own games, we now have a built in system that monitors your ping. If the system finds another client with a better ping we'll migrate the master client responsibility over to another client to keep the game sessions stable and lag free.
In closing we also want to share that Apocalypse City: Last Stand is very close to being published with Y8.com. When officially released on Y8.com platform we should begin to see a flood of new players online to engage with on a daily basis. Overall we think you're in for a real treat with this latest Update and our upcoming world wide offical release. Thanks for reading, and please do stay tuned for more…
Update (v1.3.0) Release Notes:
- New Player Loot Drop System
- Add 2 New Enemy Types (Zombie and Mutated Dog)
- Add New Weapon: M32 Gernade Launcher
- Update all Weapon's Special Effects / Particle System
- Improved 3D Sound's Rolloff Effects
- New Player Animations for Running, Jump Shooting, and Backward Movement
- Additional Gameplay Balancing, and Adjustments.
- Improved Zombie AI (Mutants will now avoid most objects in their way while persueing a targeted player)
- New Ping Manager (Master Client Switch) System
- Bug Fixes and Updates for Network Sync, Main Menu, Login, Leaderboard and Game Options.