Lately I don`t have a lot of free time that I can spend on development of this game but I am trying to do my best. Here are some major changes and additions:
Game loader and account system
When you run the game for the first time you need to register your account using form which u can see on picture below. There is no waiting for authorization and you don`t have to enter your e-mail or other personal information. All data are stored in MYSQL databaze and checked using PHP scripts so when u try to register existing username , or enter bad password the message with specific error will be displayed.
I ` ve added the offline mod for people who are not interested in beating the score of other players or for those who will want to play even when they are not in wifi range.
Also, u can notice a few social buttons which can redirect you to our pages on various social networks like YouTube, Twitter etc.
It`s not finall version of the loader , I want to add somethig like changelog window and autoupdator.
I ve almost forgot , this loader will be probably used in our other games too. So in the future u won`t have to register for every our MP game separately. You can use 1 account for everything.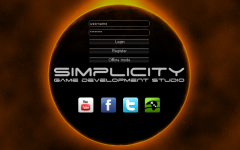 Character color customization
Multiplayer (kind of) will be one of the most important aspects of this game and I wanted to give every player a chance to differ from each other. Now there are 10 parts of the body that can be colored using RGB mixing system. Colors are saved on server so in competition mode, or when looking on someone profile ( I will talk about that in next update) u can see color pattern of the player whose time u are trying to beat.
If u want to use a color that is already on some part of the body , u just have to click on it .
I was thinking about possibility to add custom images to the face of the climber using link of that file but I am afraid of vulgarism and other stuff that it can turn in to...
This is not the final version of the color changing system.
Other
- new background in game menu
- smooth moving of the menu
- end of the level with checking/sending score to the server
- now u can scroll between levels
and a lot of bugfixing
Plans
- finish the MP system
- menu improvement (like moving clouds etc.)
- open beta test