We uploaded the new Game Launcher v0.1B!
Firstly, why you need this Game Launcher?
With this Game Launcher you can easily change important Game Settings. For Example now its possible to change the Resolution in seconds! You can also enable or disable Bloom Effects, DOF, Lens Flares, your Player name etc. ! This is why you need this Launcher. In the first Beta Version of Sky-Light, you can change some important features InGame too.
---
Preview - How it looks like
The Launcher has a simple layout and 3 Buttons with all the functions you need to play and modify the game.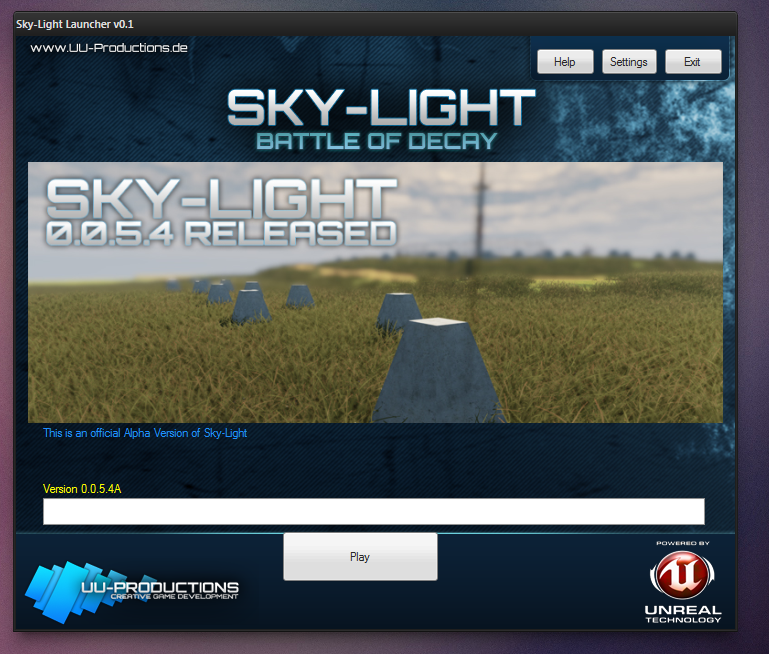 This is the Main Page of the Game Launcher. You can press "Play" to start the Game, Exit to close the Game and Settings to change the Resolution. Edit the Video Settings, Gameplay Settings and more or click on Help if you have bugs, errors or you dont know what to do, so easily contact our Support!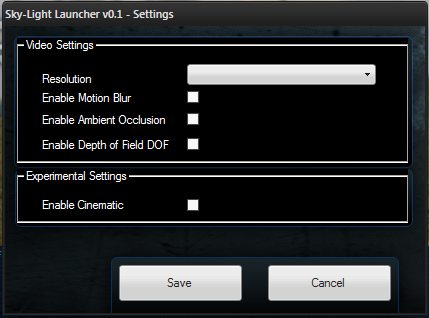 This is the Settings Page of the Game Launcher v0.1. With the newer Version, you can also edit the Gameplay Functions and features. We add in newer Verison a lot of things!
The Game Launcher is in all newer Version of Sky-Light (v0.0.5.4+) included.
UU-Productions - News Link: Uu-productions.de