Game Dev Log - Project DG v 0.0.3.1~0.0.3.2
0.0.3.1
In this version, we tweaked the collision detection between the platforms and the objects, we also added more "dropped items." The collision detection in 0.0.3.0 was quite buggy, sometimes the character would just slide off the platform before it was even at the edge (if you look closely you will see it at the gif file of 0.0.3.0). So we fixed that issue, we also checked the platform's ability to hold dropped objects and update them within itself, so basically all of the "floating toilets" you see are objects that are handled within the platform itself! (and yes… its a floating toilet… i was bored

)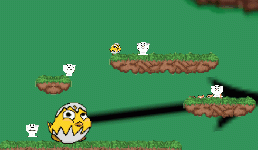 0.0.3.2
Wheew…. ok… this… this is a big one


Where do I start..? lol
Well, first, We created the first moving camera! now, the camera basically follows the character and keeps it in the center, however it will not go underneath the first platform or to the left of the first platform (which is the origin of the coordinate system (0,0)). Next, we added more platforms for the first actual testing area!
there is one problem though, well one very VISIBLE problem lol, since the background is being drawn on the same layer as the game for now, it is moving with the character, exposing the empty green "canvas" behind it… this will be fixed once the background will get it's own layer though! so nothing to worry about!