I've been working on an achievement system for the game, finally. Right now it's kind of crude and entirely local (i.e. tied to your game), but hopefully when we get on Steam we can leverage Steamworks for some nice persistent achievements.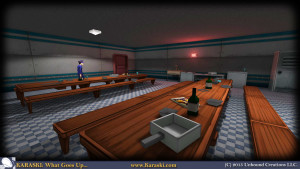 Bro, do you even achieve?
So far we've got the standard fare of "collect X amount of gold" or "Find item Y." There's some more unique gameplay or story achievements specific to our world, like "Might Have a Problem" for drinking with a lot of people, "Senior Investigator" for uncovering enough clues, and others for completing side-quests.
There's also a bunch of fun gameplay challenges, like "Sneaky Bastard" for completing the game without ever getting caught (Thief fans will love it :) or "Technophobe" for never using a tool. I think my favorite one is a story one titled "Change of Heart" but... I'm not gonna reveal any spoilers ;)
COMMENT AWAY what kind of achievements YOU want to see in our part-stealthy, multi-approach, story-driven and open-ended, detective adventure game!
---
Comrade LISTEN! The Glorious Commonwealth's first Airship has been compromised! Who is the saboteur? Who can be saved? Uncover what the passengers are hiding and write the grisly conclusion of its final hours in an open-ended, player-driven adventure. Dziekujemy!
Or Follow at