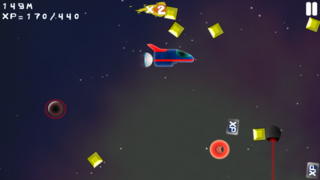 Volkiller Games is proud to announce that Galaxy Rush! is now available on even more platforms . As of 8/6/14 Galaxy Rush! is now out on Windows Phone 8 ,Android play store, And iOS. Along with this great news Galaxy Rush! has now been updated to have more features than ever.
Here are some Store links
Here are some of those features and fixes
Increased Max Player Level
Improved Achievements
Improved performance
Improved Power-up Spawning
Fixed bugs
Fixed Coin Magnet
Fixed Super Bullet pickup
Added Badges
Added intro
Added per ship distance tracking to Profile
Added Shield UI to always see ships life
Redesigned start screen
Redesigned Ship select
Redesigned Power-ups
Redesigned Armory
Can now buy bullets from score-screen
Bullets are now stored per ship
Ships are now individually upgraded
And much more..
Coming soon leader-boards