Dear players,
As you know from my previous dev logs, I am working game engine improvements. I migrated the game engine, all game projects, and all tools from .NET Framework to .NET and I also integrated my own code in one of the modules that I use, which is no longer in maintenance by the original developer. The work is almost completed and it brought a measurable performance boost for the game. When you look at the following image, you will see that the CPU load during a salvage operation is only around 3% on my machine. This should make the gaming experience much smoother for players with older computers.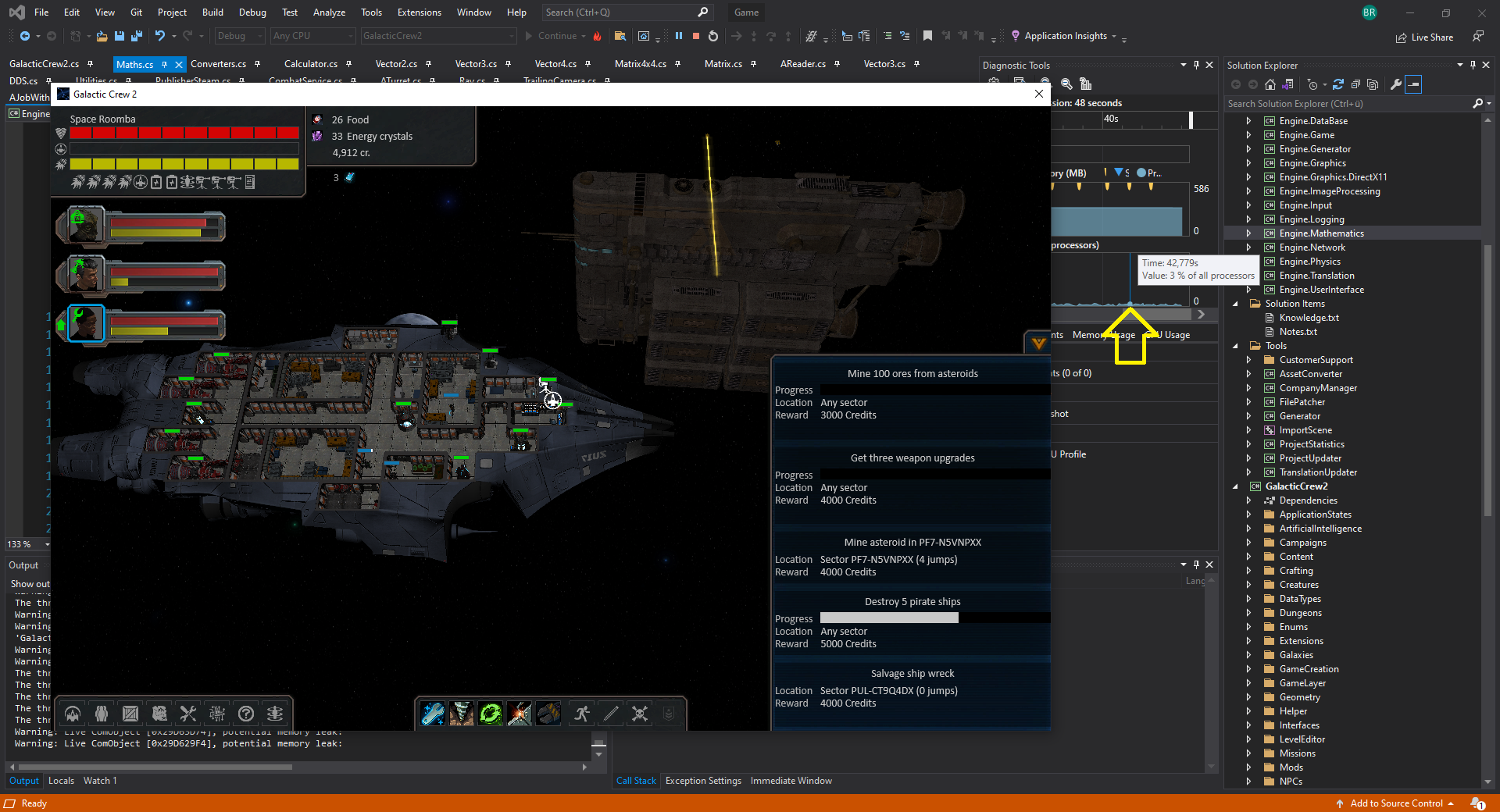 I originally planned on publishing the performance update in December, but I changed plans. Instead, I will publish an update in late January or early February with not only the performance and engine enhancement, but also with more game content. I will present the upcoming game content in detail in future dev logs, but I wanted to give you a broad idea of what's coming. More features might be included that are going to be announced later.
Besides improving performance and code quality, I will add a feature for inter-dimensional trading. There will be new rooms for your planetary outposts to build with which you can connect all your outposts from all your save games and share resources, goods and items between them! You can already use captains from previous playthroughs in new games, but now you will also be able to actively share stuff between outposts. Do you have outposts at the opposite sides of the galaxy and you want to share construction materials? Do you start to build your very first outpost in a new playthrough, but you want to access equipment you got in another playthrough? Just share it! I want to enable trading between players across platforms, too (like a trade hub you may know from MMORPGs), but this will most likely be not part of the upcoming update, but a feature for the future.
This feature will be at the center of the next update. It introduces new buildable rooms for your colonies, new dungeon rooms, new items, new crafting recipes, new achievements, etc. I also want to add a large variety of new planetary content and new enemies, but I haven't started to create them yet so I can't make the promise they will be part of the update. However, I try my very best to make the update as big and great as possible!
I will keep you updated with more dev logs soon!