First up, we have 2 reels of props Ive created for the Mod. All are physics items except for the keypads, but they are still interactive.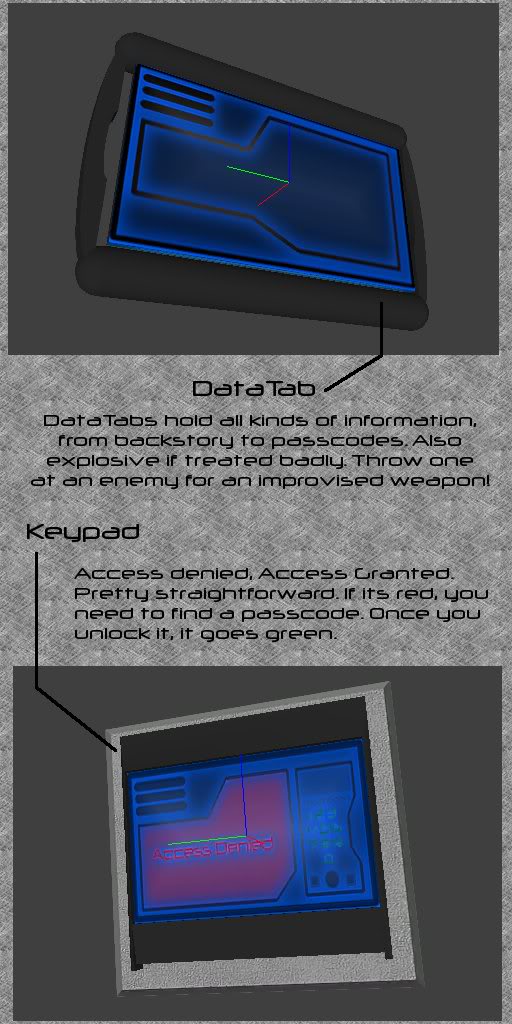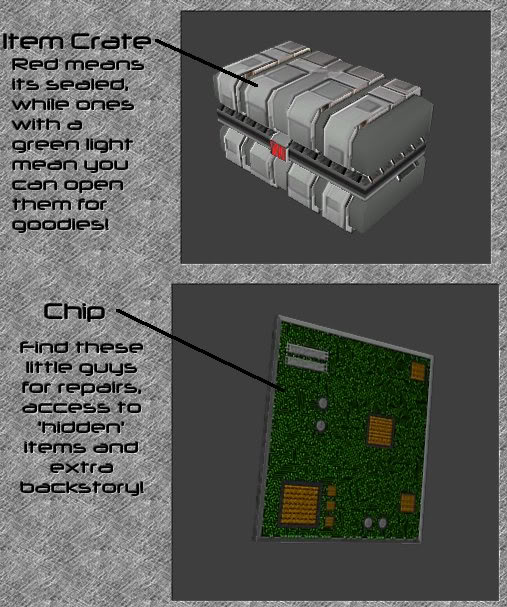 Next up is a short video demonstrating the DataTabs and how they function. Simply pick one up to read its contents. Put it down when you're finished, its that simple. They can also be used as improvised weapons: They are explosive when handled poorly. Drop it a few times and it creates a small explosion, or chuck one at an enemy hard to damage them. The damage inflicted by it is pretty light, since its an electronic, not a hand grenade.
They are also used to find passcodes, and in some cases, to access otherwise sealed rooms occasionally needed to progress. (I wont overdo it, thats so '1995'!)
In this case I just had it show a tiny bit of backstory, then had it also unlock the door. This wont be the case in the furutre, its just for demonstration. In the final build, it will simply display a passcode should that be whats on it. If its a personal log, it probably wont have a passcode in it and wont unlock anything - anything except knowledge.
EDIT: For some reason the vid wont HTML code in, as I have with others.

You also might notice some new door textures, they are still a WIP. I am definitely not keeping the other doors though, they just dont fit into the rest of the place. Those along with several other textures will be replaced over time, so expect some changes in some of the areas Ive pictured so far. The commons areas I've shown concept work for will remain the same, with the warm reds and oranges. The warmer colors will be removed from engineering, technical and laboratory areas as they just dont go with those areas' themes. I want them to drastically contrast from the commons areas, which should be warming and have a happy, colorful scheme - yet not too much so.
And finally...
Sadly, development will slow down a little now. I am currently employed in the Construction field, but am changing jobs to a different one, which wont be weather-dependant. The winters here are great for time off, but not so great for paying the bills. The new job will take up more time than the old one, but it will balance out in the summer, when I would barely have time to sleep in my current field. The last couple months of free time has really helped me grow though, and get through most of the planning phase of the Mod. I've learned a lot and will continue to improve areas until Im satisfied. I listen to all of your comments and suggestions, so keep them coming :)
Thats all for this update!