Helge129 (alias Master_Chief alias Sgt.Rho) here. After several months of almost complete inactivity, I at least am working on Tiberian Apocalypse as much as I did before becoming this inactive again. I'd like to re-introduce the mod with a screenshot of current GDI ground vehicles, and with them, a newly made Mammoth MK2. The old one wasn't making the MKII much justice, so I decided to remake it. I even tried to properly animate it.
The MKII got a few new features now. Firstly, I've added an effect to it that causes the screen so shake with every step this mighty walker makes, and also gave it independently targeting railcannons, as well as proper vulcans. It will not be built normally, but summoned sort of like the scrin mothership, but a special aircraft will bring it down to the ground, and there can only be one active per player. The sheer presence of the MK2 causes enemy units nearby to fight less effectively, due to being scared by it, and at the same time, moralise friendly units, which makes them fire more fiercly. Not much, but enough to allow a wolverine to kill a buggy rather quickly.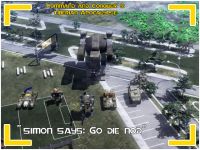 In the next update we'll have an all new harvester and refinery, as well as a remake of the remaining GDI units. But that's not all, I've made a video, unfortunately at a early stage of skinning, thus with an unfinished texture, of the walking animation of the MK2.
That's it for now.
See you soon on the battlefield, Commander.