A few updates this week that should fix several issues that users have reported with V15.4 Below are two notable improvements in this release, but check the full change-log for a detailed list of the changes. It is recommended that users update to this version ASAP as it does fix several minor bugs with V15.4.
With this patch you'll get a chance to use the first revision of the new HUD, its obviously not finished and it can be removed by selecting "Optional - Standard Theme + Classic HUD" mod if you want. Besides looks, this does actually have certain improvements over the classic HUD - namely name length, which no longer requires a marque and will show longer names. I've taken note of feedback already received, however I will be making the changes in time for patch #3 (sometime next week).
Certain vehicles actualy spawn somewhat in the ground, which is both incredibly stupid and annoying. Last patch I fixed the Damocles Dragster, in this patch I've fixed a handful more with notable ones being the Dragonfly and Superfly.
In this release I've re-added the Invulnerability optional mod that disappeared in V15.4 (oops :D), however this one has been re-done from scratch with the new handling files and also includes an option to run the new "drive on water" mod at the same time.
One other fix that should get a mention is the issue where certain optional mod's are active by default, namely ones relating to commands. This was a simple mistake made in the packaging of V15.4 and this patch will resolve this by putting the correct default files in place.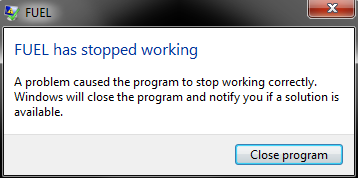 Problem Running FUEL: REFUELED?
I've written a short tutorial here that give solutions to some of the most commonly reported problems with FUEL: REFUELED. Additionally there is now a video that provides step-by-step visual instructions on how to install the mod. If neither of these are able to help you then you can either post on the forums here and/or PM me and I'll do my best to help you resolve the problem.
Remember that if you encounter a bug or issue then please report it, no matter how minor or even if you are able to resolve it on your own. This is a 1-man project and frankly there is bound to be things I over look during my own testing sessions. If no-one reports the bugs then I'm hardly going to produce a fix for something I don't know about! :D
Download V15.4 [BETA5] - Patch #2
You can download FUEL: REFUELED V15.4 [BETA5] - Patch #2 here.
You must have FUEL: REFUELED V15.4 [BETA5] installed for this update to work. You DO NOT require Patch #1 installed as all updates and additions from that patch are also included with this patch.
If you have any trouble running this mod, then don't hesitate to post over at the FUEL: REFUELED Forum.