O k time for an update, I've been a bit pre-occupied the past week or so, so I apologize for the lack of updates! Anyhow, in this news post (I usually aim to do them weekly, but often forget and just resort to doing when ever I feel like it!) I will be going over a particular item set to release with future updates which will hopefully answer feedback I've been receiving.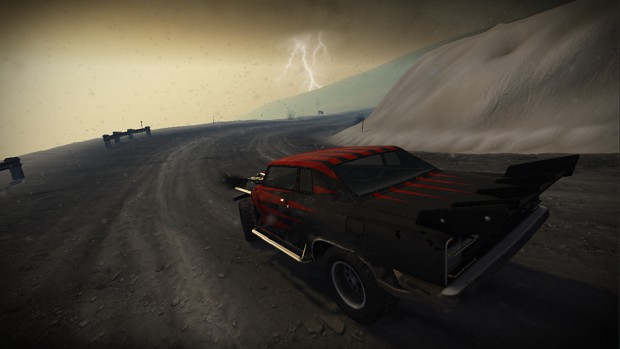 Difficulty, Difficulty, Difficulty...
A lot of you have said FUEL: REFUELED kinda ups the difficulty level a great deal, some of you have even reported being unable to achieve a win on the easiest difficulty level in some races. The reason the mod sometimes makes the game harder is because its build around what I find easy/hard and my personal preferences. Because of this I sometimes loose track of how hard I've actually made the game (yes believe it or not I have actually achieved a gold medal in every race in this mod!).
So to rectify this problem, soon to be added is a set of difficulty options and gameplay preferences to customize various aspects of the mod/game via the mod manager. Options I have planned include:
The AI difficulty
This will shift the AI harder or easier across all three in-game difficulty levels. For instance the most easiest level of standard difficulty would become the hardest difficulty in an easier AI mod. The hardest level of standard difficulty would become the easiest level of difficulty in a harder mod. I will of course do updates where needed to fix AI that doesn't work, if you have issues do report them as it helps ensure I don't accidently miss them.
Vehicle prices
Some people find vehicles a little to pricey, so there will be an option to reduce the prices and also increase it if you want. I'm thinking of say a 6250 FUEL vehicle would cost either 5000 or 7500 for example. A more expensive vehicle such as 25000 FUEL one would then be 20000 or 30000.
Race Rewards
The rewards can be increased or decreased globally, say instead of 5000+5000+5000, you would receive 7500+7500+7500 or 2500+2500+2500. This would effect both challenges and career races.
Zone unlock requirement
For instance Tsunami Reef would require 3, 6 or 9 unlock points instead of the default 4. I've already completed this, the stock requirement of career stars now equals completing all previous races up to medium difficulty. So Tsunami Reef would unlock in 6 stars and Rainier Peak in 132. There is also an easy, a hard and classic optional mod. Classic reverts to default game unlocks, easy is essentially equal to completing races on easy only and hard would be requiring every race to be completed on hardest difficulty. Remember there is already a "Unlock all zones" mod if you want to skip the whole unlocking process entirely.
Number of AI in career races
Instead of the default 9 opponents this could be decreased to 4, or increased to say 11 (maybe 15 if they work properly).
Participating vehicles in races
Want all races Bike or Quads only? Just Buggy, Muscle & SUV? Just Trucks? Then this will be an option added at some point. Its not simply as easy as reverting it back to how it was before due to significant changes in how races are set-up etc., but it will be re-added.
Night/Day Career
I want to include night and day variants of every single career race in the game, so you can play the time of day you want.
Remove scripted weather & time from career races.
This will remove all scripted weather and time from career races, the race will feature dynamic weather and the current game time.
Vehicle Damage
I've already provided an invulnerable mode, but I would also like to provide a harder, more semi-realistic mode where crashing most vehicles is pretty much fatal.
Endurance Challenges
Instead of say 3 laps, or generally shorter races, there will be an option to set the number of laps in a race, such as 5 laps, 7 laps, 9 laps and so on.
So basically the above is what I have planned in the not-to-distant future. It will allow you to play the game the way you want to play it, to your preferences and level of skill. Also most of these can be switched out at any point, so you can play a race on easy mod then up the difficulty back to default if you wish etc. It will also be available (where necessary/applicable) for the demo as well, so you can as always try the mod before you commit to buying the game. I hope this will answer some of your criticisms / feedback and make some of you happy - you can expect this in V15.5 and its after-release patches. If you have any suggestions or bug reports then don't hesitate to contact me as I do listen to what you all have to say.
Oh and hopefully Patch #3 will releases this week, yeah I know I said that two weeks ago, but I'm almost 49.99% sure it will be this week. Maybe next ;)