'Fry Me Omelette', the egg-frying simulation game, has finally reach ver 1.3 !
This is the defining version you'll love to play, especially for those who haven't play the game yet.
---
What's New...
These are the new additions since ver 1.2:
1 'Unlockable' Ingredient
1 'Challenge'
New passing rate (from 'Stats' -> 'Overalls')
2 new high score leaderboards
Some new judge sprites
More critiques from judges
​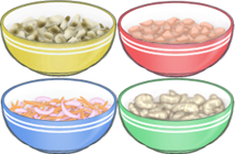 Things that are change/revamp or fixed:
Displacements of shrimp in 'Record' fixed
Egg cooked-ness tweaked
Several bug fixes
More Complete Than Ever...
Now Fry Me Omelettes is in complete package, as originaly intended.

here's a quick list:
2 Play Modes ('Casual' and 'Challenge')
1 'Record' mode for you to see your previous cooking attempts
7 Challenges
8 Ingredients(fillings) & Dressings
8 Unlockables
18 In-Game Achievements
4 High-Score Leaderboards (Kongregate Statistics)
6 Holiday Opening Screens
X'mas theme (happens in Dec 24-31)
8 Music Tracks (including X'mas theme tracks)
200+ different Egg Sprites (just on 'Egg-Look' alone)
& Unlimited egg dish possibilities!
Now a quick summary for those who don't know the game:
It's basically a sandbox game-- You do the cooking and then get points and unlock stuff and achievements.
The main gameplay process is like this: Frying -> Dressing -> Judge Panel -> End of Round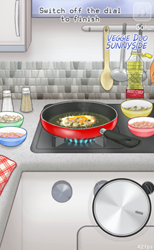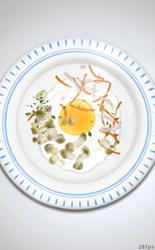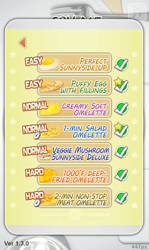 First: you fry an egg or omelettes using mouse actions (to simulate cooking) with no strict manual instructions. The game is designed to be as 'intuitive' as possible (maybe not player friendly). You may not know how to do it properly--but try to trust your 'cooking instincts', it takes tries to get the hang of things.

The 'Dressing section is about the same-- but without the fire & pan...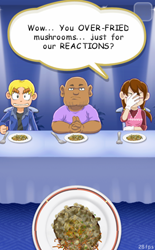 The 'Judge Panel' is another highlight of the game, where your dishes be judged by our food critics in sequences. If you win 2 judges or more, you get a 'pass' or 'ace', if not you got 'fail'.​

Little do people know there's 100+ of unique comments/critiques based on how you make your egg dishes.
Ver 1.3 adds 20+ new critiques and even some random comments, bringing more variety & humor to our players.
This is more than just a simple cooking game

The game lets you make specific dishes, or try all kinds of 'experiments', or just to troll our judges.
All in all, It depends on what you want to do as an omelette-frying chef.

​If you're an web gamer who's interested on sim games or cooking games, you might want to TRY 'Fry Me Omelettes'... Because It is, TRULY-- a cooking simulator like no other!
---
You can click this button below to play the ver 1.3 !

---
You can visit the game's landing page or the development log here.
Or visit via Facebook , Google+ or Twitter to follow & support my game.
Have FUN!
-Allen T, Snouty Plays