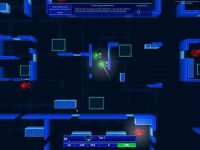 Here's a quick grab of our Nottingham game mode, which will be in operation on Friday.
This is going to be something of a mega-update, as it'll comprise a few things that I sorted out before I left. First off, I wanted to say a huge thanks to everyone for the response to our video: this is the first time we've really showed off the game and it's fantastic to get an overwhelmingly positive response.
When we get back, we'll be working hard to make the game exceed your expectations - this is going to be tough as some of you have some really ambitious things that you want to do in the game! I'm going to be acting as an advocate for all of the aesthetic things you guys want, and making sure that we get as much of the stuff you want to be there into the game as possible.
Also, I made you this ridiculous video before I left! Enjoy...
If you like this kind of thing, I will do more - if you HATE it, I will not do it again! I recorded that just before leaving, and now here we are!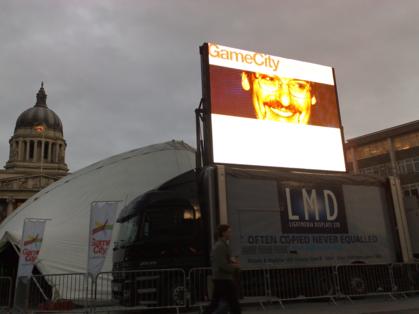 This is the massive plasma screen outside the tent - we should be on that at some point - hoorah!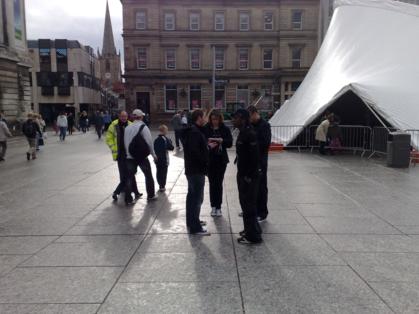 When I arrived, some Sony PR people were hanging around looking dejected because nothing was open yet. One of them was stabbing forlornly at a PSP.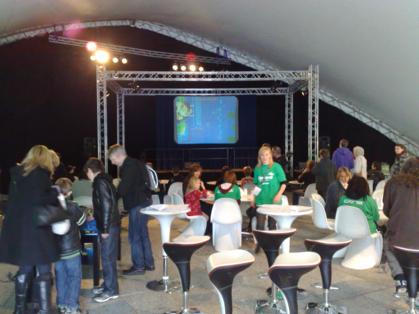 And finally, this is the Indie Village where Synapse will be on show on Friday - this was taken at the end of the day when it was very quiet.
I've been taking a lot of videos, but not that many photos, so today I will endeavour to get some better shots for you of stuff that's happening. I've been very pleased with the response so far - we've had a lot of people taking our flyers, I've managed to get in touch with a few people I haven't seen for a while, and the atmosphere is generally great. More soon!