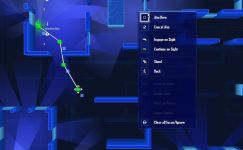 We have finally got a proper graphical orders menu, and this seems really chunky and satisfying to use. Also controls have been tweaked a bit - the RMB now has "hooking" (hold down and drag to move the map around), and orders are now on double-click LMB. This is MUCH better - Ian's endless determination to put things on the middle mouse-button has been defeated once more.
The game feels better to use now: this is good.
Bin is working a lot on getting the icons displayed along your plans to look good - this is pretty hard as they can be in basically infinite possible positions and like to overlap / mess one another up quite frequently. He's currently manually up-rezzing pixel icons...the man has amazing patience.
Matt is tracking down an annoying animation bug at the moment - this is stressing me out as I want him to finish up the final tweaks we need so we can make our instructional video for the event. We can't have skating, slidey men in the video either, so it's vital he gets that one - I'm sure he will!
We're going to have to teach a lot of people how to play the game very quickly - this will be interesting, as it's a fairly complex affair, but I'm hoping nice clear menus like the above will be a help. Personally, I'm looking forward to doing some more work on the soundtrack - this will probably happen next month. I will, of course, share the results!
Now some more notes on LIFE...
Yesterday was the last day our freelancer Thom was in the office (at the same time as me) before he leaves to go on some mental trip around Australia - we wish him all the best! Ian is currently ranting about trying to buy Demon Souls. I haven't seen anything about it yet. Now he's eating crisps and frowning at Eurogamer.
If you live in the UK and like games, it is apparently morally wrong to say anything bad about Charlie Brooker and in particular his recent show Gameswipe. I saw this, it was ok, but now we all have to walk round saying how AMAZING and HILARIOUS he is. I think he's a good writer - he wrote Nathan Barley which I have a particular liking for, is certainly a talented and funny chap, and seems like an affable, friendly man when interviewed - I just hate this torrent of utterly unreserved praise and adulation which must continually be heaped upon him on a daily basis. Give it a rest!
I put his games stuff somewhere close to Zero Punctuation in my brain: it's...just...ok. It's quite amusing. It makes me titter. It's not GOD'S GIFT TO GAMES COMMENTARY OMG.
Pictures. Yes.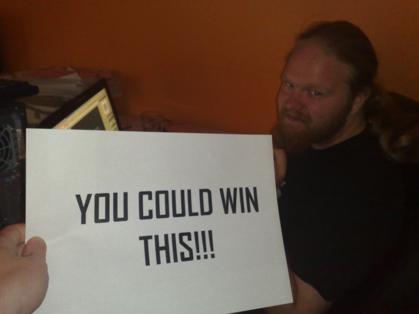 You can't win this. It's Bin. This is a sign which is going on the prize pile.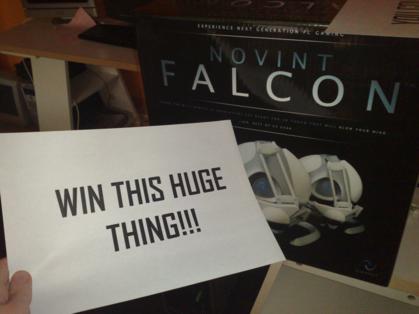 You can definitely, definitely win this. We'll be walking around Nottingham with this box telling people that they can win it - this is in lieu of flyering which we're NOT ALLOWED TO DO OUTSIDE (thanks, Nottingham City Council).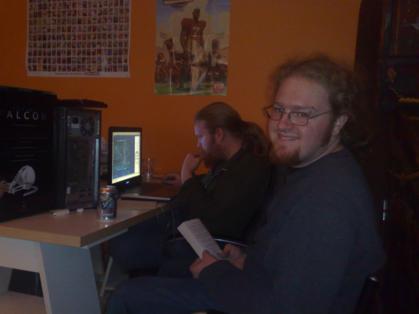 This is Bin's brother Tristan who dropped in to say hi. We call him Burn: he is an awesome man who will be helping us out in Nottingham too. In the background there you can see Ian's Black College Football Experience poster, of which he is incredibly proud. The combination of 1.) football and 2.) an ostensibly quite high budget, INCREDIBLY obscure indie game and 3.) weird features like...dance routines was too much for him to deal with, and he ordered the special edition.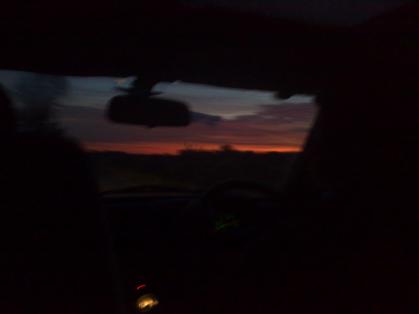 Very blurry sunset when we went out last night. Good to relax after a couple of hard day's grinding. I tarted up our official website a little bit - you can now read a bit more about our past work.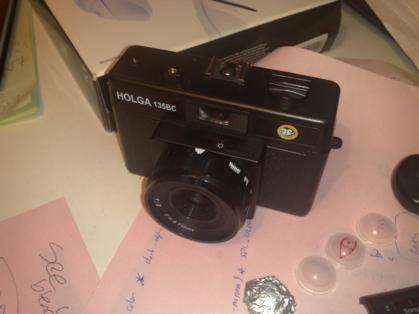 Thom bought this retro camera - it apparently takes amazing polaroid-y snaps. I was bemused by it.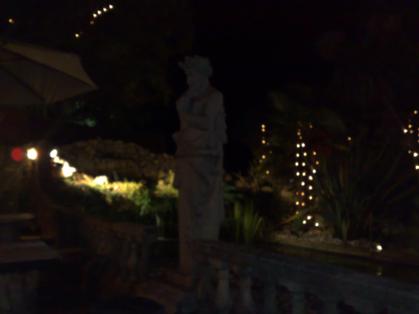 Here is Baccus, hiding in the dark at the Crazy Bear hotel and restaurant. We are big Crazy Bear fans - Ian and I used to go there a lot but as I'm not in the office that much any more (and when I am we tend to be in megacrunch) we don't get out there too much. Made it back there last night and it was awesome.
I want to quickly shout out the developers of Capsized, who told me that my marketing article on Gamasutra had helped them - really nice to hear that. They are pwning me at coverage at the moment, as their trailer has exploded on all the big news sites - I really hope they get mega traffic and get their marketing rolling.
MORE NEWS SOON! Keep on crunchin'.