We've been quiet recently as we had a lot of contract work to get finished over Christmas and into the new year. Ian also had to move house (back to Oxford, hooray!) which is traumatic for everyone, as I'm sure you all know!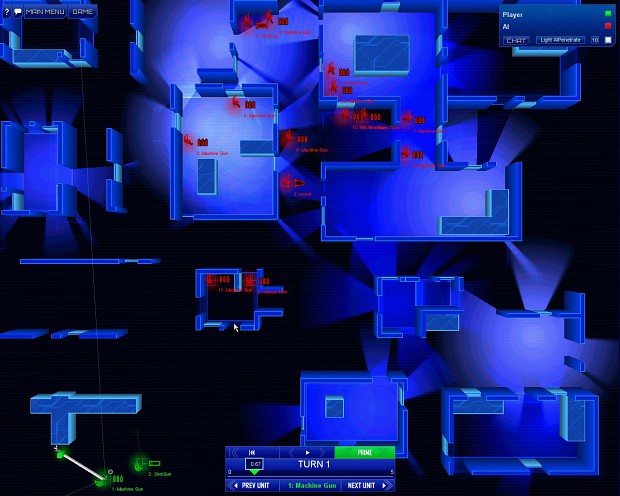 We want to thank you guys for waiting patiently and not badgering us about new stuff! We know the game is fairly highly anticipated...
I thought I'd talk a bit about what we're doing and what we hope to have in place soon. Please bear in mind that, as some of these tasks haven't started yet, all of the features mentioned are subject to change – we're not promising any of this stuff, it's just our current ideas.
Single player
Single player is about 70% content complete. It is based on missions which incorporate random generation. You receive messages in-game from characters and there is also character interaction between missions. All of the text and story is finished, as well as all of the out-of-mission details.
I will write the proper reveal of this soon (as I keep saying) – as we'd like that to get picked up by other sites, it will need to have pictures of levels / final art in there so I am waiting on that. This is what has prevented me from talking about it seriously so far, but please hold on and we will have more details soon.
There's a new character model and also a couple of new units which are variants on the existing units.
Art
Our Tech Artist Matt has been working really hard on a new blood system: the current blood looked ok but we weren't able to get acceptable collision with it. It was going through walls and this looked fairly bad.
The new system incorporates blood particles which spray out in a dramatic way as a character is dying and also collide much better. There are a few rough edges but we expect this to be done soon.
There are still some issues / bugs to solve with the in-game art but it is mostly there. The reactions we've had so far have been great, so we're confident that this is nearly done.
Menus and UI
Here's our current plans for some new menus, they will probably change as we iterate...

Multiplayer screen
Chat open all the time
Active Games changed to a simple notification
"People online" made clearer
Prominent display of your ranking and ability to access your profile
Better, more useful Feed that prioritises what your friends are doing
This last one is going to be the biggest change and should make access to information much better.
Bottom-left bar
This will be divided into: "Games", "Friends" and "Modes".
Modes will function as it does now.
"Games" will allow you to easily switch between active games without needing to go back to the menu.
"Friends" will allow you to manage and interact with your friends in a much simpler way, as well as seeing who is online.
Quick Start
The Quick Start screen is currently a bit sparse: when you log-in you will see game news, message of the day, who the top-ranked players are and possibly a Featured Game.
The idea behind this is to have more community news and so on, but to keep this separate from the functionality of the Multiplayer screen; this will keep that screen free for important functional stuff like creating new games.
We want to get people watching and rating games more, so you'll be able to display favourite games, and games you played that you like "My Top Games" in your profile.
It's possible that you'll be able to send games to your friends to watch – if we can get a good interface for that, I'd like to do it.
Redesign
We're currently planning to get all of that in place and then look at tarting the menus up a bit. Fonts need work, buttons and other elements could do with being a bit more attractive, and I think some simple motion graphics would help a lot. We also need a better-looking background for them.
In-game UI
There are still some niggles with the in-game UI that we will look at solving, particularly in situations where orders get cluttered. There are also still bugs, obviously. Finally, our "advanced plan" controls need to be located in a sane place. Once this is done, we'll be confident that the in-game UI is actually finished.
Gameplay stuff
We're a bit concerned about the fact that it's hard to get games of anything other than Dark Extermination at the moment. Ian is thinking hard about this using the immense and terrifying baroque engine that is his designer's brain, and hopefully we will be able to come up with a solution.
Sound
The final game sound needs to be done – this won't take too long but it's still a significant task that's weighing on my mind a bit at the moment. That will all get done, then we'll go into final testing a couple of months before release to make sure everything is going as smoothly as possible.
Polish
We want the game to feel slick and polished. We want all the menus to be the right size and buttons to have appropriate text on them! There are a lot of UI elements and menus in this game so this will be a long trawl through the interface trying to fix everything - it will be done though.
I just want to quickly shout out Mode 7's Level Designer and Amazing Generalist Bin. Bin has been working exceptionally hard recently - he's the man behind a lot of the single player content you're going to see and also is doing the implementation work for the story elements. Without him, we couldn't have such an ambitious single player, so that is awesome.
Once again, thanks for sticking with us through this long period of no updates – you can see that a lot of things are in progress and we hope to release a chunky update as soon as we have new things actually functional.
Please do keep telling people about the game - the pre-order has bought us enough time to work on all these refinements and we are eternally grateful.