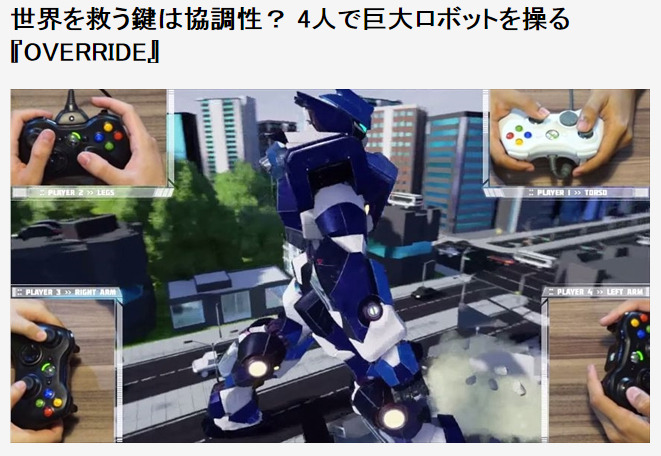 Override on Kotaku.jp
Have you heard the last reports from our field agents? We've been having some great feedback so far! Here are some of the media responses to Override since the start of the campaign:
Rockpapershotgun.com ("Why choose the easiest path in a physics-driven destruct-o game?" - Rock, Paper, Shotgun)
Cinemablend.com ("Override is all about causing massive destruction and having fun with the physics system in the process." - CinemaBlend)
Kotaku.jp ("Coordination is the key to save the world?" - Kotaku.jp)
Kotaku.co.uk ("It's Pacific Rim. It's Power Rangers. It's QWOP with pistons." - Kotaku.uk)
Twitter.com ("Giant Mecha game where each co-op friend controls a physics based part of the mech? WANT" - Cliff Bleszinski)
Twitter.com ("Octodad co-op taken to the next level" - Devon Scott)
Indiegames.com("Ever wonder how hard piloting a mech Voltron style is? Override might clue you in")
Green Light Update!
In the meantime, our Greenlight campaign is on fire! We've been having a big and positive response from mecha lovers from all over the world on Steam. Right now we are about 33% of the way to the top 100.Keep showing us your support! Help sharing the game with you friends on Steam and voting YES for Override on Bit.ly
We are counting on your help!
FAQ
We also took the time to create a FAQ to answer some of the major points of doubt brought by the community about Override. It'll be frequently updated as we keep getting questions and feedback for you guys. The main points were about:
Difficulty and learning curve
We are always trying to simplify the game mechanics. Our goal is to create a challenging yet natural feel for the robots controls, balancing it so the learning curve makes the game fun instead of frustrating. We've come a long way since our first prototypes and the improvements never stop. Although QWOP was one of the initial inspirations of the project, rest assured Override is nowhere near that hard or frustrating.
Online Multiplayer
We are considering online multiplayer, however, for the campaign's deadline, we'll focus on delivering what we promised for the backers, and that takes a great amount of work. We intend on adding more features, having the necessary funds and time
Single Player
In the single player mode you are the only one responsible for your actions. You will have control of all the parts of WatchBot. These actions, however, will be easier to execute, with a higher level of automation, making it possible for you to complete your tasks by yourself. Soon we'll be posting a video with a better view of the single player mode.
More playable robots
There will surely be other robots for you to ride in your missions. Some really exciting ones!
That's it! Keep sharing the project in any way you can! Tomorow we'll bring to you some competition to make things interesting. Stay tuned!