Greetings, one and all from the Freeworlds: Tides of War mod team.
First off, I'd like to apoligise for the lack of news coming out here as of late. Things have been rather hectic for the team. As the summer came to an end, a lot of us have found our free time commitments extremely limited with the return to education and/or work. Another year begins and for a number of us, so goes the level of commitment required to ensure we have a real job after we finish this mod!
School requirements has seen us lose the full-time talents of Deety, and the voice of our mod, Sushi (hence the reason it has probably being too quiet over here!) Both need to focus more on their studies and unfortnately, this isn't a paying proffession. However, the two of them still frequent the boards and pipe in with ideas so they haven't totally being lost to the abyss that is know as the real world.
The same can be said for myself. I've gone from having no job and all the time in the world to modding to being on a course and seeing my free time disappear down the toilet. I shouldn't complain, given the state of the economy - but I also want to see this project finished as well. It pains not to be able to devote as much time to it.
With Sushi focusing more on his studies, I've taken over the role as mod 'whip' - so basically I'm the one keeping everyone on the job. Fun times!
So, how is the mod development.
It is still coming along. At this point, it is often hard to write a proper article on what we are doing because it just really isn't that interesting. I suppose, that is a good thing, given that we are in the latter stages of development. A lot of our current work is less glam and more the dirty underside of things that make it all go around.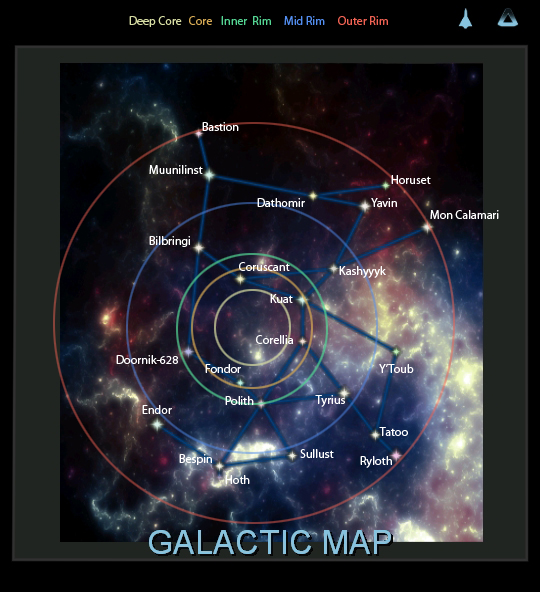 The finalised system map.
Qi has begun work on the economy. His work so far, is amazing - even if I feel like a blonde bimbo when I look at his stats. I've never been good with any of that and having someone with the intellect of Qi to handle on that is amazing. The economy development is coming along great so far. Another plus for the mod. You can check out his blog here for a little more detail on it.
The capital ship development is slowly chugging along. Honestly, it probably hasn't gone as well as we hoped. We are approaching the two month mark and we had really hoped to have it done and dusted. Given how quick we found balance with the fighters, perhaps we were kidding ourselves with how quick we could do the capital ships. More real life commitments come the month of September have also seen us lose more testers, so we are likely going to need to restructure the testing. I tentatively hope to have it done by the end of October, but with needing to hire new blood and get them sorted, this could be pushed back some.
We do have one sneak peek to show you. Overfiend, our hitbox master, also has shown a talent for construction of bases. We have him a few ideas and what he came out with was frankly amazing. Below is a few of the design stage images from the Bilbringi Shipyards, as seen in the 'The Last Command' comic. He has also cooked is up something for Fondor and, time dependent, hopefully an improved Centerpoint to go with it.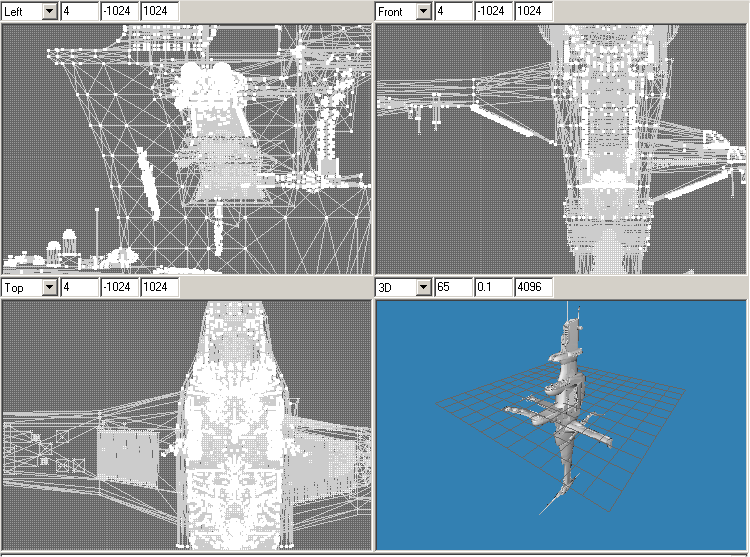 The design work of the Bilbringi Shipyards
Given the stage of the year, we do want to push and try to meet our end of year release date. With team member losses and time restraints, we are taking a hard look at what we realistically need for a launch and what bells and whistles could potentially wait. We hope to include every feature that we have commented on over the past year here, but there is a possibility that some content may be held back from the first launch to ensure that we have more time spent on getting the core stuff done right. For now, we will have to wait and see.
I hope you have enjoyed this update - and that you can all be happy to know we haven't being taken prisoner by the Empire! I will do my utmost to keep you up to date with the important goings on with the mod here from now on.