This is the link for our new site, created by Nrdmanreturns. I seriously got the memo yesterday that this man has created an entire website/forum all dedicated for this project. I thank you so much for this Nrdmanreturns. I've been wanting a site for this project for months, and you made the magic happen.
This site is a public forum where anyone can discuss various topics relating to the project. It's truely a great way to accept feedback, troubleshoot technical problems, document progress, and just share ideas with each other. This is a big benefit for the project and will surely help me improve production as well as communicate with team members easier.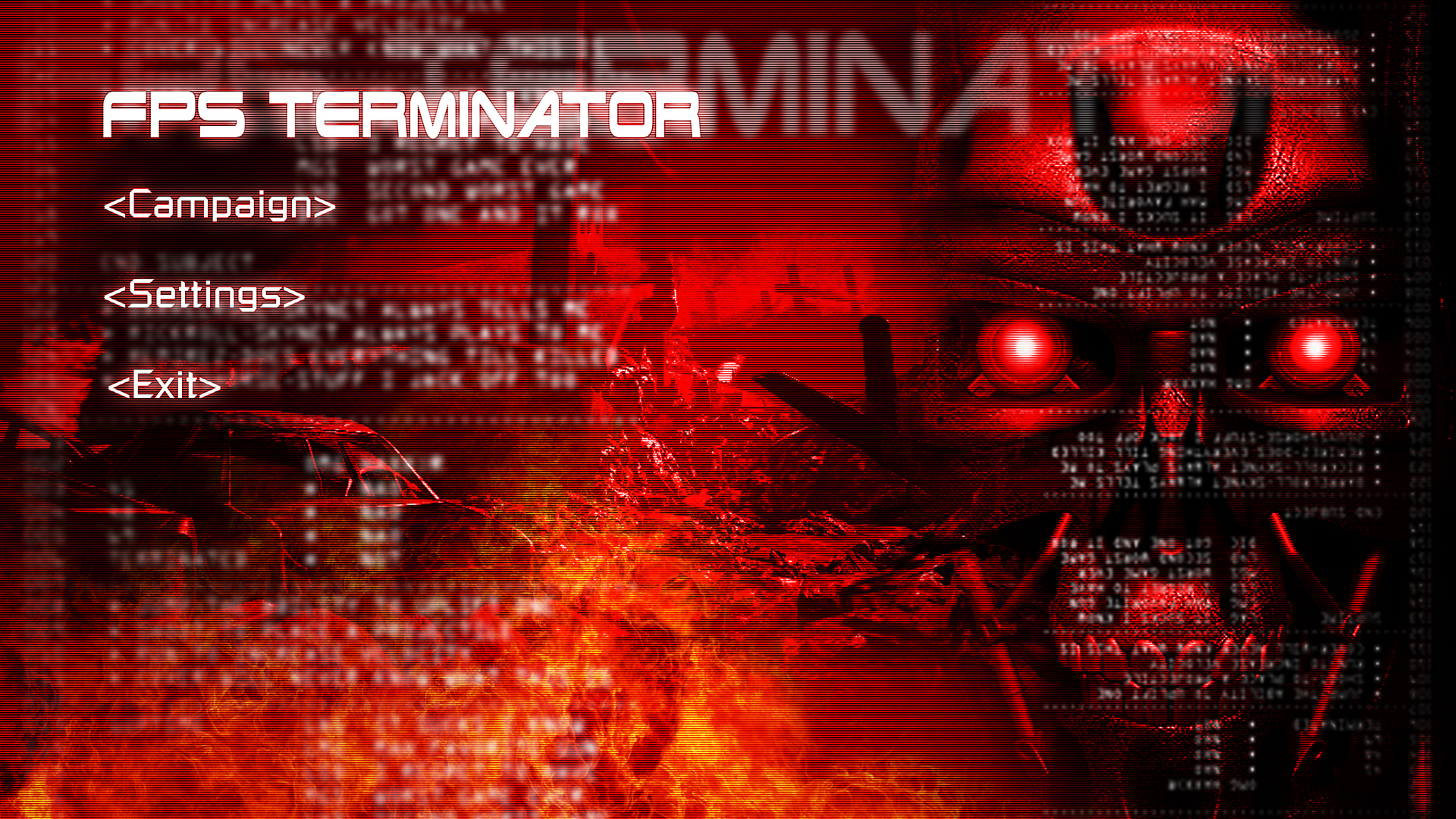 Concept art for the main menu interface
In other news I'm very impressed with the amount of attention Fps Terminator has recieved. and being an early work in progress demo, expecting feedback is manditory. here is a list of the most common ones
-The framerate is quite low. even Crysis runs better on my rigg.
Optimization is one of the things that part of process of making a game. It's pretty obvious that I want to make the game look authentic, and I do have a habit for squeezing the living juice out of my own machine (amd phenomII @ 3.0Ghrz, Geforce GTX285)but I need to know how it runs on lower machines too. that's why I have no official system requirements. there will be options to lower the settings in future releases.
-The FOV(Field of View) is very low. It looks like tunnel vision.
The original intention for the low field of view was to look more cinematic but I've gotten enough feedback to be motivated to change it. I've been defending this Idea the most, and my biggest excuse was that the first-person animations and composition would be screwed if I zoomed it out. but my solution now is to re adjust the animations to this new perspective. the Fov is now at 80.
-The AI on both sides are quite weak.
I sadly agree with this. some should assume that scripting AI is a very hard job to do. I've been working really hard to improve the Ai, but I can't promise anything spectacular in the sooner future releases.
-It's very easy to get lost in this level. what on earth is going on?
I believe why people are getting lost mostly has to do with the lack of dialog, and destination markers, and decent NPCs to help guide the player through the scenario. some believe they get lost because of the chaos onscreen. but I believe it just needs some control (Dialog, markers, NPCs to follow) to counter balance. I've been working with my writer, KidDeath, on the level scripting.
-The camera is very shaky and disorienting.
The camera bob will be reduced to 40% shakyness, next release.
Well that's all I have time to answer for now. please checkout the website and enjoy your day.
-Kevin