You read that right! A brand new game mode is coming your way - Four By Two plays very differently that the existing two modes, as it relies on split-second reaction times and feels a heck of a lot more tense.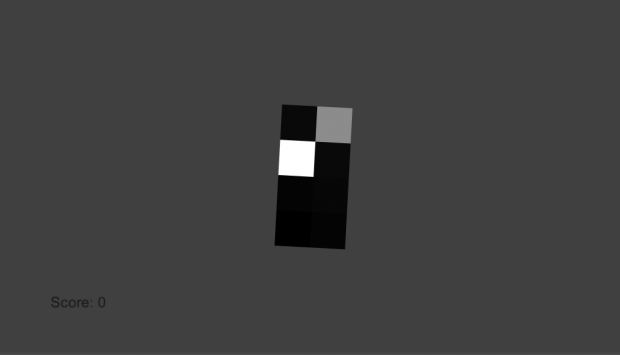 It's real tense when the game's all sped up. My high score is 32. How rubbish!
The spawning is a little different for Four By Two, as only single tiles spawn at any one time. However, the gap between tiles spawning is random, which adds to the tension. I'm not too sure what other kinds of mode I can add. Perhaps a 'Futile' mode, where you're stuck forever in a 1x1 square, unable to move, with a score of zero? But that would be stupid, and I'm already sadistic enough with this new mode. I'm thinking of doing more fancy stuff with the camera next, such as zooming in and out.

What improvements are there?

On top of this new mode, there's a couple tweaks too. You may have noticed before how sometimes a couple more tiles spawned after you die? Well, I had a word with the bit of code that made that happen, and he's going to be doing a lot less breathing nowadays, so now tiles won't crowd the right-hand side of the screen after death.
Also, occasionally tiles would spawn in a way that meant you had to move three spaces in one timestep, which was utterly impossible (and rage-inducing at times); now, that won't happen, because tile sets with only one 'entrance' on the top or bottom won't spawn after tile sets with a singular, opposite 'exit'. For me, it's a huge improvement, because I no longer feel cheated by the spawning algorithm.
On top of that, you can now pres 'esc' in the middle of a game to die instantly, if you so wish. It's much quicker than waiting for a tile to appear and take you out.

Are there any other new additions?

Yep! There's a Credits page (which really does need to be fleshed out with more stuff, because so far I'm the only one credited in it), and the framework is up for an options system, complete with an options menu. However, that's not yet complete, so the button on the main menu won't work, but the system will work as required in the background.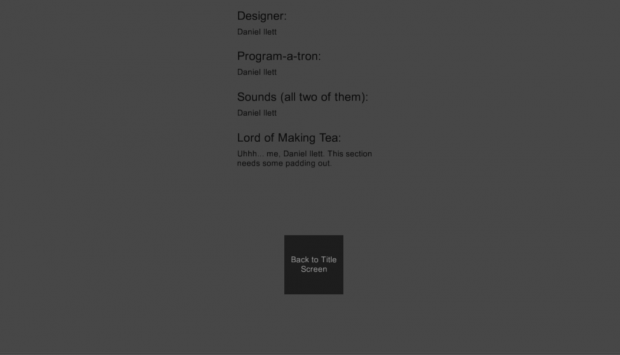 I'm stereotypically British, so of course tea needs to be a credit.
Well that's all for this update! You can go download this latest addition at the usual place, on the downloads page. Have fun playing!
-Daniel