It's that irregularly-scheduled time of the sometimes-week-sometimes-month again! You know what I mean: update time!
What's in today's update, Daniel?

Since you asked so politely, I guess I'll have to answer you. You know the score counter in the corner that used to count how many tiles you'd avoided? Well, now those high scores are actually saved! So now, you'll be able to gloat about your score of 391, right before someone else comes along and shows you their score of 392. Every damn time. The scores are separate for each game mode too.
The enemy tile spawning is much more diverse than before, although as before, it's not truly random. It's sorta semi-random, as there's a bunch of predefined patterns of tiles that I created, and it's those patterns which spawn randomly. In the previous update there were 16 possible patterns, but now there's 58 wacky and wonderful arrangements. Ergo, more varied tile spawning. And everyone likes variety!

That sure sounds exciting! Surely there can't be much else, right?

Well that's where you're wrong! Now, when you die in a flurry of floaty pink squares, rather than having to click one of the buttons that appear, you can press escape to go back to the menu, or if you're like me and you *must* beat your previous score, you can press the spacebar or enter to try again. It's slightly more elegant than using the mouse, although that's still possible.
The main menu also looks a little different. Every element, whether it be a button or a part of the title, is now on a tile, so it fits the theme of the rest of the game (and confirms I've gone completely insane for tiles).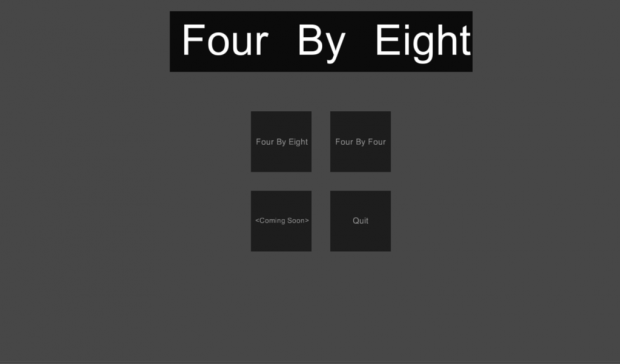 Tiles are definitely what's hot right now.

So the menu's still pretty bare, but less bare. And I bet you can't wait to see what's under that Coming Soon button! I sure can't! There are a few things coming soon, such as a way to look at all your leaderboards for every game mode, an options menu, and a new game mode. You'll have to wait until next update to see what it is though! You can download the game from the usual place, the downloads page, when the download is uploaded and approved. When it's finally up, have fun trying it out.
-Daniel