Hello and welcome back to another update of Forgotten Hope. Today we will show off with a brand new map and some newly painted vehicles to go along with it!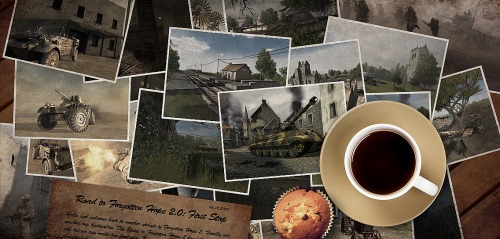 But before all of that, we have a special announcement to make today. Today marks the 2 year anniversary since the original release of Forgotten Hope 2, version 2.0. By now, development of FH2 has spanned roughly 4 years, and is ever on-going, a creative product of dedicated developers and testers and individuals. However, this mod would not be what it has become without the support, love and loyalty of our fanbase. A big thank you goes out to our fans for making this one of the most played mods for Battlefield 2!
Now on to the update. First, we have some vehicles that have been re-skinned in a new Panzergrau paint scheme.
Panzergrau, translating to "armor gray", first came about in 1940, replacing an earlier two-color pattern. It was discontinued in 1943, but combat operational vehicles were ordered not to be repainted. Instead a layer of camoflage paste was laid over the Panzergrau paint to fit with the respective theatre of operations the vehicle was used in. These re-skins were done by Toddel.
Next we have brand new screenshots from another new map, Mount Olympus. Stepping away from the hedgerows of Normandy, players will find themselves fighting amongst the luxurious beaches and mountainous terrain of Greece. It is on this map that New Zealand troops will find the German vehicles in Panzergrau paint scheme.
Mount Olympus was originally created by Sorken and used in the Greek campaign of the Forgotten Honor tournament. It has since been edited further by Sorken for FH2 and cared for by many developers including Knoffhoff, Toddel, Fenring and Natty. Now onto the map!
During the Balkans Campaign of WWII, the Fifth Yugoslav Army was tasked with defending parts of the northern Greek border, yet they were under equipped and lacked sufficient weaponry. After the German entry in to Bulgaria, most Greek troops were evacuated from their defensive positions. On March 28th however, two infantry divisions, the 12th and the 20th, were placed under command of a new general, General Wilson. The New Zealand division took up a defensive position north of Mount Olympus. With little support from RAF aircraft, and a shortage of tanks and anti-aircraft guns, the New Zealand troops would have to bear the brunt of the German attack head on.
For this map, Toddel also created re-skins for the Messerschmitt and the Stuka with camouflage and markings as they were seen over the skies of Greece.
That's all for this week, but be sure to come back next time for another update. Until then, feel free to visit our IRC channel and our public forums to discuss this update and other news.
//Azreal