Many of you have been wondering during our recent hiatus, "Is HSI dead?" and even more of you have been wondering how you'll manage to survive without us, but you need no longer worry! We are still very active. After RLs technological issues that destroyed the February Beta plan, momentum kind of died off. Once he got his system back up and running, he was already started in the middle of some cool new things! Too many cool things, in fact, to be able to refocus back on the prospect of the Beta launch.
Stand Next to Me, You'll Never Stand Alone
The first of these things is the Fire Control Tower. This module adds significant bonuses to the fleet, and could very easily become a major factor between a decisive victory and utter defeat. As well as adding an additional customizable turret to the ship in question, this Tower increases the accuracy, aim speed, and damage of all nearby ships, transforming a simple Frigate into a rather valuable asset. Other planned turret types include a spotlight, a volley gun, a static missile launcher as well as a rotating aimable missile launcher, and a gauss turret.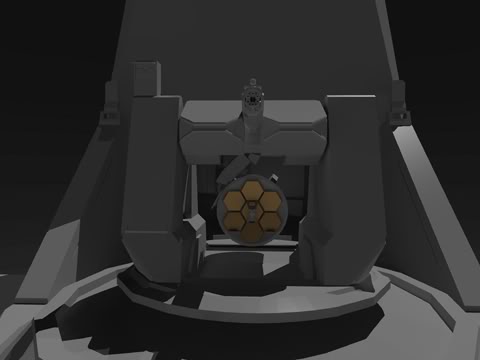 Celer Silens Mortalis
Next up is the UNSC Prowler. This edgy little thing covers most of your spec op needs, from mobile espionage, minelaying, and maybe even signal jamming if you can get it in close enough. Smart use of the Prowler can greatly increase your strategic awareness while drastically cutting your opponent's.
Desura Makes Me Happy
As you have probably noticed, Desura now supports Homeworld 2! I'm going to be trying to get this mod up on Desura so that when the Beta is ready, we can push it out as quickly as possible, maybe even a little earlier on Desura than on the normal internets, even.
Semper Fidelis
HSI Dev Team