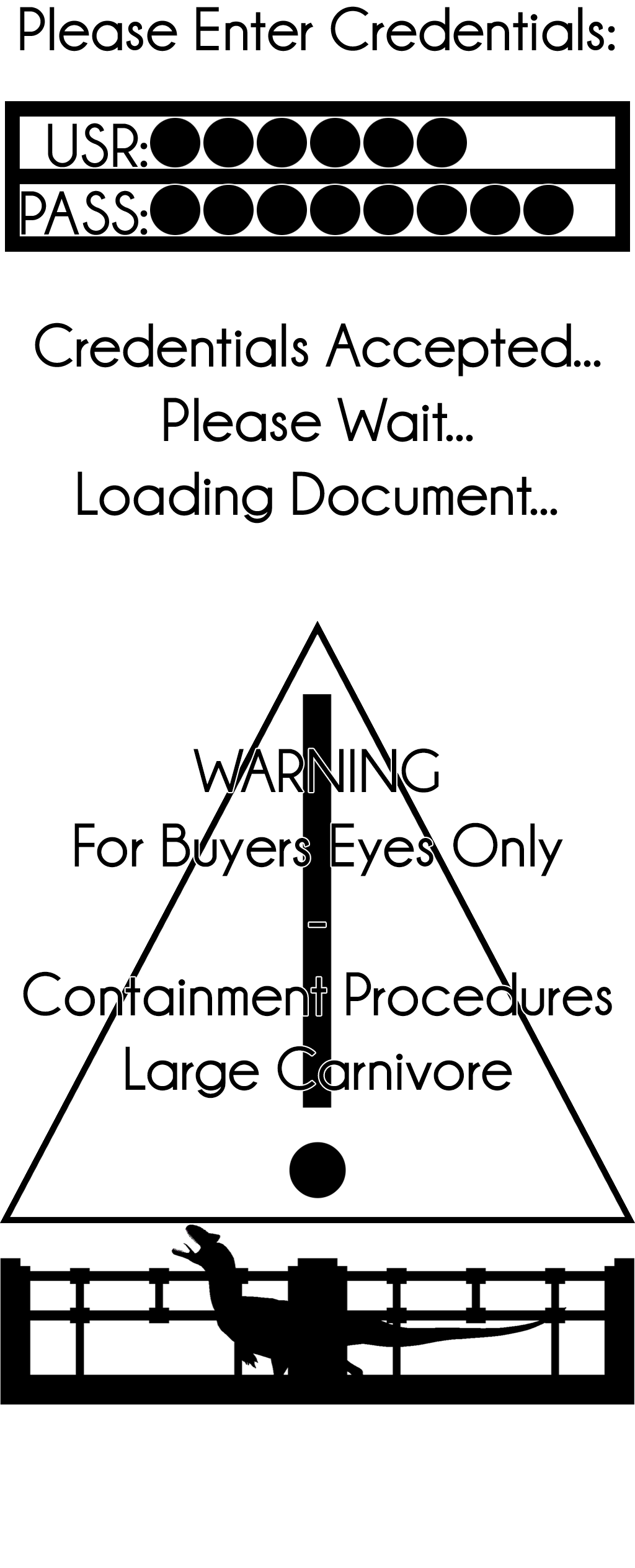 Species: S.hepingensis
Animal Class: LARGE
Containment Procedure:
Entry to exhibits featuring S.hepingensis requires Class Two (2) clearance from the owning parks board of directors and assigned containment staff with at least two (2) years of experience with S.hepingensis, staff with Class Four (4) clearance but have no experience in the handling or care of S.hepingensis are required to report to both experienced keepers of S.hepingensis and the owning parks board of directors for approval of containment area entry. Any personnel entering a S.hepingensis containment pen are to be equipped with standard Class Two (2) Anti-Predation Suits to prevent injury from excited individuals of S.hepingensis.
S.hepingensis individuals are to be fed approximately Thirty (30) Kilograms (Kg) of fresh Angus Cattle meat every day in order to satisfy hunger and prevent containment breach. Fencing should be checked bi-weekly for signs of structural weakness.
In the event of full containment breach park personnel are to observe Class Three (3) Predatory Theropod Containment procedures, termination with deadly force is authorised if staff or civilian life is directly threatened.
Containment area for this animal should be at the very least 250*175 Meters (M) in size and contain no less than two (2) individuals and feature at minimum MEDIUM clearance fencing. Containment areas are to be heavily forested with both low and high-growing trees and ferns in order to facilitate full comfort for S.hepingensis. Clear areas of a space of 16*8 Meters (M) are permitted in front of guest viewing areas.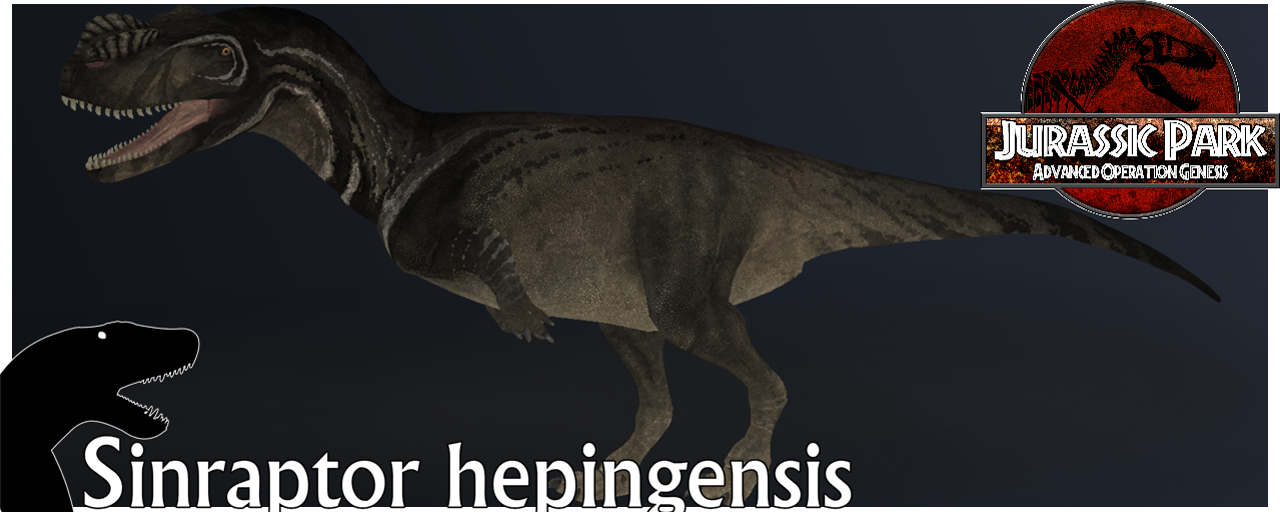 History & Description:
S.hepingensis is a large and somewhat playful Theropod standing Nine (9) meters (M) and Forty (40) centimetres (CM) in length and weighing Two and a half (2.5) tons (T). S.hepingensis individuals feature a gradient light to dark brown body going up the animal with the darker shades residing primarily along the animals spine with vivid mixed dark brown and white patterning on the arms, neck and face of S.hepingensis individuals. Alongside this somewhat vivid patterning S.hepingensis individuals feature twin large crests on the animal's snout which show a simple light-dark brown striping.
S.hepingensis was first brought to the world in [REDACTED] and has been a consistently popular attraction worldwide maintaining a three (3) star rating consistently through the [REDACTED] years of it being present in the public eye. Containment for S.hepingensis is relatively simple to maintain primarily due to the species having a shy nature and thus mostly being unwilling to approach both fencing and staff, this shy nature however is something that can be overcome with consistent staff interaction. S.hepingensis is also somewhat less social than the other [REDACTED] Allosauroids featured in parks, preferring to stay in pairs which often engage in elaborate displays and very light combat using their twin.
Within the private collectors trade S.hepingensis is a heavily unpopular animal due to its shy nature thus making it heavily unsuitable for the kind of private spectacle most collectors wish for their collections to be, it is thus advised that if you are a private collector that you do not purchase this animal.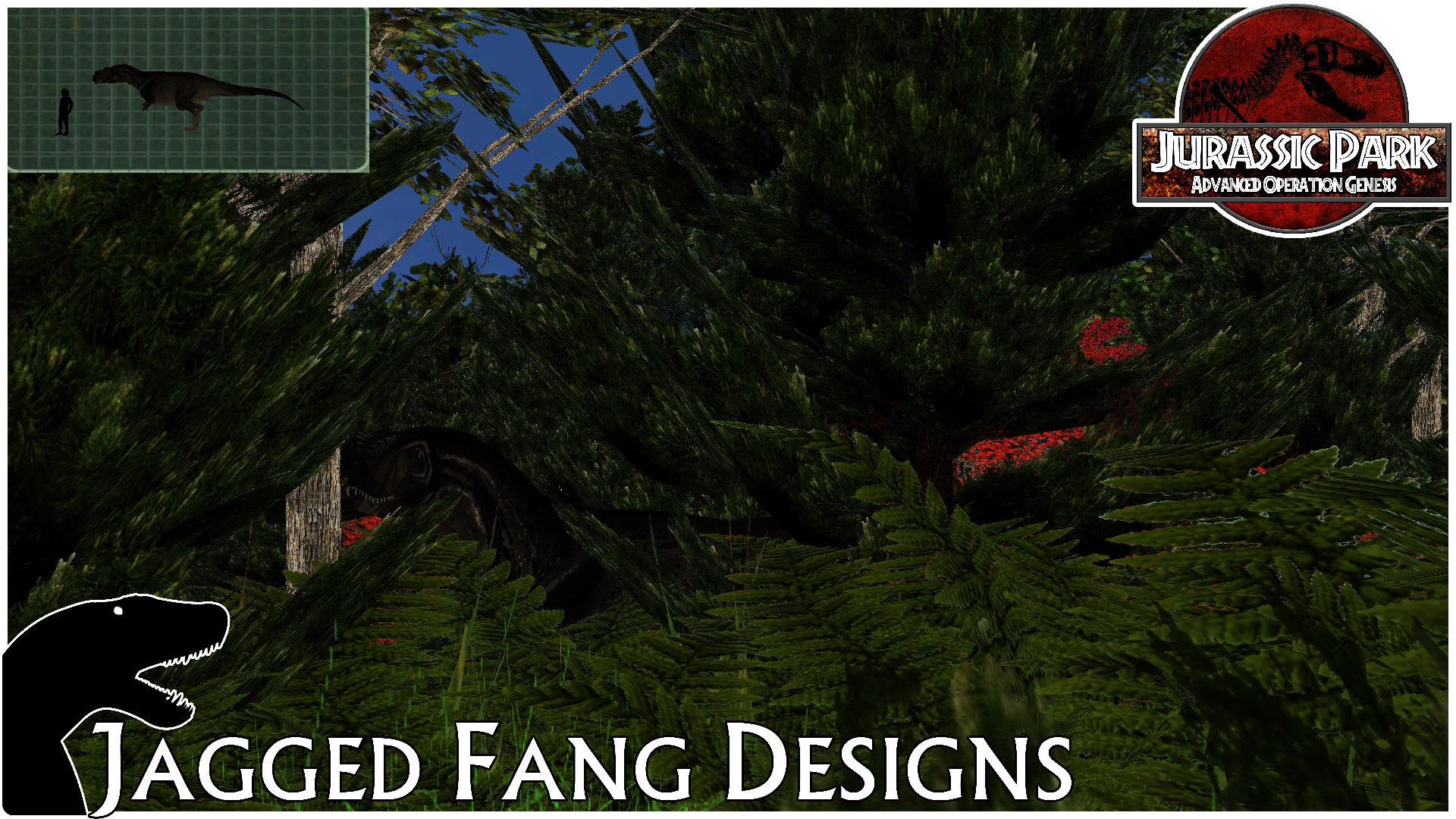 Thank you all for reading, expect more from us soon.
~Jagged Fang Designs~