Focus in Space
How do you get players to see focus on a certain area of an image?
I'm going to point out different aspects that should help us with that task.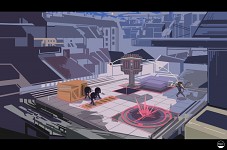 The focus
Focus is a condition which can be reached by various techniques. Often these are contrasts which are flowing between two states. There are numerous examples of it: Sharp/Blurred, Dark/Bright, Colored/Colourless, Large/Small, Detailed/Graphic etc. On the other hand, there is the flow of the image. This is applied by the clever placement of lines and objects to guide the eye. Further there is the composition, the structure and the weighting of an image. And lastly the placing of stimulus object. Such as people or faces.
I will explain the aspect of the contrary and which points we want to integrate.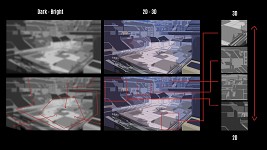 Dark and Bright
This point is easily explained. The edge of the image is darker to frame the point of attention and guide the player to the brighter center. This is the arena the location where the game takes place.
2D and 3D
This is an interesting point. Often, this technique is used for performance reasons in games. But it is made so that everything looks three dimensional. In our case, this should not be the case. The arena and its objects are to be perceived three-dimensional. Objects that are not in the focus, however, should be graphical, flatt and simple. So that a kind of spatial focus arises which is clearly defined in the arena and dissolved in the vague background and foreground.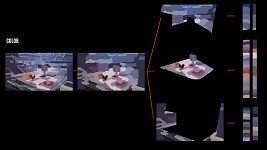 Color Palette
The last point I am describing is the color palette. Here is a focus set by the variance. The background and the foreground is formed from a small and mostly the same color palette. However, the mid-ground has a diverse and contrasting color palette, which catches the eye. In addition, important elements are of vibrant colors and can tempt the player to get the focus on these.
We have the challenge to implement the above points in three-dimensional space. Which will be an interesting task. :)