Version 0.3 of Flukz is available with the following improvements :
a score increasing when enemies are destroyed
a life bar to know how many times the player ship can be hit before exploding
the player ship cannot collide anymore with its own fire
automatically-generated credits page for the artwork of the levels
Flukz is a shoot'em up with levels directly editable online. All users can easily create new levels or edit existing ones, in the same way as a wiki. A graphical interface is provided to edit levels easily, without programming knowledge.
With 4 wuhu levels and 5 black-and-white levels, a total of 9 levels are now available. Here is a screenshot of black-and-white level 5.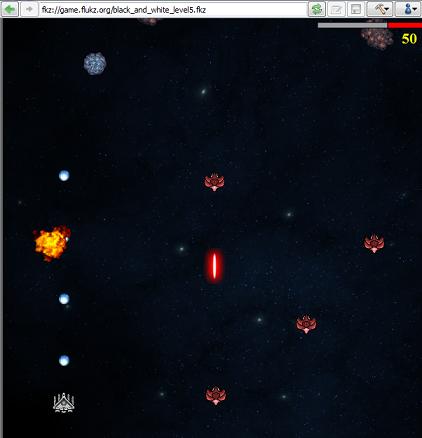 If you're interested in helping us to create new levels, you're more than welcome.
Flukz is available on Windows and Linux.
A static binary that needs no installation is provided for Windows. Under Linux, you need to compile the sources directly.